Healthy Habits: Dr. Stephanie Sisley enjoys reading, runs to stay active
It can sometimes be difficult to find ways to stay healthy, so we've asked members of our Baylor College of Medicine community to share what they do in their daily lives to maintain a healthy lifestyle.
Dr. Stephanie Sisley, assistant professor of pediatrics-nutrition at Baylor, shares some of her healthy habits with us.
Q: What health decisions start your day?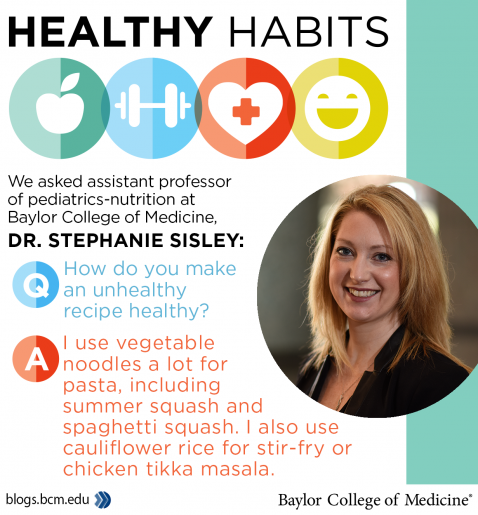 A: I admit I'm not consistent with this, but I know my days go better when I start each day by waking up before my family and spending some time in a quiet house with reflection, reading, and prayer.
Q: What is your go-to healthy breakfast?
A: A green smoothie with kale, romaine, banana, and frozen fruit. If I know I might have a late lunch, I'll also put in a scoop of protein powder.
Q: What is your favorite type of exercise?
A: I have recently become a fan of running. I still don't have a lot of endurance and can barely run a mile without stopping but I love the feeling of accomplishment and invigoration!
Q: What keeps you motivated during your workout?
A: Good music or an audio book.
Q: What activities do you do when you can't fit in a full workout?
A: Sometimes I will just do a few sit ups and pushups.
Q: What have you been doing to stay healthy during COVID-19?
A: The pandemic has actually allowed me to get into an exercise routine, so that has been a silver lining. I have had to be diligent about not having unhealthy food in the house now that I am home so much more. Also, I try hard to get my family outside doing games or other activities.
Q: What is your favorite healthful snack?
A: Currently, my favorite snacks are either grapes and cashews or a KIND peanut butter filled bar.
Q: Do you take vitamins and if so, which ones?
A: I take a Women's One a Day, Fish oil, and vitamin C. All chewables because it's like having candy snacks.
Q: What do you include in your child's lunch?
A: Most of the time, a sandwich, a piece of fruit and some pretzels. They also get two Oreos.
Q: How do you make an unhealthy recipe healthy?
A: I use vegetable noodles a lot for pasta, including summer squash and spaghetti squash. I also use cauliflower rice for stir-fry or chicken tikka masala.
Q: What is your nighttime skin regimen?
A: Wash my face, take off eye makeup, and put on some lotion (although, to be honest, I don't do this all the time).
Q: What hobbies do you have to help you relax?
A: Reading is my biggest hobby. On Saturday mornings when I get control of the remote for an hour or so, I enjoy watching home renovation shows or Hallmark channel movies (I'm a sucker for a happy ending).
Q: What is your go-to Houston restaurant for a healthy meal? 
A: I really like Salata.
Q: Do you use an activity tracker or Fitbit and what is your daily step goal?
A: My previous one broke so I haven't used one in a while. I said my step goal was 10,000 but in reality, I didn't ever try to hit a step goal. My favorite days at work are the ones where I get to read and write all day, which are the ones with the fewest steps. So I used my step count more to notice if I was under 5000 steps – if so, I made sure I went for a walk or tried to do something active with my family in the evening.
Q: What is your favorite health tip that you live by?
A: "All things in moderation" is probably one. I don't think any food is off limits ever and I don't worry about random days of unhealthy foods or missing a workout. But if I have a string of unhealthy days, then I either have to choose to up my output significantly or eat a lot more healthy.
The other thought is "go back to what works."  I know that for me, eating a diet of lean protein, fruits and veggies and being intentional about removing added sugars and processed foods helps me maintain a healthy weight and feel much more energetic. When I start gaining weight, feeling tired or getting headaches frequently, I know it's a sign that I've gone away from those habits and I'm eating unhealthier.
Additional Resources
Healthy Habits: Gardening, games with family help Dr. Teresia O'Connor relax
Dr. Brian Lepow enjoys camping, biking to stay active
Read more healthy habits from members of our community.
Learn how Baylor promotes a culture of healthy living and wellness.