Healthy Habits: Dr. Brian Lepow enjoys camping, biking to stay active
It can sometimes be difficult to find ways to stay healthy, so we've asked members of our Baylor College of Medicine community to share what they do in their daily lives to maintain a healthy lifestyle.
Dr. Brian Lepow, assistant professor of vascular surgery in the Michael E. DeBakey Department of Surgery at Baylor College of Medicine, shares some of his healthy habits with us.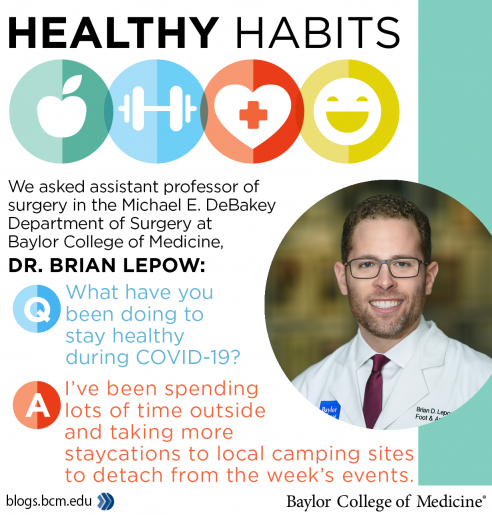 Q: What is your go-to healthy breakfast?
A: Whole Milk Trader Joe's Yogurt, topped with fresh fruit, granola and chia seed.
Q: What is your favorite type of exercise?
A: Biking.
Q: What keeps you motivated during your workout?
A: Listening to good music.
Q: What activities do you do when you can't fit in a full workout?
A: Take the stairs whenever possible.
Q: What have you been doing to stay healthy during COVID-19?
A: I've been spending lots of time outside and taking more staycations to local camping sites to detach from the week's events.
Q: Do you take vitamins and if so, which ones?
A:  I take a men's multivitamin.
Q: What do you include in your child's lunch?
A: I always include one fruit and one vegetable. Generally, an apple, cucumber, mini bell pepper or cherry tomato.
Q: What is your nighttime skin regimen?
A: Washing with Purpose soap and applying a nighttime moisturizing cream both to my face and hands to prevent dryness secondary to the frequent hand washing and sanitizing.
Q: What hobbies do you have to help you relax?
A: Biking.
Additional Resources
Playing soccer, practicing mindfulness help Dr. Lukasz Kwapisz stay balanced
Dr. Tatiana Schnur enjoys reading, neighborhood jogs to stay active
Read more healthy habits from members of our community.
Learn how Baylor promotes a culture of healthy living and wellness.