Throwback Thursday: In the classroom in 1959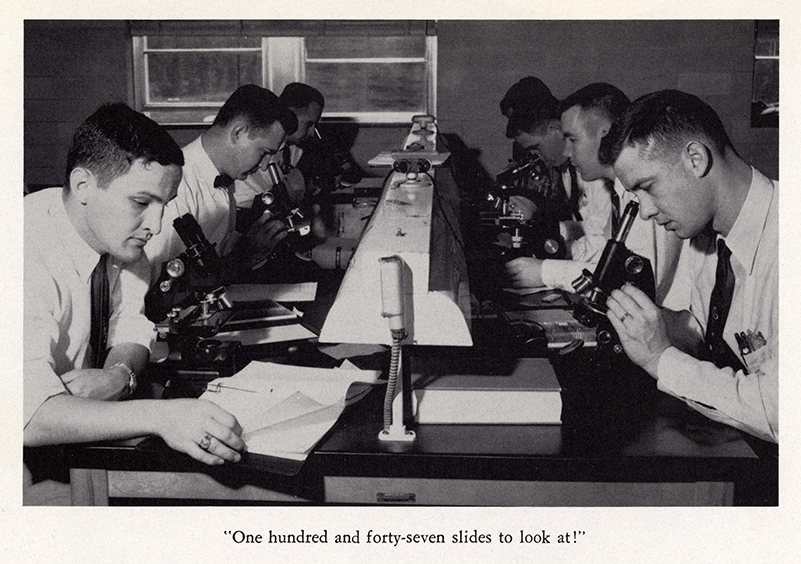 In 1959, NASA announced seven military pilots would become the first United States astronauts, Ben-Hur won the Best Picture Oscar in addition to 10 other Academy Awards, and the minimum hourly wage was  $1.
It was the same year Barbie would make her debut on the doll scene, Miles Davis would record Kind of Blue, The Twilight Zone premiered on television and President Dwight D. Eisenhower would sign a bill allowing for Alaska and Hawaii to become the 49th and 50th states.
In the same year, Dr. Thomas Caskey, then a postdoctoral associate, participated in the Nobel Prize winning work of Dr. Marshall Nirenberg that helped unravel genetic code.
And students at what was then Baylor University College of Medicine were busy studying slides.
Here at Momentum we love a good Throwback Thursday with our students and microscopes. This week is no exception.
Courtesy of the Baylor College of Medicine Archives, this week we take a peek at life of second year medical students in this photo from the 1959 Aesculapian yearbook.
Looking for more history in context? Check out these posts:
Dr. Joseph Melnick's lab in 1959
Faculty member brings unique perspective to incoming students