Immunotherapy improves quality of life for mesothelioma patient
When Samir Tanios was diagnosed with malignant pleural mesothelioma in September 2018, he was in poor condition. He couldn't take a deep breath  or walk up the stairs. He was in constant pain. Doctors estimated he had another six to nine months to live. His body was too weak to withstand a lengthy surgery, so the surgeon recommended he see an oncologist for treatment.
That's when he met Dr. Daniel Wang, an oncologist at Baylor College of Medicine and a member of the Dan L Duncan Comprehensive Cancer Center. Wang suggested an immunotherapy treatment rather than chemotherapy.
Samir began treatments with a checkpoint inhibitor drug called nivolumab. Cancer cells grow and spread by finding a way around the body's immune system checkpoints. Nivolumab boosts the immune system to attack cancer cells.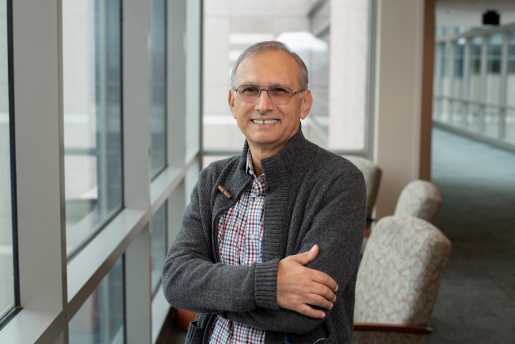 "This particular therapy was considered for Samir because he was diagnosed with biphasic mesothelioma with predominant sarcomatoid type, which is an aggressive form of mesothelioma that does not respond well to traditional chemotherapy," Wang said. "Additionally, we didn't feel he could tolerate chemotherapy in his condition. Therefore, given the favorable safety profile and activity seen in recent clinical trials with immune checkpoint inhibitors, we decided on treatment with nivolumab."
Within a few months, Samir started to feel better, and his tumors started shrinking. Now, after one year of receiving immunotherapy treatment, Samir's condition has improved immensely. His last scan showed no new tumor activity. He is no longer in pain, and he is able to exercise daily. He enjoys walks to the park or cardio at the gym.
"It's like day and night. I feel lucky," Samir said. "I feel my life is getting back to normal. I traveled overseas, and I'm hoping to travel more."
Last month, Samir participated in the Cancer Research Institute's Immunotherapy Patient Summit. He joined two others on a patient panel to discuss his experience with immunotherapy.
He shares one negative side effect — he developed Type 1 diabetes after the treatment. Otherwise, he has only positive things to say about immunotherapy.
Importantly, he does not experience the same immediate negative aftermath that patients going through chemotherapy endure. Samir calls immunotherapy a "miracle medicine."
"I would hope for anybody who has cancer to have the same results," Samir said. "No matter how many months or years you live, you have a better quality of life. I take it day by day. I live my life, and I enjoy my family and my friends. I am happy where I am."
Samir encourages others with cancer to find a support group. For him, that includes his family and friends who push him to exercise a little more every day. He also found help through the Mesothelioma Applied Research Foundation, which connected him with others who have similar experiences. Although his cancer is not cured, Samir is optimistic.
"There is hope in what you can do," Samir said. "Doctors have been working on a lot of research and things are getting better."
Dr. Wang is an assistant professor of medical oncology at Baylor.
Additional Resources
Learn more about services at the Dan L Duncan Comprehensive Cancer Center or call (713) 798-2262.
See a list of mesothelioma clinical trials at Baylor.
-By Molly Chiu