Grab your 'Getaway Sticks': Researcher designs women's shoe for comfort, style
When it comes to footwear, many women face a frequent dilemma – how do we pair business attire with shoes that will seamlessly get us from point A to point B?
Steffie Tomson, Ph.D., an assistant professor in the Orthotics and Prosthetics Program at Baylor College of Medicine, has experienced this feeling while walking around the Texas Medical Center, often carting around a bag of flip-flops, flats, and sneakers to avoid being in pain at the end of the day.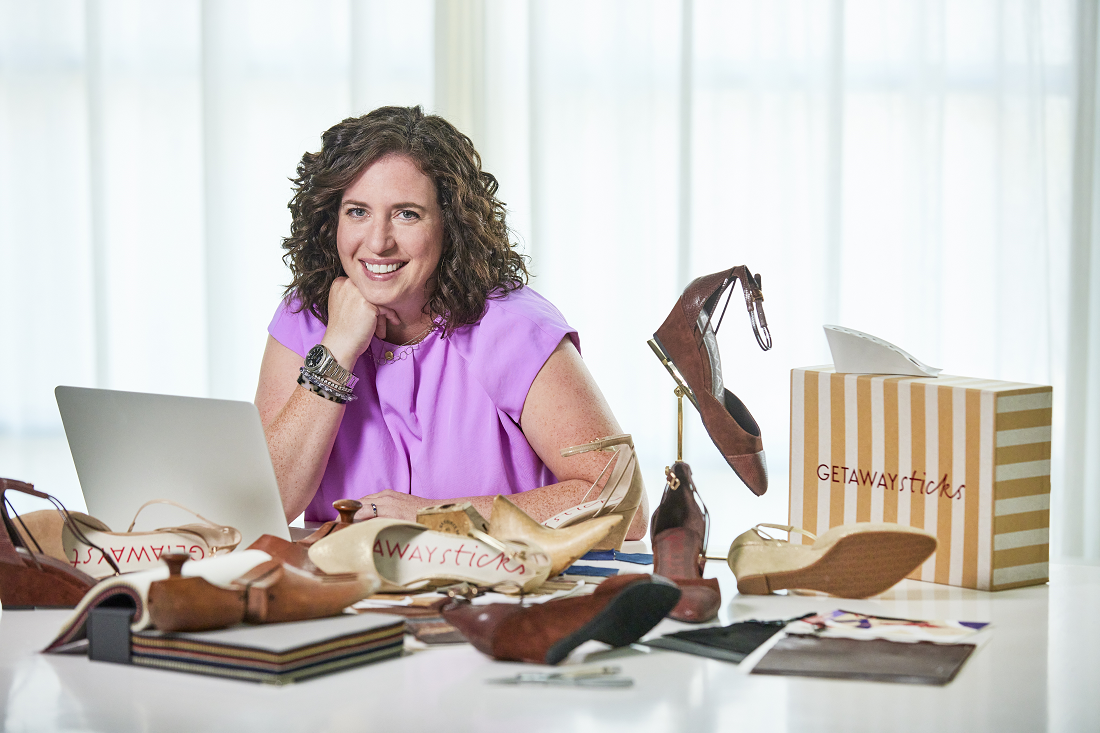 "Pre-COVID, I found that I was actually missing out on opportunities to go to lectures and Grand Rounds because I couldn't walk a mile and a half there and back in my heels," said Tomson, who is also a neuroscience graduate of Baylor. "There had to be a better way."
After years of struggling with tedious heels and blisters, Tomson became frustrated. She believed the footwear conundrum would be solved eventually – by someone, somehow.
"I waited and waited. As time went on, I realized that my idea to design a heel out of athletic foam was worth a try. And that if I didn't try, I would be disappointed with myself."
Tomson, who has also taught anatomy and physiology courses, knows about the disproportionate impact shoes can have on women's joints.
"The heel strike is the force exerted by the impact of our weight on hard ground. This can be up to two to three times our body weight, and that shock reverberates through our joints. The majority of women's heels are made of hard plastic and steel rods. These materials transmit shock all throughout our bodies – why not use a foam material to absorb the shock, instead?"
From the ground up
Tomson set out on a journey to make a wedge out of athletic foam. Her goal was to design a shoe that was stylish, comfortable, and practical for all-day wear.
"As I developed this, it really was like a science experiment. I would ask colleagues, 'Do you like the rounder toe or the pointy toe? Is the wedge too hard, soft or thick?' I asked my manufacturer to send me seven different foam densities to wear test. I tested the suede for marking and durability, and the attachment hook for size and direction of application. When these details are implemented from the ground up, with direct input from the women wearing the shoes, it makes the final product much more robust."
After several prototypes and email exchanges with vendors, Tomson finally landed on a wedge that can withstand pressure and – importantly – looks like a business shoe. The shoe has a wide toe box for wiggle room and an added a strap for security. The height of 2 inches is optimized for joint health and stability.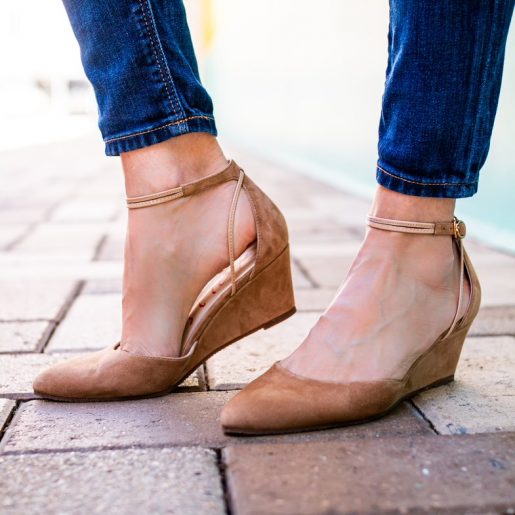 The birth of 'Getaway Sticks'
'Getaway Sticks' is a vintage term from the 1920s that means legs. It eventually morphed into a phrase for women's legs, which embodied the perfect blend of femininity and motion for Tomson's company name.
'The Landmark,' the inaugural Getaway Sticks collection, features a capsule collection of wedges in a variety of colors. The shoes are now available to order via the Getaway Sticks website.
"All of my colleagues have been incredibly supportive. Through this process, I have learned that most footwear development projects are about pattern, temporary fashion, and profit margin, and that wear testing is quite rare. I have been testing and wearing our shoes every step of the way, and I think that effort has resulted in a great product. The scientist in me knew that it was OK to spend more time to get it right, and I am so glad I did!"
"The most gratifying feedback I receive are comments like, 'I walked through a conference for seven hours in my Getaway Sticks, then walked six blocks to happy hour. Today, my feet still feel great!' Those stories really inspire me – because of all the things we have to think about throughout the day, shoes should not be one of them."
-By Nicole Blanton