Healthy Habits: Dr. Joslyn Fisher enjoys boogie boarding, high-protein meal substitutions
It can sometimes be difficult to find ways to stay healthy, so we've asked members of our Baylor College of Medicine community to share what they do in their daily lives to maintain a healthy lifestyle.
Dr. Joslyn Fisher, associate professor of medicine at Baylor, shares some of her healthy habits with us.
Q: What health decisions start your day?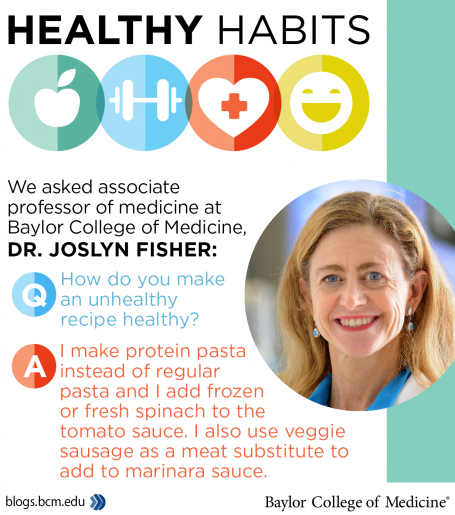 A: I always eat breakfast and wear comfortable shoes.
Q: What is your go-to healthy breakfast?
A: Bran flakes, granola, nuts, raisins with skim milk or yogurt.
Q: What is your favorite type of exercise?
A: Running when I am home and skiing when on vacation.
Q: What keeps you motivated during your workout?
A: I am most motivated when I run with a friend (my jog buddy).
Q: What activities do you do when you can't fit in a full workout?
A: I take the stairs and make a couple of extra trips up and down.
Q: What is your favorite healthful snack?
A: A peanut butter, banana, and chocolate smoothie.
Q: Do you take vitamins and if so, which ones?
A: I sometimes take a Flintstones vitamin.
Q: What do you include in your child's lunch?
A: Fresh fruit or veggies, applesauce, dried fruit, or 100% fruit twists.
Q: How do you make an unhealthy recipe healthy?
A: I make protein pasta instead of regular pasta and I add frozen or fresh spinach to the tomato sauce. I also use veggie sausage as a meat substitute to add to marinara sauce.
Q: What is your nighttime skin regimen?
A: I wash my face with Aveeno face wash.
Q: What hobbies do you have to help you relax?
A: I like to relax by doing anything outside and in particular with my family, including hiking, biking, fishing, running, and boogie boarding. My activities are based on the amount of time I have. If I have a few hours, I will run or do something closer like biking at Memorial Park. If I have a day, my family and I will often take a day trip to places like Galveston or Surfside.
Q: What is your go-to Houston restaurant for a healthy meal?
A: We love to grab salad and sushi at Azuma.
Q: Do you use a pedometer or Fitbit and what is your daily step goal?
A: When my phone app works, I try to achieve 10,000 steps.
Q: What is your favorite health tip that you live by?
A: I appreciate daily the beauty and wonder that surrounds us – whether it is a hawk landing on a house next door, a baby bunny near the walkway behind Baylor, or a rainbow over downtown.
Additional Resources
Protein-rich breakfasts, relaxing walks key for Dr. Peter Jian
Dr. Nneka Okafor enjoys overnight oatmeal, meditates to relax
Read more healthy habits from members of our community.
Learn how Baylor promotes a culture of healthy living and wellness.