Healthy Habits: Dr. Nneka Okafor enjoys overnight oatmeal, meditates to relax
It can sometimes be difficult to find ways to stay healthy, so we've asked members of our Baylor College of Medicine community to share what they do in their daily lives to maintain a healthy lifestyle.
Dr. Nneka Okafor, assistant professor of family and community medicine at Baylor, shares some of her healthy habits with us.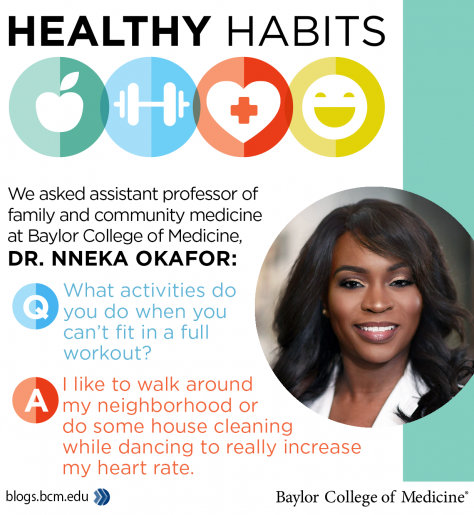 Q: What health decisions start your day?
A: I usually meditate prior to getting out of bed, in order to relax my mind and really gauge everything important that has to be done during the day.
Q: What is your go-to healthy breakfast?
A: Overnight oatmeal with strawberries.
Q: What is your favorite type of exercise?
A: Yoga and Orangetheory workouts.
Q: What keeps you motivated during your workout?
A: I am motivated by the thought that I am doing something for my own personal health that makes me look good and feel good. It is my personal time to myself and for myself.
Q: What activities do you do when you can't fit in a full workout?
A: I like to walk around my neighborhood or do some house cleaning while dancing to really increase my heart rate.
Q: What is your favorite healthful snack?
A: Usually munching on walnuts and dark chocolate.
Q: What is your nighttime skin regimen?
A: I wash my face with facewash, use a toner, apply iS clinical active serum, and apply SkinMedica Retinol cream.
Q: What hobbies do you have to help you relax?
A: I paint, workout, talk to my favorite girlfriends for laughs or jot down my thoughts.
Q: What is your go-to Houston restaurant for a healthy meal?
A: Salata.
Q: What is your favorite health tip that you live by?
A: Self-care, self-care, self-care.
Additional Resources
Planning gym time, watching baseball help Dr. Nadia Ismail stay balanced
Dr. Siripoom McKay enjoys fruit smoothies, gardening to relax
Read more healthy habits from members of our community.
Learn how Baylor promotes a culture of healthy living and wellness.