Healthy Habits: Morning exercise keeps Melanie McNeal moving
Taking care of your health is a priority and nobody knows that more than physicians and healthcare providers.
It can sometimes be difficult to find ways to stay healthy, so we've asked members of our Baylor College of Medicine community to share what they do in their daily lives to maintain a healthy lifestyle.
Melanie McNeal, certified physical therapist at Baylor, shares some of her healthy habits with us.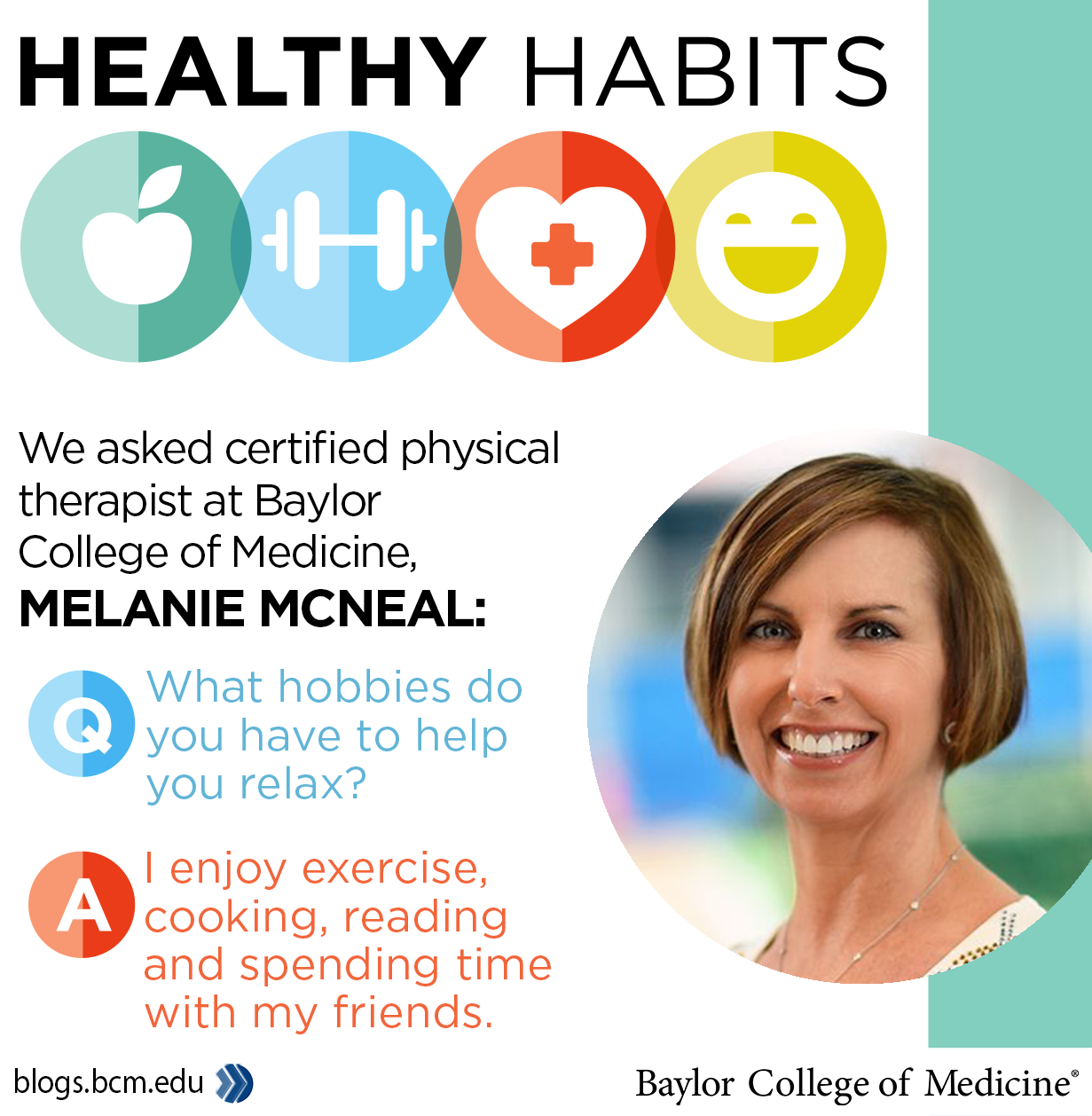 Q: What health decisions start your day?
A: I usually work out first thing in the morning to get my metabolism going.
Q: What is your go-to healthy breakfast?
A: Coffee with MCT oil and collagen powder (and a little cream).
Q: What is your favorite type of exercise?
A: Cycling.
Q: What keeps you motivated during your workout?
A: I played collegiate basketball so exercise is natural to me. However, I am a single mom to a three year old now so it's been challenging to find time. Thank goodness for my Peloton!
Q: What activities do you do when you can't fit in a full workout?
A: Fortunately, my clinic is like a gym so I can sneak in a quick weight workout if I have a few extra minutes.
Q: What is your favorite healthful snack?
A: I enjoy apples.
Q: What do you include in your child's lunch?
A: Chicken sausage, hummus, an apple, and Pirate's Booty popcorn.
Q: How do you make an unhealthy recipe healthy (healthy substitutions)?
A: I use olive oil rather than butter.
Q: What is your nighttime skin regimen?
A: Lots and lots of Kiel's products on my face, including toner, night serum, and moisturizer.
Q: What hobbies do you have to help you relax?
A: I enjoy exercise, cooking, reading and spending time with my friends.
Q: What is your go-to Houston restaurant for a healthy meal?
A: Fadi's Mediterranean Grill.
Q: Do you use a pedometer or Fitbit and what is your daily step goal?
A: I have an Apple watch, but I do not always watch my steps.
Q: What is your favorite health tip that you live by?
A: Being healthy makes me a happier person.
Additional Resources
Dr. Atif Iqbal enjoys weightlifting, low-sugar protein shakes
Daily strolls, quality family time help Dr. Zaina Al-Mohtaseb stay active
Read more healthy habits from members of our community.
Learn how Baylor promotes a culture of healthy living and wellness.