Healthy Habits: Daily strolls, quality family time help Dr. Zaina Al-Mohtaseb stay active
Taking care of your health is a priority and nobody knows that more than physicians and healthcare providers.
It can sometimes be difficult to find ways to stay healthy, so we've asked members of our Baylor College of Medicine community to share what they do in their daily lives to maintain a healthy lifestyle.
Dr. Zaina Al-Mohtaseb, assistant professor of ophthalmology at Baylor, shares some of her healthy habits with us.
Q: What health decisions start your day? 
A: Since I had my first child five months ago, I have tried to be a lot more health conscious in terms of food and exercise. Not only am I doing that because I am breastfeeding, but also to stay healthy so I can be around for my daughter! One of the main changes I have made is to make sure I eat breakfast, lunch, and dinner every day.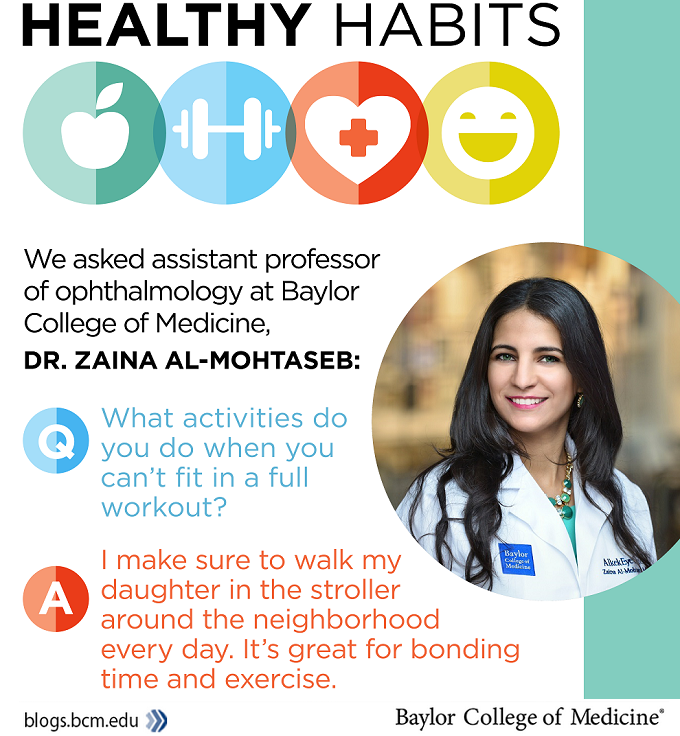 Q: What is your go-to healthy breakfast?
A: I always eat oatmeal to start the morning, which is great for breastfeeding.
Q: What is your favorite type of exercise?
A: I was always involved with organized sports, including soccer and basketball, since I was a child. When I got busier, I stopped playing team sports given the difficulty in scheduling. I have turned to swimming instead. I can fit it in at random hours.
In addition, it's a time that my husband and I can hang out without any technological interruptions. It's a great cardio workout and I get to spend quality time with my husband. I have also been considering purchasing the Peloton bike.
Q: What keeps you motivated during your workout? 
A: I love playing music in the background.
Q: What activities do you do when you can't fit in a full workout?
A: I make sure to walk my daughter in the stroller around the neighborhood every day. It's great for bonding time and exercise.
Q: What is your favorite healthful snack?
A: I like the KIND protein Bar.
Q: Do you take vitamins and if so, which ones?
A: Prenatal vitamins.
Q: What hobbies do you have to help you relax?
A: Swimming, massages, and getting a manicure/pedicure with my mom.
Q: What is your go-to Houston restaurant for a healthy meal?
A: I love eating pho at Saigon Pho.
Q: What is your favorite health tip that you live by?
A: Always stay active.
Additional Resources
Dr. Na Li enjoys comedies, leisure traveling to new places
Swimming, jogging and music keep Dr. Kenneth Liao moving
Read more healthy habits from members of our community.
Learn how Baylor promotes a culture of healthy living and wellness.