Healthy Habits: Dr. Atif Iqbal enjoys weightlifting, low-sugar protein shakes
Taking care of your health is a priority and nobody knows that more than physicians and healthcare providers.
It can sometimes be difficult to find ways to stay healthy, so we've asked members of our Baylor College of Medicine community to share what they do in their daily lives to maintain a healthy lifestyle.
Dr. Atif Iqbal, chief of the section of colorectal surgery at Baylor, shares some of his healthy habits with us.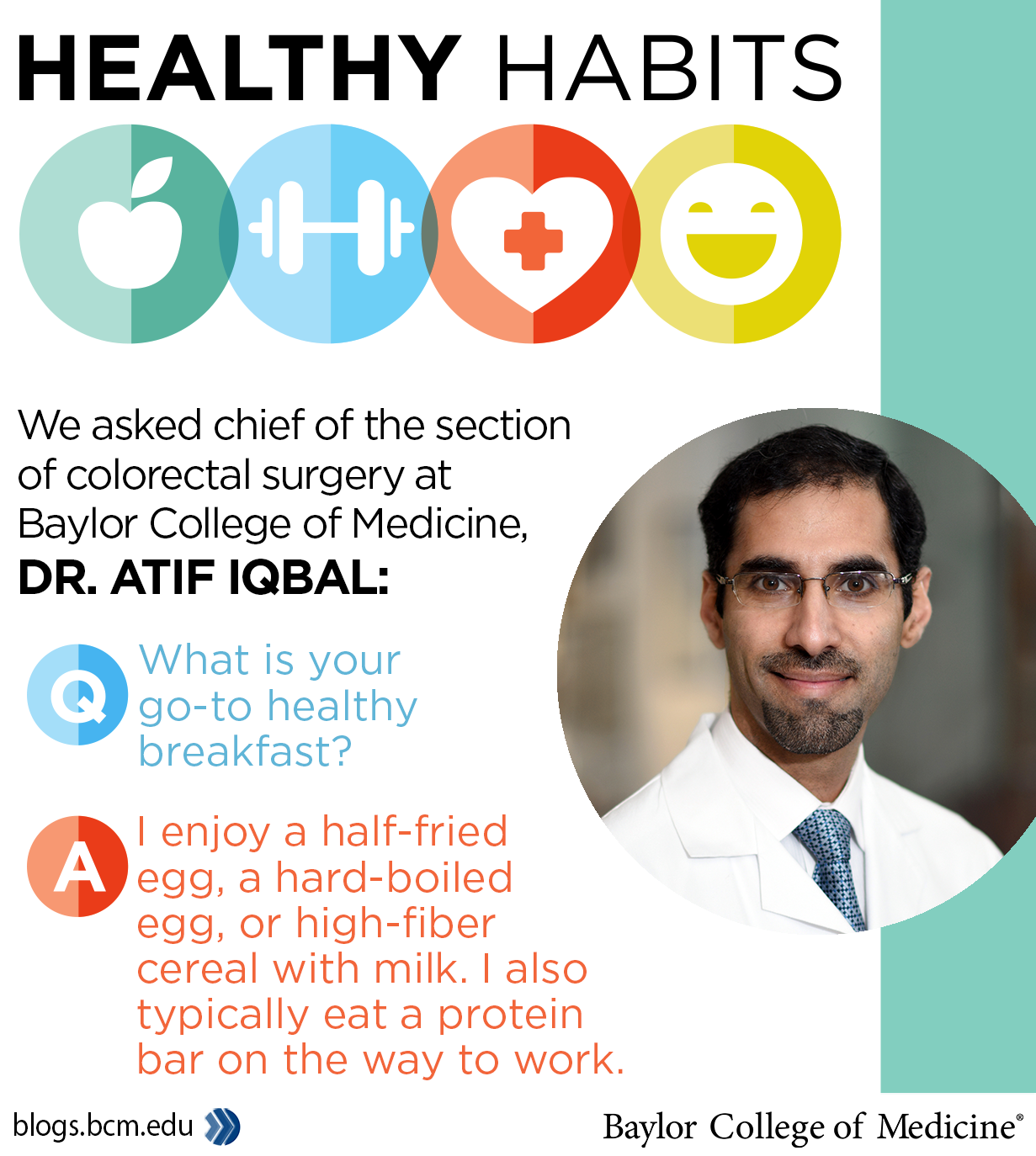 Q: What health decisions start your day?
A: A quick shower and breakfast, even if it is super early. It helps give me a needed boost for the day ahead.
Q: What is your go-to healthy breakfast?
A: I enjoy a half-fried egg, a hard-boiled egg, or high-fiber cereal with milk. I also typically eat a protein bar on the way to work.
Q: What is your favorite type of exercise?
A: I try to exercise either before my day starts to get energized for the day or at the end of the day to destress (as time permits). A few reps of heavy weights helps put the day in perspective.
Q: What keeps you motivated during your workout?
A: As in any other arena in life, an eye on the long-term goal helps – otherwise it is easy to lose motivation.
Q: What activities do you do when you can't fit in a full workout?
A: It helps that I am standing in the operating room or walking briskly for most of the day.
Q: What is your favorite healthful snack?
A: A fruit (strawberry, blueberry, kale) smoothie, a protein bar or a low-sugar protein shake.
Q: What do you include in your child's lunch?
A: Grapes, olives, a hard-boiled egg, a peanut butter and jelly sandwich, or fresh fruits.
Q: What hobbies do you have to help you relax?
A: I like watching TV or an action movie at the end of the day once the kids are asleep and the work is done. Leisure travel to new places within and outside the U.S. helps me gain new perspective and meet new people.
Q: What is your go-to Houston restaurant for a healthy meal?
A: I just moved to Houston and I'm looking forward to enjoying the food that this wonderful city is so well known for.
Q: What is your favorite health tip that you live by?
A: I have been able to completely avoid smoking and drinking with minimal caffeine use (including coffee, tea or any other caffeinated drink) so far in life. I do have a sweet tooth though and frequently indulge in desserts of all kinds. Chocolate is always welcome in the Iqbal household.
Additional Resources
Daily strolls, quality family time help Dr. Zaina Al-Mohtaseb stay active
Dr. Na Li enjoys comedies, leisure traveling to new places
Read more healthy habits from members of our community.
Learn how Baylor promotes a culture of healthy living and wellness.