Life as a trauma surgeon: An interview with Dr. Stephanie Gordy
Editor's note: This is the third in a series of Progress Notes posts featuring women medical students at Baylor College of Medicine interviewing their role models in recognition of Women's History Month.
Dr. Stephanie Gordy is a trauma surgeon practicing at Ben Taub Hospital, an assistant professor of surgery, and the newly appointed clerkship director of Baylor College of Medicine's surgical clerkship. While on my surgical rotation, I was lucky enough to work with her. She introduced me to the beauty within the chaos that comes with working in a level-1 trauma center.
I witnessed her genuine love for teaching and infectious, compassionate care. Never once losing sight of her patients' best interests, Dr. Gordy ensured that their physical and emotional wellbeing were always considered in the days leading up to and following a surgical procedure.
In the following Q&A, she shares why she decided to become a trauma surgeon and her passion for educating future doctors.
How did you decide on medicine as a career?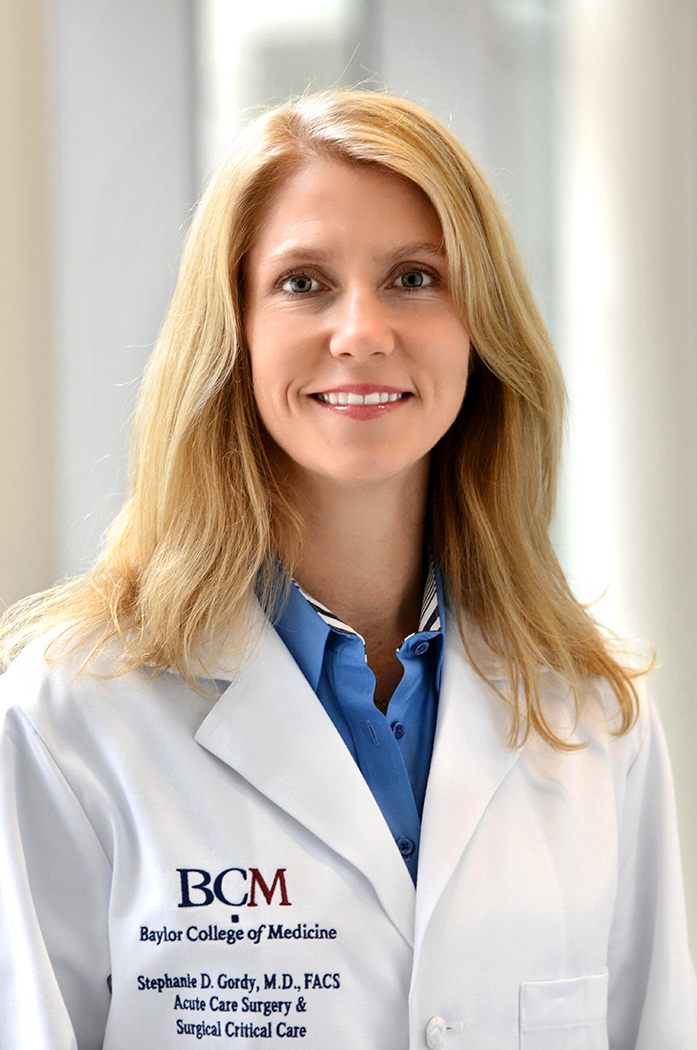 I grew up without a television and I had the National Geographic for Kids subscription. I remember seeing an image of someone taking out a gallbladder and I became completely fascinated with how everything in the human body worked. I knew I wanted to help people and vacillated between psychology and medicine because I could help people with both. Medicine was everything I wanted to do. I loved the physiology and anatomy; it was the perfect job for me.
As for trauma, my first day on surgery was a trauma call. I was unsure if I was going to like it, but I was hooked from the start. I liked the idea of being able to see immediate results from knowing the complex physiology behind a disease process and acting while time was of the essence. Your presence is immediately and eminently needed and for me, there was instant gratification.
Do you have a specific case that sticks with you?
We have lists of complex patients and for whatever reason, they are just lucky. The one that sticks out to me is a woman who had a bad gunshot wound to the pelvis. She had a horrific, life-threatening pelvic hemorrhage and intra-abdominal injury. I didn't think she was going to be able to walk again. I saw her about a year later with her kids and she was walking and doing wonderfully. That was nice to see.
In your career, have you found resistance from men in the operating room?
I would say no, honestly. I think that my personal experience has been very positive. I've certainly heard inappropriate comments but not just from men. I do know people who have experienced discrimination as far as salary and promotion. It's nice to have peers to talk to and mentors at both the hospital and national level to help figure out how things should be working.
I do think the pendulum has shifted, though. When I started medical school, my surgical residency program at Georgia was graduating its first female chief. When I was a fellow in Oregon, half of their residents were women.
How do you balance personal and professional life?
Getting here took a lot of hard work. A good surgeon has to work hard to attain that work-life balance and then join a group of partners you trust. The nice thing about my job now is when I'm on, I'm on. When I'm not here, my partners take care of whatever comes in.
I think having a good support system outside of medicine is important too. It's tough and there needs to be a level of understanding and managing expectations with your support network of friends and family. I try to be very open and encourage them to keep asking me to do things with them even if I say no because eventually, I'll be able to.
What gets you through your rough days?
There are days when I have four thoracotomies and no one makes it and it's soul crushing. On those days, talking about cases with your partners is helpful.
There are also days that are so physically and intellectually challenging that I need to decompress. For me, that involves spending quiet time with my dog. I usually sit and throw the ball for my dog for about 30 minutes and that helps me unwind and process everything.
You've recently taken on the role of surgical clerkship director at Baylor. Why academics?
I very much like educating and teaching future doctors, specifically surgeons. To be the director, you assess and decide what the students should know and design a program around that. I find it very rewarding to see someone's face light up after you've talked them through something like shock from a physiologic level.
Knowing what you know now, what would you say to yourself when you started?
I think I would say, "If you ever get insensitive to the people you are taking care of, you need to take some time off." I have maintained that throughout my career. When I was training, my mentor went up to a family and told them the patient was going to die. I didn't even know anything about the case but I teared up a bit and he told me to toughen up or I wasn't going to make it. I turned and looked him right in the eye and said if I ever stop crying, I'll have to quit what I'm doing. He smiled and it made me think I taught him something. It's important to not make it about yourself and completely fall apart, but you should be emotionally invested in what you are doing.
Also, I would have told myself to take some finance classes. It's important to prepare for yourself and your family in the event that something traumatic happens to you. I say that because when I was a chief resident, one of the family practice residents was in a horrible accident and he couldn't finish. It really made me realize that tomorrow and your health are not guaranteed, so you need to plan early to have safeguards in place.
What was the best piece of advice you've received?
I think my favorite would be "Always do what's right for the patient." Sometimes that means going the extra mile and directly communicating with the involved services to get something expedited, which can be lifesaving in a critically ill patient.
As for professional advice, I was once told, "Keep your head up and keep your mouth shut." It's really important to not say disparaging things about people even when they may be saying it about you, professionally speaking. Also important is, "Never send an email until you've slept on it." We've all experienced things that have made us angry and our first inclination may be to send an email. I say, write what you want to say in a place you can't accidentally send it, wait 24 hours, and re-evaluate.
Additional Resources
Surviving the medical career journey with humor and kindness
Life lessons inspire excellence in medical education
-By Victoria Valdes, third-year medical student at Baylor College of Medicine