Healthy Habits: Swimming, jogging and music keep Dr. Kenneth Liao moving
Taking care of your health is a priority and nobody knows that more than physicians and healthcare providers.
In recognition of American Heart Month, we've asked members of our Baylor College of Medicine community to share what they do in their daily lives to maintain a heart-healthy lifestyle.
Dr. Kenneth Liao, chief of the Division of Cardiothoracic Transplantation and Circulatory Support at Baylor, shares some of his healthy habits with us.
Q: What is your go-to healthy breakfast?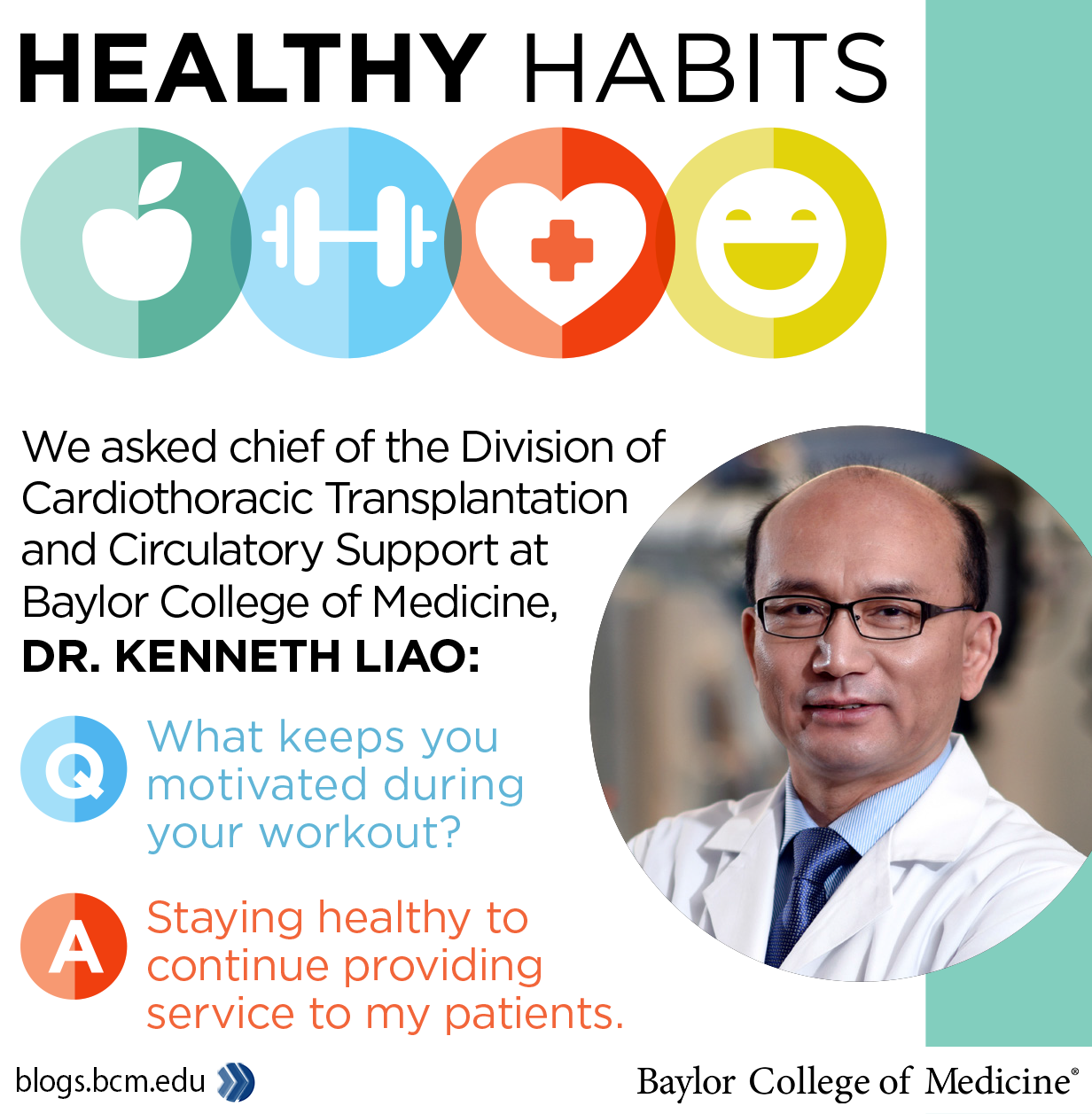 A: Cereal with almonds and 2 percent milk.
Q: What is your favorite type of exercise?
A: Swimming and jogging.
Q: What keeps you motivated during your workout?
A: Staying healthy to continue providing service to my patients.
Q: What activities do you do when you can't fit in a full workout?
A: Jogging.
Q: What is your favorite healthful snack?
A: A high-protein bar.
Q: Do you take vitamins and if so, which ones?
A: I don't, but I eat plenty of fruits.
Q: What do you include in your child's lunch?
A: Apples and carrots.
Q: How do you make an unhealthy recipe healthy (healthy substitutions)?
A: I add more green vegetables and fruits.
Q: What hobbies do you have to help you relax?
A: Listening to music.
Q: Do you use a pedometer or Fitbit and what is your daily step goal?
A: No, but I make sure to walk 20 minutes per day.
Q: What is your favorite health tip that you live by?
A: Love your work and the people around you, enjoy healthy food, listen to music, and stay active physically.
Additional Resources
Dr. Arunima Misra limits sugar intake, enjoys biking outdoors
Outdoor activities, nutritious snacks help Dr. Ihab Hamzeh stay fit
Six tips to improve your heart health today