Healthy Habits: Avoiding refined grains, enjoying pets help Dr. Cecilia Valdes stay balanced
Taking care of your health is a priority and nobody knows that more than physicians and healthcare providers.
It can sometimes be difficult to find ways to stay healthy, so we've asked members of our Baylor College of Medicine community to share what they do in their daily lives to maintain a healthy lifestyle.
Dr. Cecilia Valdes, associate professor of obstetrics and gynecology at Baylor, shares some of her healthy habits with us.
Q: What health decisions start your day?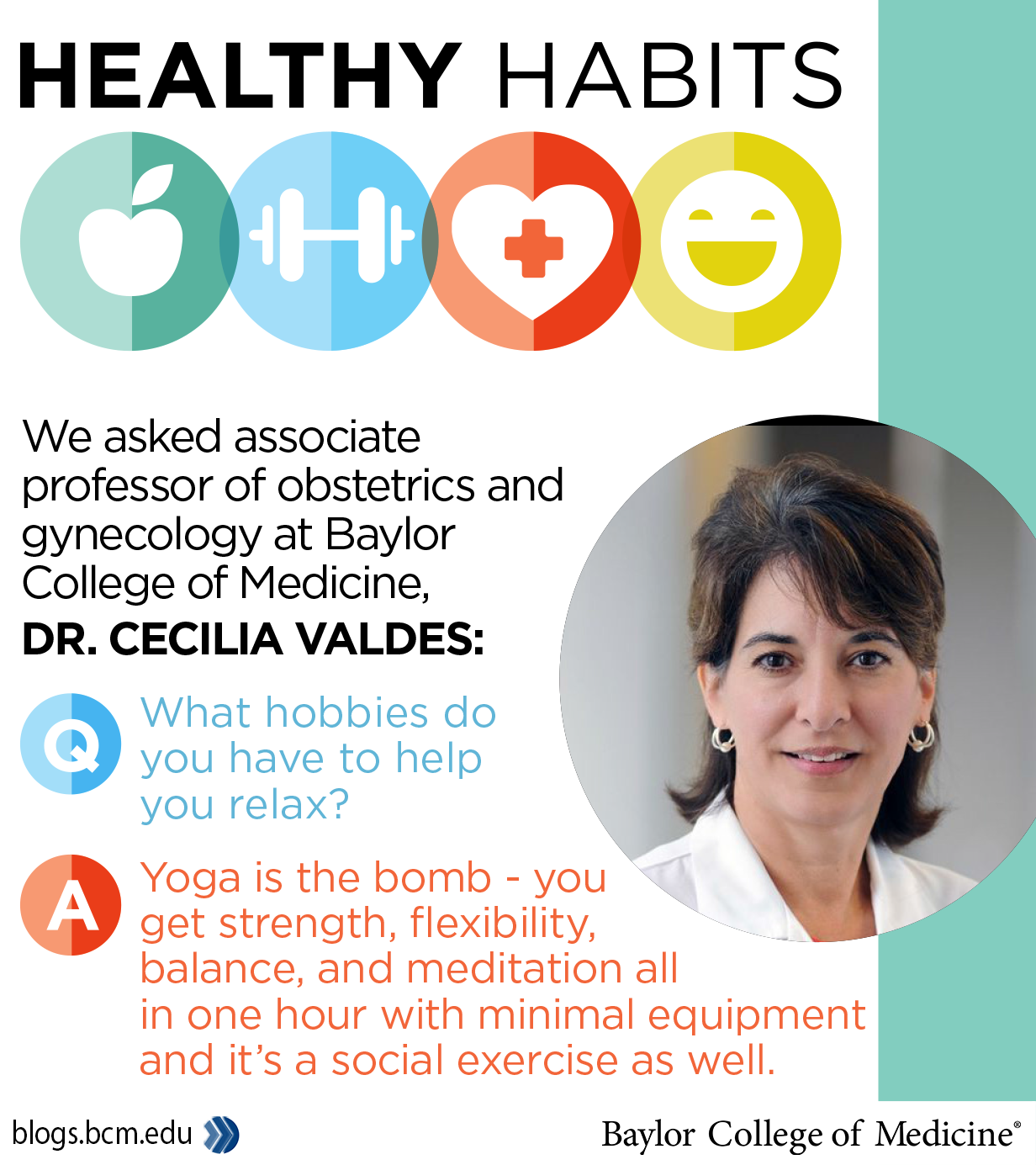 A: Moving, eating well and sleeping well.
Q: What is your go-to healthy breakfast?
A: Plain yogurt with fruit and homemade granola sweetened with a little honey and molasses. I also enjoy coffee with minimal sweetener – you get used to it very quickly.
Q: What is your favorite type of exercise?
A: Yoga or going outside with my dogs. I walk or jog as far as I can so I have to come back too. I'm easily bored in a gym.
Q: What keeps you motivated during your workout?
A: My dog's endless enthusiasm and walking and talking with a friend.
Q: What activities do you do when you can't fit in a full workout?
A: Standing desk. Sitting is a lethal disease – we all need to be standing. You can retrofit any desk with a little laminated table to hold your computer, no need to spend a bunch of money.
I also practice "30-20-10," which is interval training but a mini version: Jog for 30 seconds, run for 20 seconds, sprint for 10 seconds (even I can do that), then walk until you catch your breath and repeat five times. This is the absolute minimum daily exercise to get the maximum health benefits for your effort. You can do the same intervals on a stationary bike, in a pool, on stairs, etc. The point is to get your heart rate up for at least 10 seconds as fast as you can go. Your dog will love it too.
Q: What is your favorite healthful snack?
A: Granola and fruit.
Q: Do you take vitamins and if so, which ones?
A: Psillium fiber since it's so hard to get enough fiber in our modern diet.  Vitamins in the form of organic fruit and vegetables. Breaking down food into its component parts and thinking that's a good idea is a sad and failed way to accomplish good nutrition. Vitamins don't function in the same way – we need to get back to whole foods.
Q: What do you include in your child's lunch?
A: They are all grown up, but if I could do it over I would give them fruit and turkey or a peanut butter sandwich with whole grain bread. Soft and diet drinks make your fat cells absorb sugar. I don't give soft drinks to anyone that I like or care about.
Q: How do you make an unhealthy recipe healthy (healthy substitutions)?
A: No refined grains, i.e. white flour. I use minimal sweetener, mainly honey. I add more fiber, beans and whole grains to every soup or salad. Power bowls with a bunch of beans and whole grains are a great food trend.
Q: What is your nighttime skin regimen?
A: Getting enough sleep, using soap and water – not much more than that.
Q: What hobbies do you have to help you relax?
A: Yoga is the bomb – you get strength, flexibility, balance, and meditation all in one hour with minimal equipment and it's a social exercise as well.
Q: What is your go-to Houston restaurant for a healthy meal?
A: I go to Local Foods for a quick, healthy meal.
Q: Do you use a pedometer or Fitbit and what is your daily step goal?
A: I have an Apple watch, but I don't have a daily goal.
Q: What is your favorite health tip that you live by?
A: All white foods (white flower, sugar, white bread, etc.) except cauliflower are usually a bad idea.  If the food comes out of a box and a crinkly bag and seems to never go bad, skip it.
Additional Resources
Dr. Debra Palazzi inspired by nature, outdoor activities
Hiking, listening to audiobooks help Meghan McKay stay focused
See how Baylor stays fit with more healthy habits from members of our community
See how Baylor promotes a culture of healthy living and wellness