Reflections on Matthew Carter Service Day
Every year on a Saturday in early September, Baylor College of Medicine students set aside time to volunteer at local nonprofit institutions, like the Houston Food Bank and Project C.U.R.E., for a day of service dedicated to Matthew Carter, a Baylor student heavily dedicated to community service who was tragically killed in an armed robbery incident in 2000.
On the morning of Matthew Carter Service Day this year, MS1 volunteers were on campus by 8 a.m., enthusiastic and eager to go to their service sites. The group of second-year medical students who organized the event brought coffee and breakfast tacos. Well-fed and wide awake, the volunteers turned their attention to Dr. Carter, Matthew's father, who had dedicated several hours that morning to driving to campus to speak to us. He spoke humbly of his son's dedication to service and the role we volunteers play in honoring his legacy. Dr. Carter reminded us that medicine is itself a service, and that continuing to volunteer through medical school will keep us grounded and service oriented.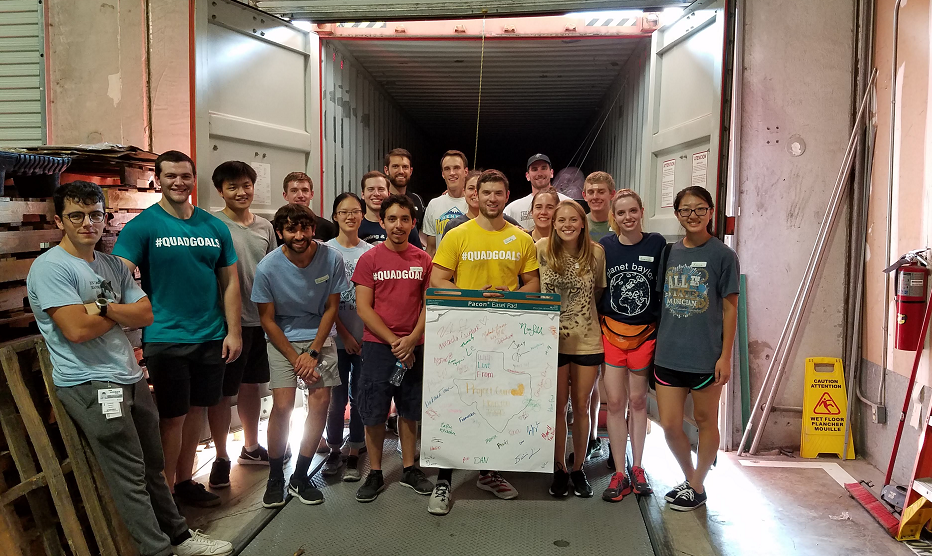 After Dr. Carter's remarks, we sat in groups with the other volunteers assigned to our service sites. Fifteen other students and I registered to volunteer at the Children's Assessment Center, which serves as a safe space and advocacy center for victims of child abuse. We began the small group discussion with general introductions, specialty interests, and hobbies. We were then asked to go around the circle and talk about why we had registered to volunteer on Matthew Carter Service Day – what motivated us to take precious time away from preparing for the upcoming midterm and instead reallocate that time to serving others?
As we went around the circle, almost everyone said, "I'm volunteering to give back to the community."
At first glance, this seems like the 'correct answer' to the question. Admittedly, when it was my turn to answer, I blanked and mumbled something along the same lines. But what does 'giving back to the community' actually mean? Despite often using it to describe my own motivations for volunteering, something about the phrase has always made me feel uneasy.
After taking some time to reflect on this, I realized that saying that we are 'giving back to the community' lends our service a certain transactional quality, as though we are repaying the community for some privileges that we have not earned but were given anyway. I remember listening to a National Public Radio story on morality during the drive to school one morning a few years ago.
The narrator discussed the concept of a 'moral ledger' that each of us subconsciously maintains and factors into decision-making. For instance, if a person makes a decision that doesn't align with his or her values, the ledger becomes net 'morally negative.' In facing a subsequent moral decision, the same person will instead favor the 'right thing to do' to balance his internal moral ledger. Conversely, if the person does something that initially aligns with his or her values, he or she may later feel entitled to conduct himself immorally to 'restore balance.'
In a similar way, the phrase 'giving back to the community' suggests that we may have a similar ledger for unearned gifts that we receive from the universe – privileges, conveniences, or simple good fortune. Our inclination to give back to the community might then derive only from the need to settle our debts with the world and to retroactively earn what has been handed to us. However, I suggest that this paradigm might limit us in the amount of good that we strive to do for the community. If all that we are doing is balancing the ledger and striving for net neutral, how will we ever improve the world we inhabit?
Perhaps we should consider adopting a different paradigm of service. By abandoning the ledger and approaching service as we do a points-based game, we would instead strive to achieve as high a 'score' as possible and enjoy every minute of it. We would change our reason to volunteer from 'to give back to the community,' to simply, 'to give to the community.' In doing so, we would not only encourage more service and consistently contribute a net positive difference to the community, but also shift the tone and spirit of outreach.
 -By Anjay Batra, first-year medical student at Baylor College of Medicine