Remembering my time with Dr. David Sugarbaker
As I woke up on the morning of Sept. 17 to head to Houston for my biannual checkup, there was a distinct hole. I didn't know what to expect. My appointments at the Lung Institute at Baylor College of Medicine are usually like a reunion. I get to see the staff who has become like my family, and best of all, I get to spend some time with the man who gave me my life back almost 13 years ago.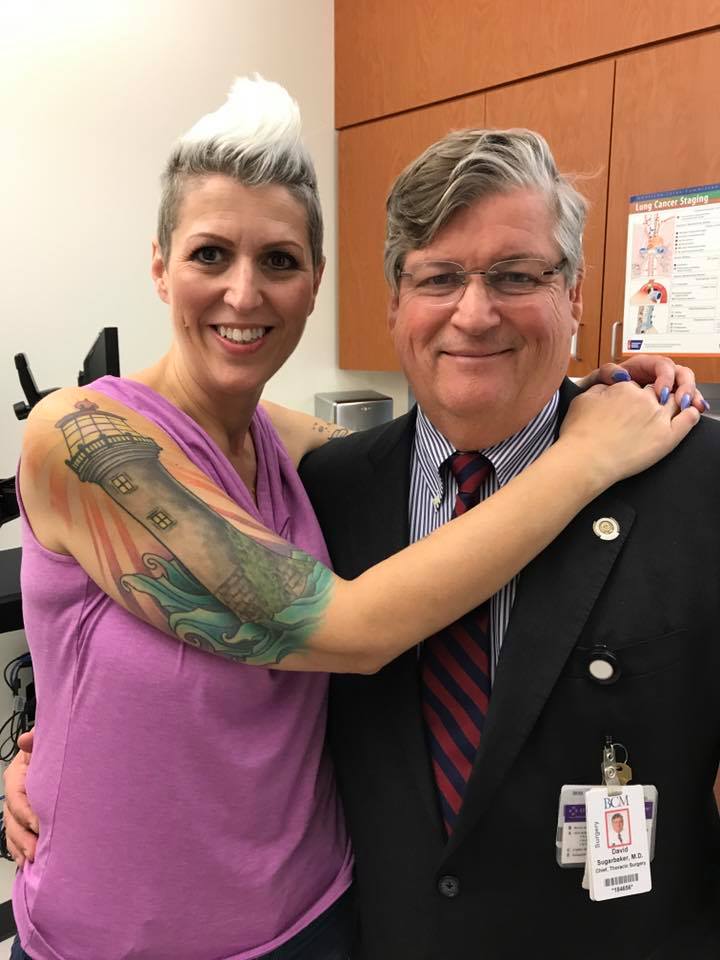 He always greets me with a big smile and asks how his star patient is. He tells me the good news about my scans and, lately, will ask what I've been doing with my advocacy work.
None of that happened this time. On Aug. 29, Dr. David Sugarbaker, the man who saved my life, lost his. Instead of greeting me with smiles, tears were shed among the same people who worked so closely with him.
When I received the news, I sat still and let it all sink in. I looked around my house at my puppies and my kitchen, then my eyes landed on my family picture taken a few years ago. The three of us; my husband, daughter and me, all smiling happily. The tears rolled down my cheeks unchecked as I thought of the life I have because of this man.
Everything around me is possible because Dr. Sugarbaker saved my life almost 13 years ago. I wasn't supposed to live to see Lily's 2nd birthday, and, in August she turned 13. My husband and I will be celebrating our 20th wedding anniversary in April. None of this would be possible if not for Dr. Sugarbaker knowing it would be possible all those years ago. Because he saw the possibility of a future in me, I've been able to build a beautiful life.
I thought of the thousands of people he impacted while performing his lifelong work. The mesothelioma community suffered a great loss that day, and the medical community lost a pioneer. More than that, the world lost a father, a husband and a friend. So many lives have been touched by his selflessness and passion for answers.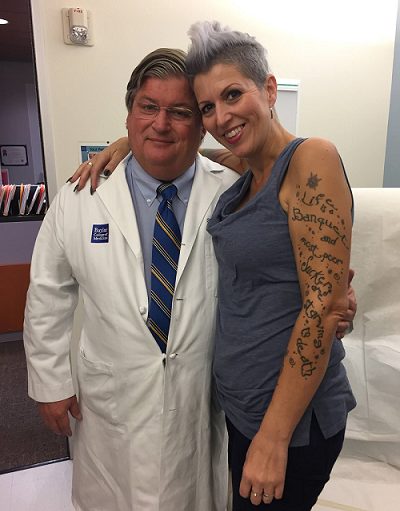 How do you thank someone for giving you your life back? I tried to by making him proud. I want to share my story with the world and show everyone what is possible when hope is in the equation. How do you even begin to let someone know that every single breath you take is because of him?
I have been with Dr. Sugarbaker for 13 years, ever since my mesothelioma diagnosis in 2005. I followed him to Houston when he opened the Mesothelioma Center at Baylor, and have come to love this city, this clinic and its people.
I'm not the only one. As the news spread, I had people from all over the world tell me how they came to know Dr. Sugarbaker through my Facebook and blog posts. These people who had never met him felt the loss.
Years ago, after receiving the "all clear," I asked Dr. Sugarbaker if we could take a photo together. At first he was a bit taken aback, but he quickly agreed. At every appointment after that, he quickly agreed to take a photo. No matter how busy he was in the clinic that day, he always took time for our photo.
I remember my last visit distinctly. He asked me if we could take a photo. I didn't know back then that it would be the last one. I'm grateful to have years of these photos to look back on.
Dr. Sugarbaker was one-in-a-million. I have the greatest confidence, though, that his legacy will live on and Lung Institute at Baylor will continue to be a groundbreaking center that will keep saving lives and making an impact on generations to come.
I'm looking forward to being here to witness it and be a part of Dr. David Sugarbaker's legacy.
-By Heather Von St. James
A memorial fund has been set up in honor of Dr. Sugarbaker. Donations can be made payable to Baylor College of Medicine and mailed to: The Division of General Thoracic Surgery, c/o The Office of Institutional Advancement and Alumni Affairs, MSC #800, P.O. Box 4976, Houston, TX 77210. Secure online gifts may be made as well.