Surviving mesothelioma: The best is yet to come
As a survivor of mesothelioma, I live my life in six-month increments. Every six months, I fly to Houston from Minneapolis/St. Paul to have a checkup with Dr. David Sugarbaker, professor and chief of the Division of General Thoracic Surgery at Baylor College of Medicine.
Nov. 21 will mark 11 years since I was diagnosed with mesothelioma and began my cancer journey. I met Dr. Sugarbaker a few weeks later after traveling to Boston, where he was head of the International Mesothelioma Program. I've been seeing him ever since. When he took a position at the Baylor Clinic and started The Mesothelioma Treatment Center, I followed him. The relationship we had built while in Boston was not one I was willing to let go of so easily.
I was nervous about changing to a new clinic and traveling to a new city. Change is never easy. But I thought, "If Dr. Sugarbaker can start over from scratch, I can too."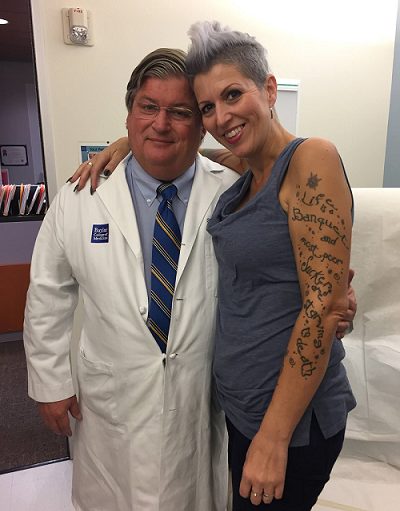 It's been two years since I made my decision to follow him, and I'm so happy I did. Even though six months pass between appointments, I'm always greeted as if I'm part of the team. The level of personal care has impressed me from day one. I'm treated like family through every step of my appointment from the blood draw, through the CT scan, and upon entering Dr. Sugarbaker's suite of exam rooms.
Earlier this year, I was asked if I would be willing to share my story as part of a campaign for Baylor, and I enthusiastically agreed.  It has since spread to a variety of different venues throughout Houston, including a huge installation at Bush Intercontinental Airport. I was featured alongside four other patients whose lives have been saved because of Baylor doctors. I was honored to thank the doctor who saved my life.
When I'm in Houston at the clinic, my favorite thing to do is talk with other patients. Dr. Sugarbaker and the staff know I am always available to talk about my experience with newly-diagnosed patients and those who have been with him awhile. Each trip I meet someone new, and because of all of my advocacy work, I've met others who already know who I am. I don't know if I'll ever get used to being recognized by mesothelioma patients, but it doesn't change the fact that I love meeting and talking to people.
I appreciate knowing that people have sought out Dr. Sugarbaker after reading about me online, or seeing the video I did as a testimonial for him. I guess it's my way of giving back.
As the months and years continue to go by, my visits to Houston and the Baylor Clinic are something I look forward to. I still get a little nervous – I don't think I'll ever be 100 percent over that, but I do have the confidence that if anything does show up, the medical team at The Mesothelioma Treatment Center will have the right answers and best path for me to take.
I always say that having faith is key in any cancer battle, and for me, that faith falls into three categories: My faith in God, myself, and lastly, faith in my medical team at Baylor. They give me reason to believe my best years are ahead of me.
-By Heather Von St. James
Save