Healthy Habits: Home-cooked meals, weight training keep Dr. Helen Dunnington fit
Taking care of your health is a priority and nobody knows that more than physicians and healthcare providers.
It can sometimes be difficult to find ways to stay healthy, so we've asked members of our Baylor College of Medicine community to share what they do in their daily lives to maintain a healthy lifestyle.
Dr. Helen Dunnington, assistant professor of obstetrics and gynecology at Baylor, shares some of her healthy habits with us.
Q: What health decisions start your day?
A: Eating a healthy breakfast, having a positive attitude about my day, and a plan for how it hopefully will go.
Q: What is your go-to healthy breakfast?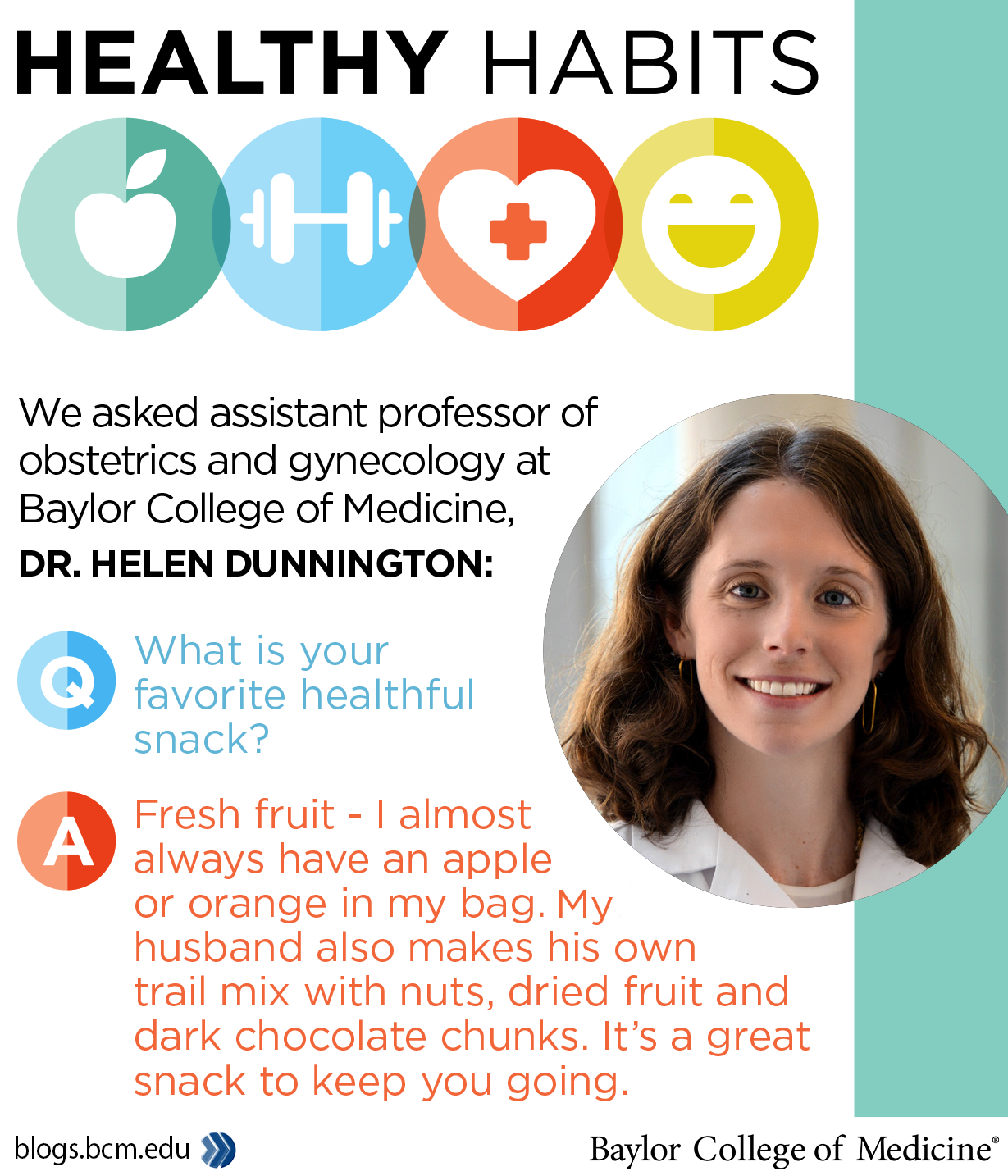 A: Overnight oats – oatmeal prepared with protein powder, milk, Greek yogurt, and berries. I make it the night before and is ready to grab if I don't have time for breakfast at home. It has lots of protein to keep me going through the morning.
Q: What is your favorite type of exercise?
A: I love to run, it provides great stress relief in addition to its obvious health benefits. I also enjoy weight training, biking, swimming, and yoga.
Q: What keeps you motivated during your workout?
A: Good music and the endorphins that make me feel great after finishing!
Q: What activities do you do when you can't fit in a full workout?
A: I will sometimes try and do a few extra flights of stairs or a short workout video from YouTube channels I like, such as Body Fit by Amy, which I highly recommend.
Q: What is your favorite healthful snack?
A: Fresh fruit – I almost always have an apple or orange in my bag.  My husband also makes his own trail mix with nuts, dried fruit, and dark chocolate chunks. It is a great snack to keep you going.
Q: Do you take vitamins and if so, which ones?
A: I recently finished breastfeeding my third son. During that time, I was taking a prenatal vitamin with DHA and fenugreek. Now I take an adult multi-vitamin and fish oil.
Q: What do you include in your child's lunch?
A: Usually a sandwich, some fruit, a fun snack like Pirate's Booty, and a juice box.
Q: How do you make an unhealthy recipe healthy (healthy substitutions)?
A: We try to cut out processed sugars, choose lean meats, healthier fats or oils such as olive oil, limit salt, and use fresh, whole ingredients as often as possible.
Q: What is your nighttime skin regimen?
A: I wash my face with a gentle soap and will occasionally use a face lotion.
Q: What hobbies do you have to help you relax?
A: To help relax I enjoy running, reading, playing board and card games with my family.
Q: What is your go-to Houston restaurant for a healthy meal?
A: We occasionally order from Bellagreen and enjoy it, but really don't have a solid go-to place because with three small boys we find it easier and often healthier to cook our own meals and eat at home. On rare nights when my husband I are able to go out to dinner without the boys, we aren't worrying about eating healthy.
Q: Do you use a pedometer or Fitbit and what is your daily step goal?
A: I have a Fitbit with a daily step goal of 10,000.
Q: What is your favorite health tip that you live by?
A: Exercise and a diet that is varied, made up of mostly whole foods, and avoiding processed sugars is more important and more easily sustained than any fad diet… and also, all of us need more sleep.
Additional Resources
Dr. Robin Kochel enjoys hiking, low-fat smoothies
Boxing, weightlifting and family time keep Dr. Alexis Wood active
See how Baylor stays fit with more healthy habits from members of our community
See how Baylor promotes a culture of healthy living and wellness