Healthy Habits: Dr. Alli Antar enjoys outdoor time, plays musical instruments to relax
Taking care of your health is a priority and nobody knows that more than physicians and healthcare providers.
It can sometimes be difficult to find ways to stay healthy, so we've asked members of our Baylor College of Medicine community to share what they do in their daily lives to maintain a healthy lifestyle.
Alli Antar, Ph.D., assistant professor of pediatrics-nutrition at Baylor, shares some of her healthy habits with us.
Q: What health decisions start your day?
A: I gave birth to a baby in March, so my schedule is a bit off at the moment. I'd like to get back to where I was a few years ago; running a few miles first thing in the morning, walking the dog as a cool down, eating a healthy breakfast and taking my vitamins before heading off to work.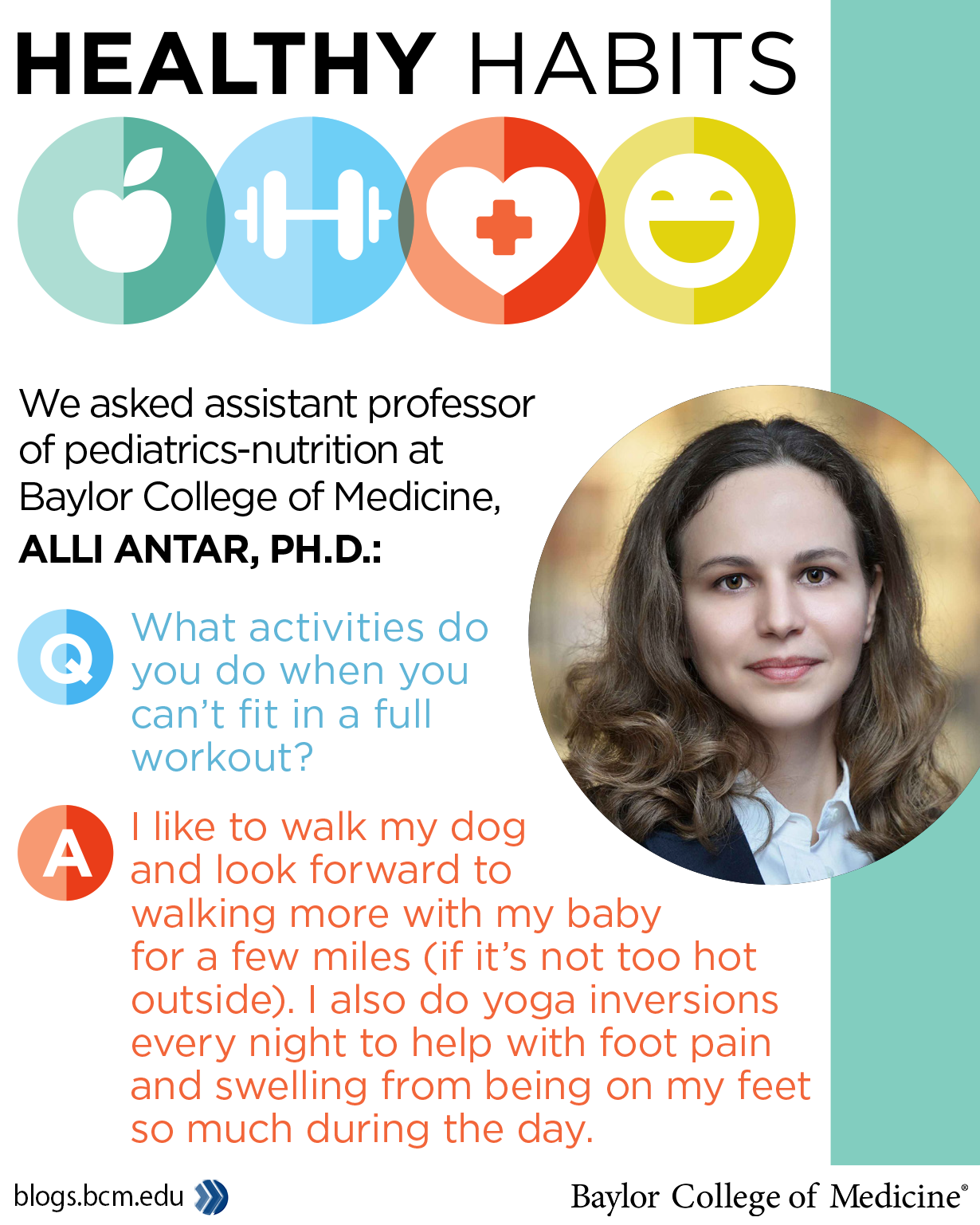 Q: What is your go-to healthy breakfast?
A: Currently, it's organic oatmeal (one-minute oats) with brown sugar, cinnamon, raisins, and crushed walnuts with lots of milk to support my breast milk supply. Before, I used to occasionally have egg-butter and sliced tomatoes on Finnish sourdough rye toast or, on weekends, avocado toast with garlic-scrambled eggs and tomatoes.
Q: What is your favorite type of exercise?
A: I have three: Yoga, hiking, and running, with a combination of the latter two (trail-running). Even better if I can also get in a swim during a hike. I've always wanted to get more into rock climbing and caving. I get bored exercising indoors (with the exception of yoga).
Q: What keeps you motivated during your workout?
A: Beautiful scenery and the natural world.
Q: What activities do you do when you can't fit in a full workout?
A: I like to walk my dog and look forward to walking more with my baby for a few miles (if it's not too hot outside). I do yoga inversions every night to help with foot pain and swelling from being on my feet so much during the day. If it's raining and I can't be outside, I'll sometimes do sit-ups, push-ups and a longer yoga routine. I'm currently contemplating where to install a pull-up bar in my home.
Q: What is your favorite healthful snack?
A: It depends on my mood – either fresh fruit, unsalted roasted pistachios, pitted, dried medjool dates stuffed with walnut halves, or yogurt.
Every summer, when there's an abundance of organic produce available at the markets, I make my favorite fruit salad and snack on that at home: Chopped honeydew or cantaloupe mixed with chopped kiwi (skins on), mango, and nectarines (skins on), halved cherries, blueberries, raspberries, and blackberries. Loaded in fiber and antioxidants!
Q: Do you take vitamins and if so, which ones?
A: Currently, I continue to take my prenatal multivitamin, vitamin D3, B-50 complex, and methylfolate.
Q: What do you include in your child's lunch?
A: Right now, my baby is fed breast milk with vitamin D supplementation. When I'm at work, I pump breast milk every four hours to maintain my baby's food supply. I intend to feed my baby breast milk for the first six months then introduce solids. The World Health Organization recommends exclusively breastfeeding babies for the first six months of life.
Q: How do you make an unhealthy recipe healthy (healthy substitutions)?
A: I am very sensitive to sodium in food. I don't like the taste or how it makes me feel. So, I usually don't add table salt to food, or add it very sparingly. Lemon juice or other herbs can sometimes be used to add flavor when table salt is avoided. Whenever a recipe calls for butter or other oil, I consider replacing with olive oil or just cutting the amount of butter/oil.
I avoid cooking with trans fats entirely. I substitute whole grains for white or refined, if it makes sense. I substitute brown rice for white rice. I substitute buffalo for beef or lamb – it has a lower fat content and is grass fed. However, I often try to make vegetarian versions of dishes because I don't like to eat much meat. I'll cut the amount of added sugar if it seems that the recipe calls for excessive sugar.
Q: What is your nighttime skin regimen?
A: Washing my face with plain soap and water using a natural sea sponge. Sometimes, I use a bit of organic lotion if there's any dryness. I use Burt's Bees lip balm right before bed. I try to avoid using products with parabens, phthalates, antibacterial additives, and ingredients that could otherwise be harmful to the environment or human health.
Q: What hobbies do you have to help you relax?
A: I play a variety of musical instruments, including piano, violin, mandolin. I also used to play trumpet. I have each of these instruments (and more!) at home, and sometimes play them to relax. I also enjoy watching art, foreign, independent, and documentary films, attending symphony concerts and operas, visiting the various amazing museums in town, attending the occasional artist talk/gallery event or academic lecture outside of my field, gardening, and reading classic literature about my various interests (ancient civilizations, the natural world/environment, sociology, and politics).
Q: What is your go-to Houston restaurant for a healthy meal?
A: I usually try to find healthy options on the menus at the various restaurants in town. I basically avoid foods that are deep-fried or salty and never drink soft drinks.
Q: Do you use a pedometer or Fitbit and what is your daily step goal?
A: I don't use a pedometer or Fitbit. If I'm running, I'll have a specific mile goal, which I've already measured out using an online map. If I'm walking, I don't think about distance too much – I love being outside, rain or shine, so I tend to take long walks.
Q: What is your favorite health tip that you live by?
A: I'm a firm believer in listening to your body – if it hurts or you're tired, there's a reason. Also, I'm a firm believer in the health benefits of the Mediterranean diet (especially with lots of garlic and onions) and eating in moderation.
Additional Resources
Home-cooked meals, weight training keep Dr. Helen Dunnington fit
Dr. Robin Kochel enjoys hiking, low-fat smoothies
See how Baylor stays fit with more healthy habits from members of our community
See how Baylor promotes a culture of healthy living and wellness