Healthy Habits: Family time, weight training help Dr. Tuan Truong relax and stay fit
Taking care of your health is a priority and nobody knows that more than physicians and healthcare providers.
It can sometimes be difficult to find ways to stay healthy, so we've asked members of our Baylor College of Medicine community to share what they do in their daily lives to maintain a healthy lifestyle.
Dr. Tuan Truong, assistant professor of surgery in the Division of Plastic Surgery at Baylor, shares some of his healthy habits with us.
Q: What health decisions start your day?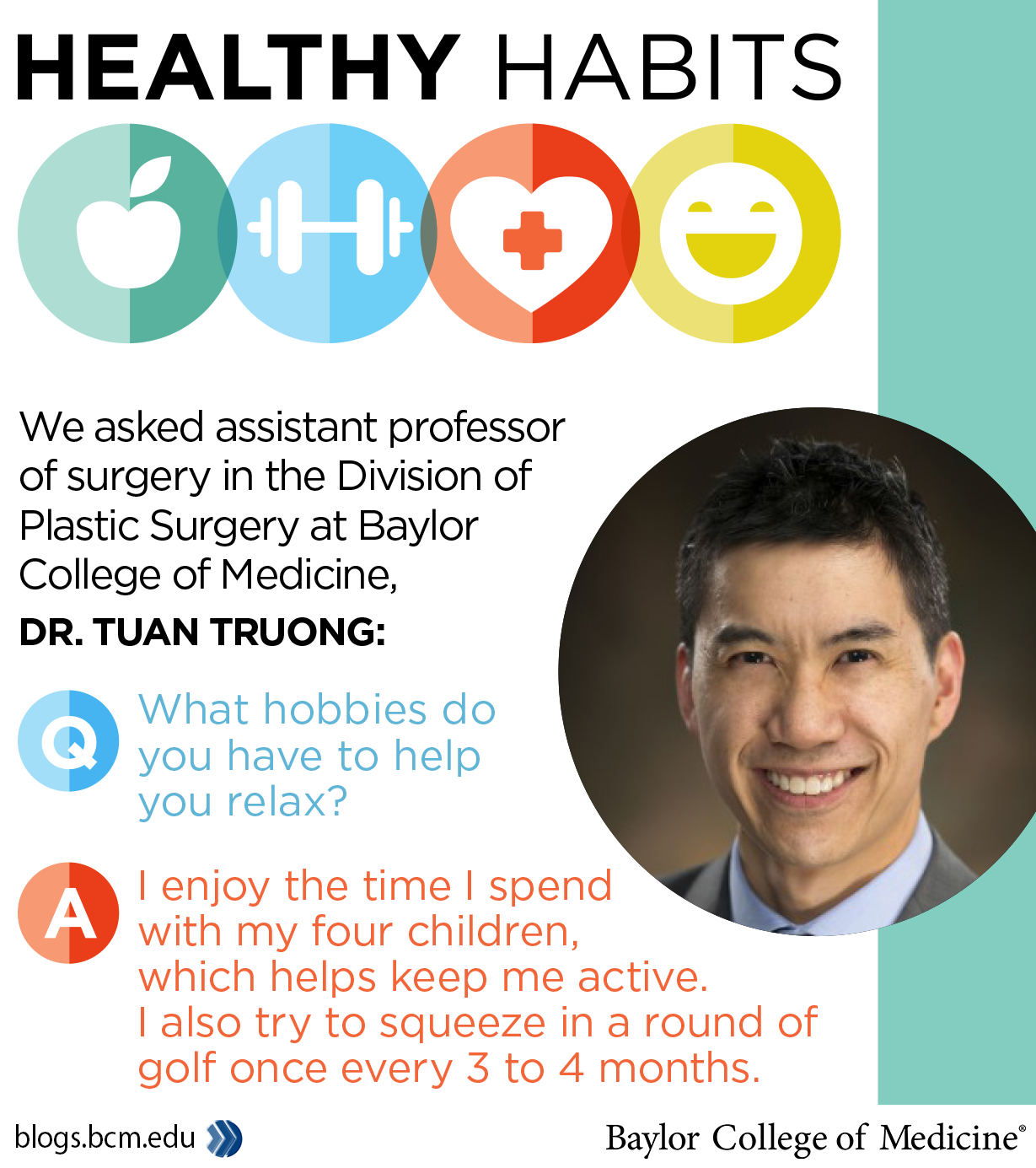 A: I believe that starting your day with 1 to 2 glasses of water is an essential tool we do not take seriously enough.  I also think jump-starting your metabolism with breakfast is very important, particularly ahead of a long day.
Q: What is your go-to healthy breakfast?
A: I try to mix complex carbohydrates and proteins. I have a weakness for bacon.
Q: What is your favorite type of exercise?
A: I try to stretch every morning and evening. Walking at work is beneficial. And I play with my children, which is the best kind of workout.
Q: What keeps you motivated during your workout?
A: The music must be good and have a great beat. Otherwise, it's quite boring.
Q: What activities do you do when you can't fit in a full workout?
A: I try to take the stairs more often. And I try get in some body-weight training at home.
Q: What is your favorite healthful snack?
A: Apples are a great way to keep hydrated and be healthy. Drinking plenty of water is also great at staving off some hunger pains.
Q: Do you take vitamins and if so, which ones?
A: I do not. I try to mix up my diet to include a variety of foods.
Q: What is your nighttime skin regimen?
A: I use an exfoliant every night and a moisturizer before bedtime.
Q: What hobbies do you have to help you relax
A: I enjoy the time I spend with my four children, which helps keep me active.  I also try to squeeze in a round of golf once every 3 to 4 months.
Q: What is your go-to Houston restaurant for a healthy meal?
A: There are so many great restaurants in Houston, especially for cheat nights. For healthy options, I favor True Foods, which has a bit of everything. Their Farmers Market Crudites are delicious and look great too.
Q: Do you use a pedometer or Fitbit and what is your daily step goal?
A: I do not. My iPhone has an app that tracks my steps, but I do not have a particular goal in mind.
Q: What is your favorite health tip that you live by?
A: I try not to eat the same thing in the week. Variety really is the spice of life.
Additional Resources
Dr. Marissa Meissner stays hydrated, enjoys spinning to stay active
Planning meals, setting exercise goals key for Dr. Richa Shukla
See how Baylor stays fit with more healthy habits from members of our community
See how Baylor promotes a culture of healthy living and wellness