Healthy Habits: Boxing, weightlifting and family time keep Dr. Alexis Wood active
Taking care of your health is a priority and nobody knows that more than physicians and healthcare providers.
It can sometimes be difficult to find ways to stay healthy, so we've asked members of our Baylor College of Medicine community to share what they do in their daily lives to maintain a healthy lifestyle.
Alexis Wood, Ph.D., assistant professor of pediatrics-nutrition at Baylor, shares some of her healthy habits with us.
Q: What health decisions start your day?
A: I am a single mom with two young children, two dogs and four cats. I don't get to focus on my health in the morning as much as I would like to (sad but true!) – I am just working to get everyone fed, watered, dressed and where they need to be on time. However, I do put sunscreen on all of us every day without fail.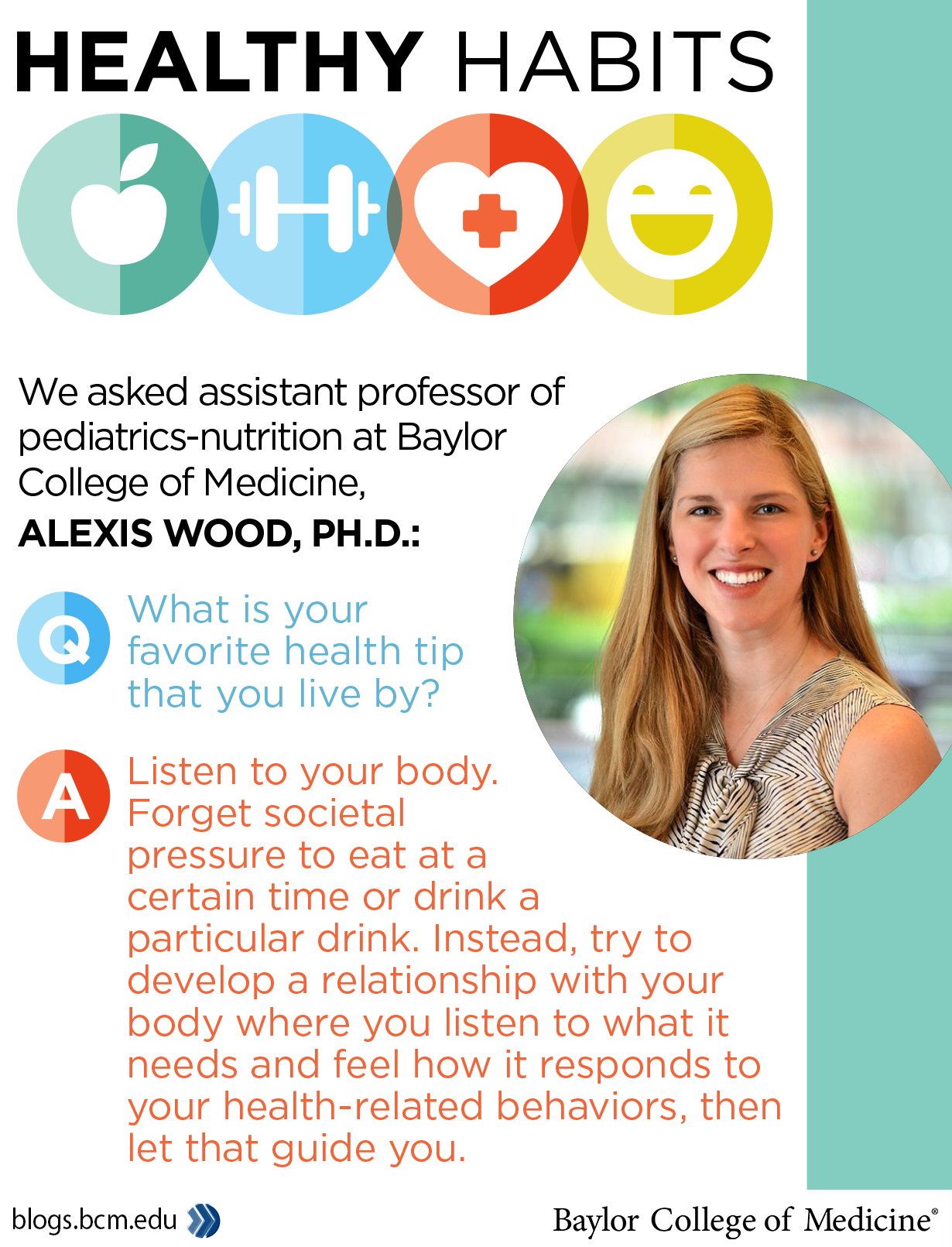 Q: What is your go-to healthy breakfast?
A: Avocado mashed on whole grain toast with an egg.
Q: What is your favorite type of exercise?
A: I have been both a body builder, and a recreational boxer fighting in the ring. I was the first female in the United Kingdom to hold the advanced level certification in boxing. Weightlifting and boxing remain my favorite exercises. If I need more cardio, running is where it is at for me although I definitely have a love-hate relationship with running.
Q: What keeps you motivated during your workout?
A: Loud pop tunes from the 90s.
Q: What activities do you do when you can't fit in a full workout?
A: You can do a good weightlifting workout at home with free weights in about 15 minutes. I will also jump rope at home using HIIT (high-intensity interval training) techniques.
Q: What is your favorite healthful snack?
A: I have a condition called fructose malabsorption whereby there are very few fruits I can eat. So my snacks can be limited. I do love Kind bars. They have great fruit-free options and most of ingredients contribute some nutrients.
Q: Do you take vitamins and if so, which ones?
A: Personally, I do not think it's a good idea to take vitamins or other supplements without the oversight of a medical doctor. The science suggests that at best you get very expensive, but nutrient rich urine, and we don't know the worst-case scenario yet.
Q: What do you include in your child's lunch?
A: My kid likes Lunchables, which are gross in my mind! I always add in a veggie snack (carrots, broccoli, tomatoes etc.) and a fruit snack.
Q: How do you make an unhealthy recipe healthy (healthy substitutions)?
A: I rarely do this. If ever. If something is very high in calories I either try not to eat it daily, or when I do I just try to listen to my body and stop eating it when full.
Q: What is your nighttime skin regimen?
A: Ha! Gosh, this is going to make me sound obsessed. I dermaplane at night once a week, and I dermaroller using .3mm needles every other night, and using .5mm needles every four weeks. I wash my face daily using water and a microfiber cloth, apply a peptide serum before dermarolling, and then a retinoid oil after dermrolling. When that has sunk in, I use a retinoid serum, then a moisturizer. I like products by "The Ordinary."
Q: What hobbies do you have to help you relax?
A: I like doing jigsaw puzzles, crafting (I make gift cards), reading with my book group, praying and using my Bible journal, drinking wine, cooking, baking, and finding cool activities to do with my children on the weekend and after school.
Q: What is your go-to Houston restaurant for a healthy meal?
A: Hugo's for ceviche.
Q: Do you use a pedometer or Fitbit and what is your daily step goal?
A: I don't use these. They stress me out. I am only in the office 9 a.m. to 2 p.m., then I pick up my children and play with them, feed them, do homework, bath them, do bedtime, and work 9 p.m. to 11 p.m. from home. It's not realistic for me to work steps into such a truncated schedule.
Q: What is your favorite health tip that you live by?
A: Listen to your body. Forget all the societal pressure to eat at a particular time, or drink certain drink. Instead, try to develop a relationship with your body where you listen to what it needs, and feel how it responds to your health-related behaviors, then let that guide you. Easier said than done, I know!
Additional Resources
A good night's sleep is key for Dr. Ritwick Agrawal
Dr. Sneha Patel focuses on cardiovascular health
See how Baylor stays fit with more healthy habits from members of our community
See how Baylor promotes a culture of healthy living and wellness