Healthy Habits: Family yoga and good books help Dr. Carl Walther relax
Taking care of your health is a priority and nobody knows that more than physicians and healthcare providers.
It can sometimes be difficult to find ways to stay healthy, so we've asked members of our Baylor College of Medicine community to share what they do in their daily lives to maintain a healthy lifestyle.
Dr. Carl Walther, assistant professor of medicine-nephrology at Baylor, shares some of his healthy habits with us.
Q: What health decisions start your day?
A: I think one has to make healthy living a priority every day. Sedentariness and unhealthy foods are the default options in modern life, so every day is a bit of a struggle. My guiding principles are to maximize activity, minimize added sugars or sweeteners, and minimize animal food products.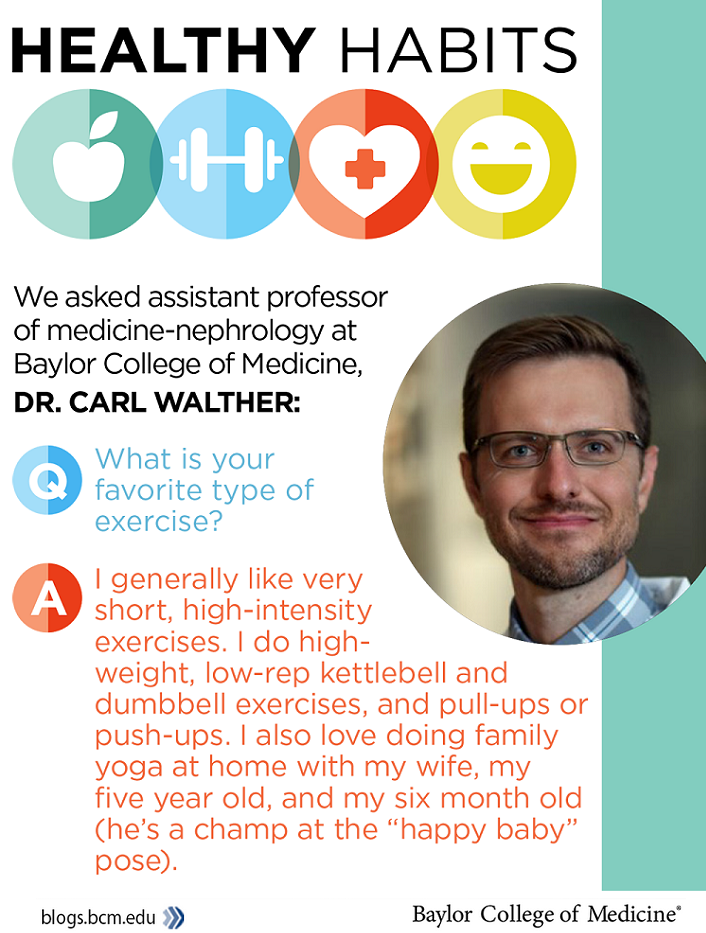 Q: What is your go-to healthy breakfast?
A: Every weekday I eat Bob's Red Mill Rolled oats (microwaved) with copious amounts of almonds, walnuts, pecans, and seasonal berries or sliced bananas. Thanks to my wife, Angela, for teaching me this quick, filling, and healthy breakfast!
On weekends, I take the extra time to make steel-cut oats on the stove top for the whole family, and again top with copious nuts, and with two or three different fresh fruits.
Q: What is your favorite type of exercise?
A: I generally like very short, high-intensity exercises. When I was in my intern year, my clinic mentor Dr. Diego Jarrin took me aside (I think he had noticed I had put on an "intern year 15") and told me I needed to make exercising a habit. I took it to heart and have exercised nearly every day since, always in the evening.
I currently do all my exercising at home, to save time. I like high-weight, low-rep kettlebell and dumbell exercises, and pull-ups or push-ups. I also love doing family yoga at home along with my wife, my five year old, and my six month old (he's a champ at the "happy baby" pose). If I've had an exhausting day, I'll just do some stretches, or a set of push ups or body weight squats before going to bed.
Q: What keeps you motivated during your workout?
A: That it is almost over!
Q: What activities do you do when you can't fit in a full workout?
A: One can do a set of push-ups or body weight squats, no matter where one is or how tired one is.
Q: What is your favorite healthful snack?
A: Peanuts! I keep large jars at my desk. My pantry at home is always stocked with multiple kinds of nuts, including pistachios and cashews, for a change of pace. But nuts are great as a satisfying, delicious, and healthy snack.
Q: Do you take vitamins and if so, which ones?
A: Absolutely not! There is little evidence that vitamin supplements add anything of importance to a healthy diet (except in limited circumstances). I believe they are generally a waste of money, and provide either no benefit (if taken at normal doses), or can be harmful (if taking multiples of the recommended daily allowances for certain vitamins).
Q: What do you include in your child's lunch?
A: A fresh fruit, a fresh veggie, and, if I'm making his lunch, a sunflower butter and jelly sandwich on whole wheat. If my wife is making his lunch, he'll get a turkey and cheese on whole wheat.
Q: How do you make an unhealthy recipe healthy (healthy substitutions)?
A: I think the best option is to eat the unhealthy recipe or dish in all its glory, but to make it a rarity – and take great pleasure in it.
Q: What hobbies do you have to help you relax?
A: Reading. I always have one novel and several non-fiction books on my nightstand.
Q: What is your go-to Houston restaurant for a healthy meal?
A: I love Local Foods. Try their "Garden Sammie" as a salad. Delicious, filling, healthy, and vegan. My wife loves it with extra brussels sprouts. Add peanut butter and jelly or grilled cheese on wheat with a side of kale for the kids, and you've got great takeout to feed the whole family.
Q: What is your favorite health tip that you live by?
A: Avoid sweet drinks! Sugary drinks (sodas, sports drinks, juices) place terrible sugary stress on the body, and the claim that low or no calorie artificial sweeteners are any better in terms of weight control is probably not true, based on plenty of pre-clinical animal data, and epidemiological studies!
Additional Resources
Nutritionist Rachel Dudley stays balanced with barre exercise, meditation
Daily stretching, outdoor activities keep Dr. Lauren Blieden moving
See how Baylor stays fit with more healthy habits from members of our community
See how Baylor promotes a culture of healthy living and wellness