Healthy Habits: Nutritionist Rachel Dudley stays balanced with barre exercise, meditation
Taking care of your health is a priority and nobody knows that more than physicians and healthcare providers.
It can sometimes be difficult to find ways to stay healthy, so we've asked members of our Baylor College of Medicine community to share what they do in their daily lives to maintain a healthy lifestyle.
Rachel Dudley, nutritionist in the Dan L Duncan Comprehensive Cancer Center at Baylor, shares some of her healthy habits with us.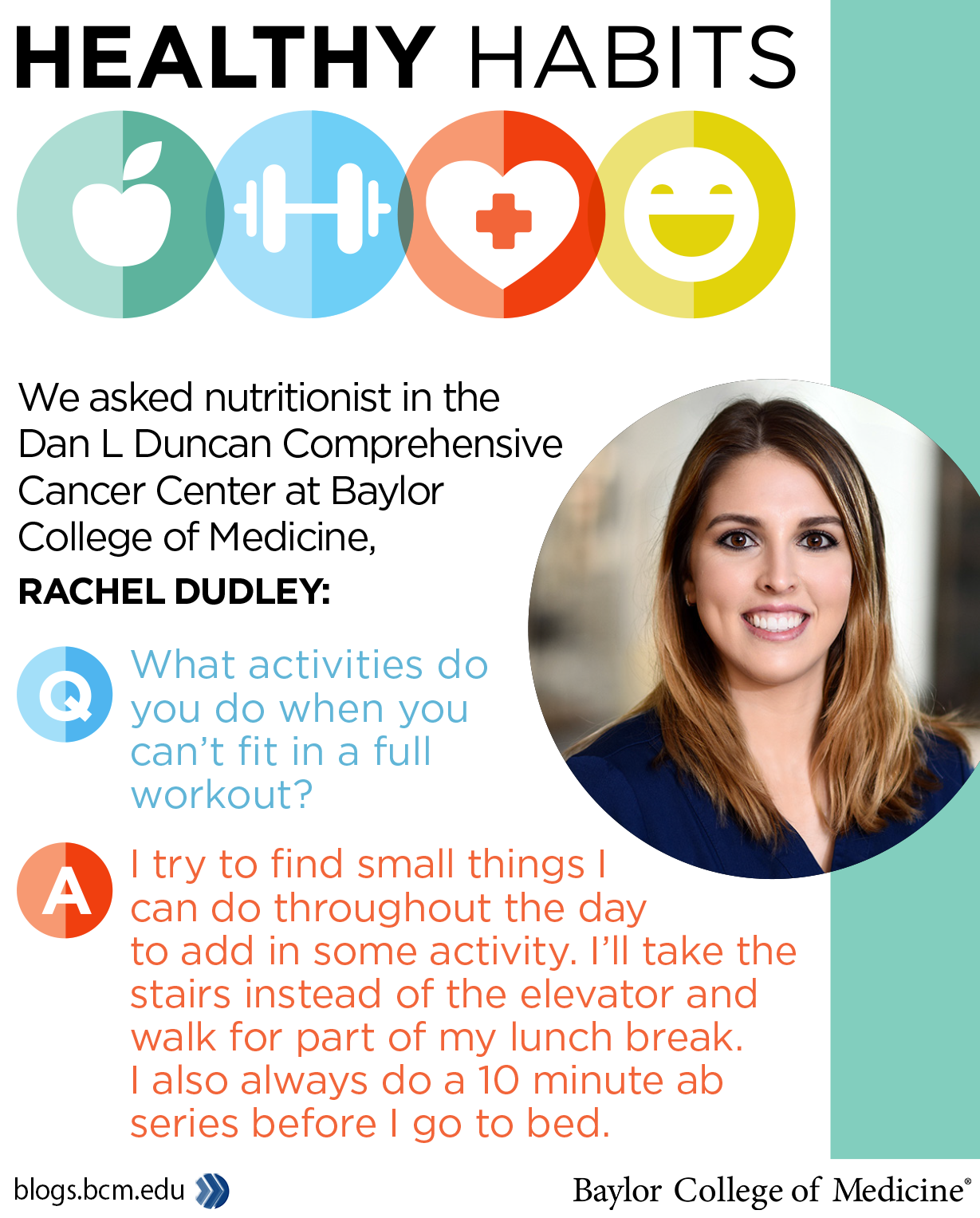 Q: What health decisions start your day?
A: I schedule my workout for that day in the morning so that I am not tempted to avoid the gym when I get home. It helps keep me motivated knowing that I have already committed to exercising that day. I also fill up my water bottle as soon as I get to work and keep it with me all day as a reminder to stay hydrated.
Q: What is your favorite type of exercise?
A: I love Pure Barre. It's a full body, barre-based workout that really works to create long, lean muscles. It is also low impact so I don't have worry about injuring something.
Q: What keeps you motivated during your workout?
A: I always try to remember the feeling that I get after I'm done working out. I've noticed that consistent exercise helps me feel more energetic – even on days that I am unable to exercise.
Q: What activities do you do when you can't fit in a full workout? 
A: I try to find small things I can do throughout the day to add in some activity. I'll take the stairs instead of the elevator and walk for part of my lunch break. I also always do a 10 minute ab series before I go to bed.
Q: What is your favorite healthful snack?
A: I don't snack too much but when I do it's usually fruit. I often pair it with yogurt, peanut butter, pretzels, or a little bit of cheese.
Q: Do you take vitamins and if so, which ones?
A: Although I strive to get the majority of my nutrients from food, I do take a multivitamin. I consider it a supplement to my diet, not a replacement. No amount of vitamins and supplements can substitute for a healthy lifestyle.
Q: What is your nighttime skin regimen?
A: I ALWAYS wash my face no matter how tired I am or how late it is. I'll give a shout out to my mom for this one. She was always on my sisters and me to take care of our skin. I have experimented with a lot of different products over the years but I finally have a skin care lineup that works for me. My routine is always wash, anti-aging face serum, and moisturize. I will sometimes use a face oil too.
Q: What hobbies do you have to help you relax?
A: Besides exercise and socializing with friends, I also use a guided meditation app to help manage stress.
Q: What is your go-to Houston restaurant for a healthy meal?
A: I love Local Foods. They emphasize locally sourced, seasonal foods to ensure that their items are fresh. I think it's great for people who are afraid to try new foods because everything looks so tasty. I have yet to try anything there that I didn't like. Their portions are pretty generous too so I can pretty much always get two meals for the price of one.
Q: Do you use a pedometer or Fitbit and what is your daily step goal?
A: I do track my steps and try to get at least 10,000 steps in. I really focus on the amount of steps I take on the days that I know I won't be able to fit in a full workout.
Q: What is your favorite health tip that you live by?
A: Everything in moderation.
Additional Resources
Daily stretching, outdoor activities keep Dr. Lauren Blieden moving
Two-time Olympic Gold Medalist Carli Lloyd says preparation breeds success
See how Baylor stays fit with more healthy habits from members of our community
See how Baylor promotes a culture of healthy living and wellness