Don't let carpal tunnel syndrome push your buttons
Whether you are studying, working, or both, typing is likely a necessary part of your daily routine.
While we've come a long way from using typewriters, it's easy to forget that repetitive keyboard use can cause long-term damage. A study by the Bureau of Labor Statistics found that musculoskeletal disorders, such as carpal tunnel syndrome (CTS), account for 33 percent of all worker injury and illness cases in the United States.
"Carpal tunnel syndrome is fairly common, especially among workers who frequently use their hands," said Dr. Edward Reece, chief of adult plastic surgery at Baylor College of Medicine. "Symptoms usually begin gradually and include numbness in the thumb, index finger and middle finger."
Other CTS symptoms to look out for are burning sensations in the middle and index fingers, pain in the wrist and tingling in the fingers.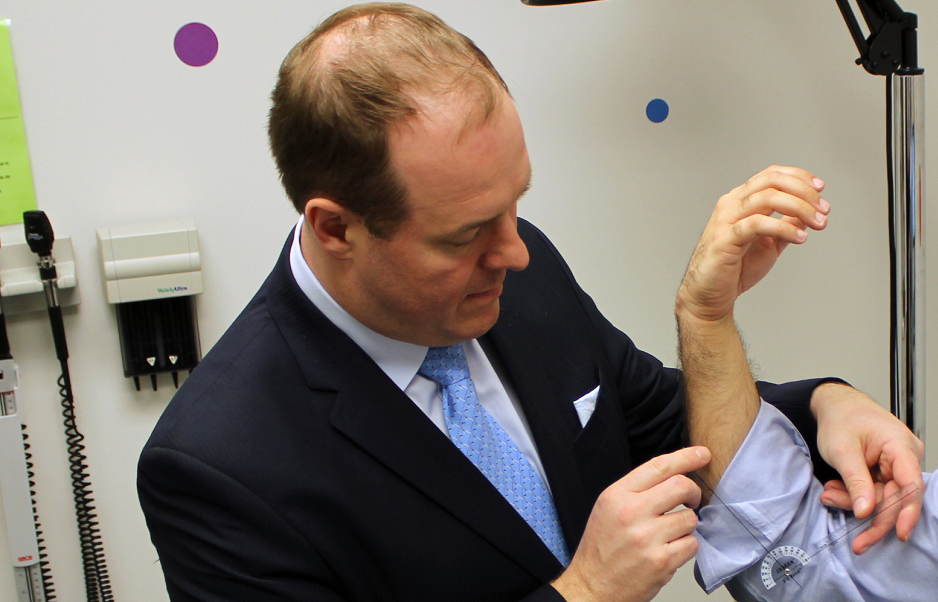 Can carpal tunnel syndrome be prevented?
There is no full-proof measure that guarantees the prevention of CTS, but you can take actions to reduce your risk of developing it.
"Repetitive motion with your wrist is one of the biggest risk factors. The simplest thing you can do is to use a gel wrist rest with your keyboard," Reece said. "It's also important to make sure that keyboards are ergonomically designed."
If you are showing symptoms of CTS, Reece says the following non-surgical treatments can be tried first before evaluating whether surgery is needed:
Exercise and stretches
Wrist splints
Anti-inflammatory medicines
Changes to improve your seating and how you use your computer or other equipment
Amniotic tissue injection
Steroid injections
How surgical treatments can help
If non-surgical treatments do not alleviate symptoms, a more permanent solution may be needed to relieve pressure on the nerve. Reece says there are two main types of CTS surgery – open and endoscopic, a minimally invasive procedure.
"Usually most patients are eligible candidates for endoscopic surgery," he said. "Endoscopic surgery patients can usually return to work within a week or two, and sometimes the surgery doesn't require any stitches."
While CTS is progressive, Reece says early intervention can help prevent permanent damage.
"If you think you may have carpal tunnel syndrome, do not wait to get a diagnosis because there is a point of no return when it comes to nerve damage."
Call 713-798-6141 to schedule an appointment with the Center for Plastic Surgery at Baylor.
-By Nicole Blanton