Robotic procedure provides minimally invasive treatment option for early-stage lung cancer
Lung cancer is the number one cause of death from cancer in the United States. However, with early detection, chances for survival can improve significantly.
For patients with early-stage lung cancer, surgery offers the best chance for a cure, and survival rates after surgery are 70 to 80 percent after five years.
The standard operation that we surgeons use to remove early-stage lung cancer is called a lobectomy, where a portion of the lung is removed. We are now able to remove most early stage lung cancers with a robotic minimally invasive approach.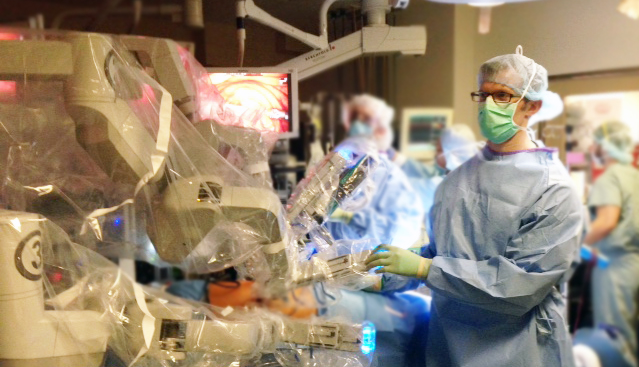 The robot allows robotic surgeons, like myself, to work with a tremendous degree of precision. The system provides us with a high-definition, three-dimensional view and fine-wristed instruments that are more flexible than the human hand. This allows us to do a better job of taking out lymph nodes and causes less trauma to the lung so patients heal faster.
Robotic lobectomy patients typically go home about 48 hours after surgery, which is about half the hospital stay for my patients when I was performing an earlier technique for minimally invasive lobectomy.
I've done well over a hundred robotic operations, from very simple to extremely complex surgeries. Early on, I immediately saw the impact robotic surgery had on my patients.  For instance, one of my patients was comfortable enough go hunting about two to three weeks after surgery, which likely would not have happened if the patient hadn't undergone a minimally invasive lobectomy.
Most physiologically fit lung cancer patients are eligible for this procedure.  The complication rate from robotic lobectomy is low, and the average amount of lymph nodes removed exceeds national guidelines for quality surgery. Removal of lymph nodes is important to assure that patients are staged accurately and receive the most appropriate cancer treatment.
To visit with a robotic lobectomy surgeon at Baylor College of Medicine, call 713-798-6376 or request an appointment online.
-By Dr. Shawn Groth, assistant professor of surgery in the Division of General Thoracic Surgery at Baylor