Healthy Habits: Traveling, aerial gymnastics keep Dr. Jennifer Stinson active
Taking care of your health is a priority and nobody knows that more than physicians and healthcare providers.
It can sometimes be difficult to find ways to stay healthy, so we've asked members of our Baylor College of Medicine community to share what they do in their daily lives to maintain a healthy lifestyle.
Dr. Jennifer Stinson, assistant professor of neurology at Baylor, shares some of her healthy habits with us.
Q: What health decisions start your day?
A: I pack my lunch 90 percent of the time. So each morning I think about my upcoming schedule and pack food that "matches" the activities I have planned, so I don't go searching for a vending machine at 2 p.m.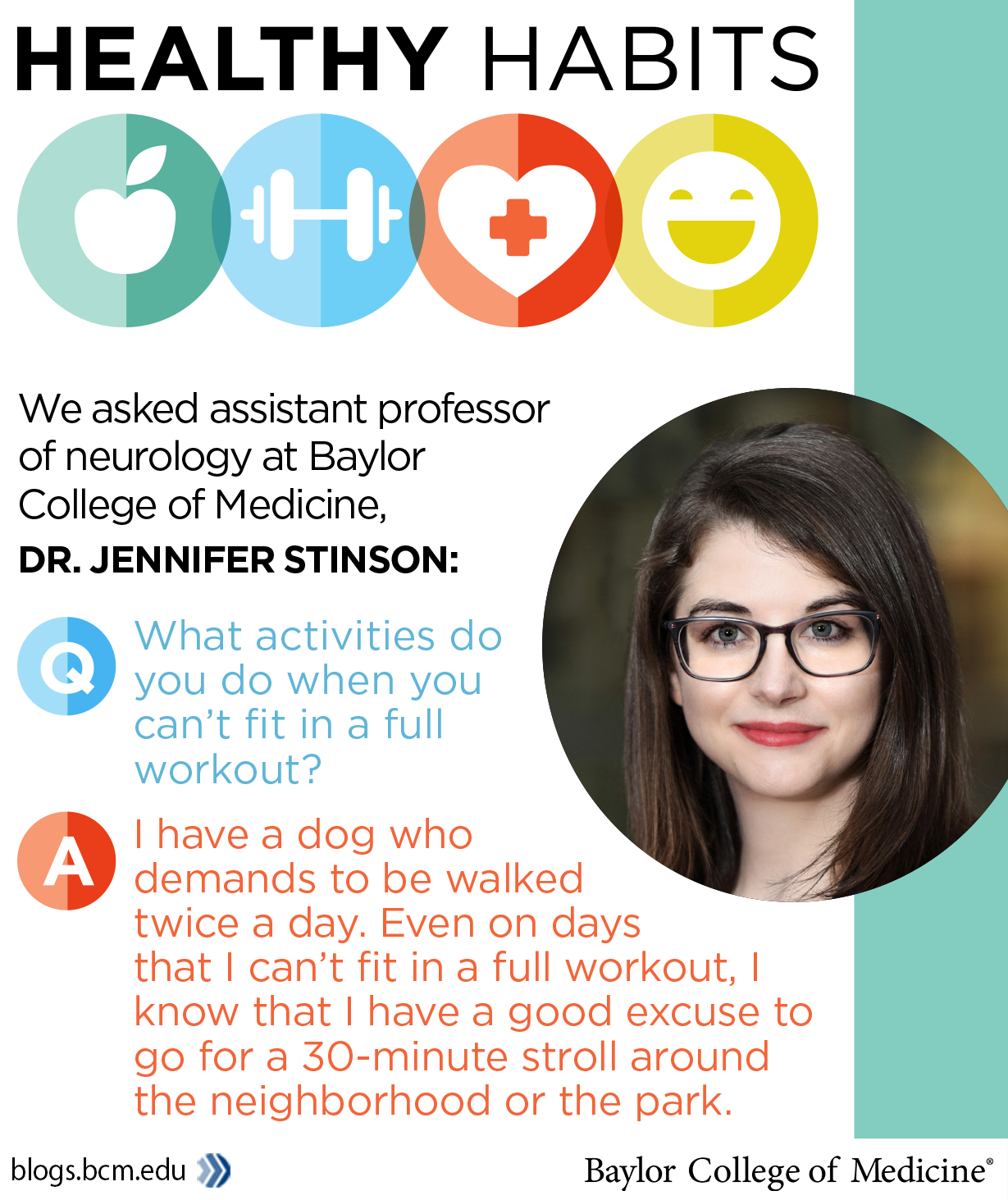 Q: What is your go-to healthy breakfast?
A: I like to make a green smoothie. I typically work with a base smoothie of almond milk, banana, spinach and frozen fruit and then mix in different types of protein (like peanut butter or almond butter). It helps me start the day hydrated and energized.
Q: What is your favorite type of exercise?
A: I like to mix it up with different workout routines. One of my favorites has been an aerial gymnastics class. It is an extreme upper body workout, but a lot of fun at the same time.
Q: What keeps you motivated during your workout?
A: I work out so that I will be able to do the things in my daily life that are important to me, like traveling. So when I'm struggling through a tough workout, I think about how it will help me climb all the stairs in Santorini or hike Machu Picchu.
Q: What activities do you do when you can't fit in a full workout?
A: I have a dog who demands to be walked twice a day. Even on days that I can't fit in a full workout, I know that I have a good excuse to go for a 30 minute stroll around the neighborhood or the park.
Q: What is your favorite healthful snack?
A: I bring a lot of different fruits to work with me, since I like to snack throughout the day. I pack whatever is in season.
Q: Do you take vitamins and if so, which ones?
A: I do not take any vitamins. I make sure that I get my necessary vitamins and minerals through my food because I do not want to have my body filter out extra, unnecessary supplements.
Q: How do you make an unhealthy recipe healthy (healthy substitutions)?
A: Recipes almost always overestimate the amount of butter and cheese that needs to go into a savory recipe to make it taste good. I tend to cut the amounts of those in half.
Q: What hobbies do you have to help you relax?
A: I enjoy getting out of Houston and exploring the different state parks that Texas has to offer. Sometimes unplugging from everything is a great stress reliever.
Q: What is your go-to Houston restaurant for a healthy meal?
A: I love Local Foods!
Q: Do you use a pedometer or Fitbit and what is your daily step goal?
A: Yes, I have a FitBit. I try to get 10,000 steps per day.
Q: What is your favorite health tip that you live by?
A: I try to remember that a little bit of healthy is better than no amount of healthy. Even if I have a sugar snack, I can still have something healthy for lunch. Likewise, even if I do not have time for a full workout, I can still do something lightly or moderately active.
Additional Resources
Dr. Monica Alzate enjoys Zumba, sugar-free alternatives
Yoga, family time help Kim Chang stay fit
See how Baylor stays fit with more healthy habits from members of our community
See how Baylor promotes a culture of healthy living and wellness