Care beyond hospital doors: Volunteer program provides rehabilitation resources
Extensive rehabilitation care is often needed for those who suffer catastrophic disabilities such as stroke, brain injury, spinal cord injury or amputation. For many patients in the Houston area, access to rehabilitative equipment and care is often out of reach.
The all-volunteer, nonprofit organization Rehabilitation Services Volunteer Project (RSVP) steps in to assist patients in the rehabilitation process.
Started by healthcare providers including physicians at Baylor College of Medicine and the University of Texas Health Science Center at Houston, RSVP provides clinical services and medical equipment to those with disabilities who otherwise lack access to these services.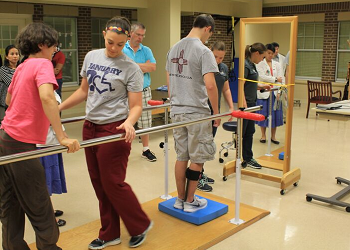 Dr. Sunil Kothari, medical director of RSVP and assistant professor of physical medicine and rehabilitation at Baylor, said that the organization was formed because physicians, including Drs. Ana Durand-Sanchez, Viola Hysa, Cindy Ivanhoe and himself saw that there was a group of patients in Harris County whose needs were not being met.
"This is a safety net between their discharge from the hospital and them getting some sort of insurance," he said.
Dr. Craig DiTommaso, assistant professor of physical medicine and rehabilitation at Baylor and medical director of RSVP's equipment dispersal division, says the organization helps give people the tools to improve their quality of life by helping them interact and contribute to society and their family.
Medical care services are offered the first and third Saturday of each month at a rehabilitation facility that rents space to RSVP. The equipment dispersal takes place the second Saturday of each month.
Baylor College of Medicine has joined the Houston Chronicle in celebrating Houston's history in a six-month retrospective project. This story is part of an ongoing feature that can be found on our website. Now through October, we'll be highlighting our shared history, events, outreach and more with the community.