Healthy Habits: Yoga, family time help Kim Chang stay fit
Taking care of your health is a priority and nobody knows that more than physicians and healthcare providers.
It can sometimes be difficult to find ways to stay healthy, so we've asked members of our Baylor College of Medicine community to share what they do in their daily lives to maintain a healthy lifestyle.
Kim Chang, aesthetician with the Baylor Aesthetics Studio, shares some of her healthy habits with us.
Q: What health decisions start your day?
A: Definitely thinking positive right when I wake up. I thank God for all that I do have and focus on the many great things around me – family, health, and the sun.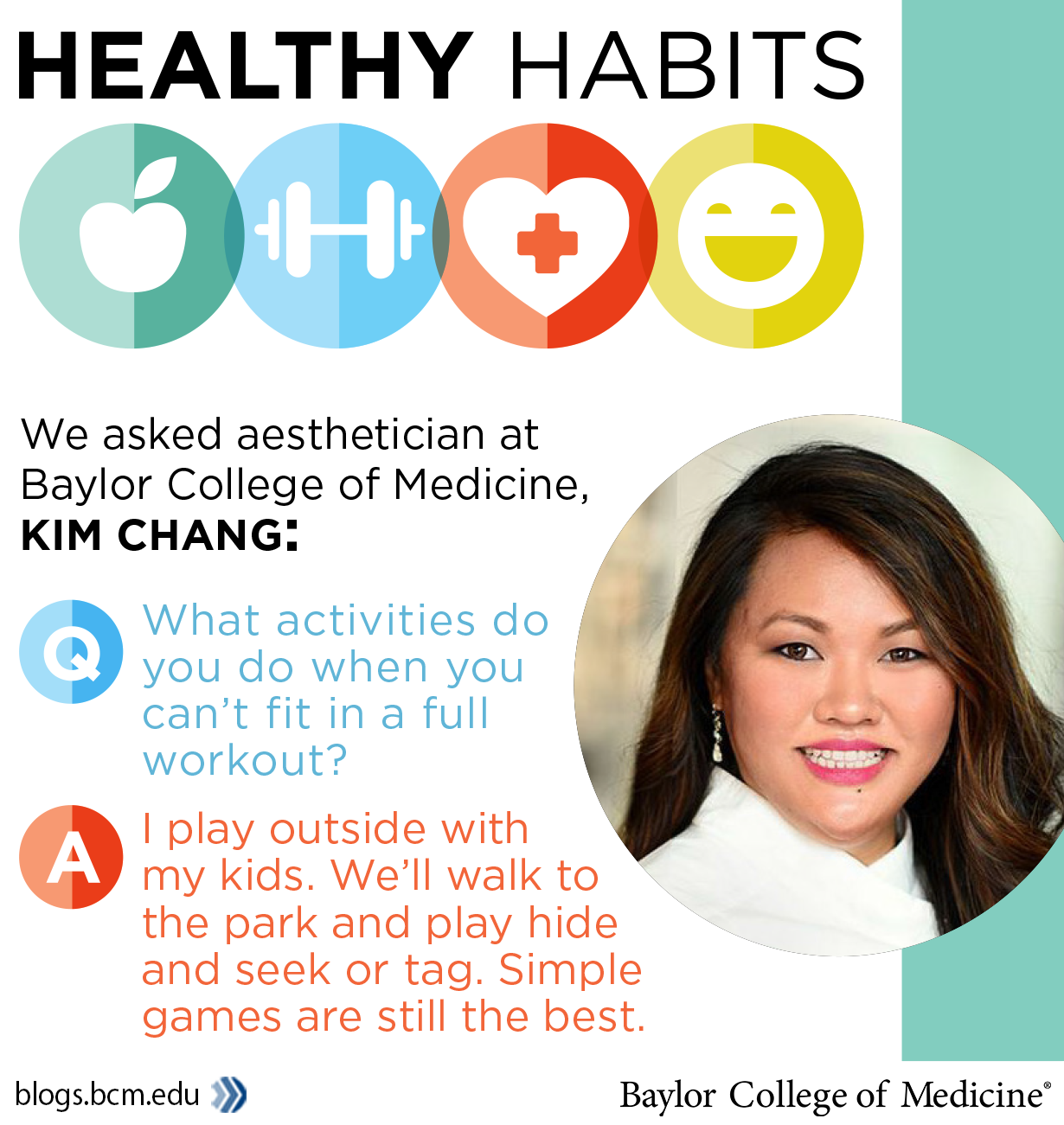 Q: What is your go-to healthy breakfast?
A: I have four kids so it can get pretty hectic in the morning. So just a quick hard-boiled egg and I'm out door.
Q: What is your favorite type of exercise?
A: Yoga. Stretching always makes my body feel great!
Q: What keeps you motivated during your workout?
A: Breathing. Yoga reminds us to breathe.
Q: What activities do you do when you can't fit in a full workout?
A: I play outside with my kids. We'll walk to the park and play hide and seek or tag. Simple games are still the best.
Q: What is your favorite healthful snack?
A: Beef jerky. Gives you the pump of protein needed without giving in to a sweet tooth.
Q: Do you take vitamins and if so, which ones?
A: Fish oil. Not only does it help my brain function better, it also keeps my skin from breaking out.
Q: How do you make an unhealthy recipe healthy (healthy substitutions)?
A: For my kids I'll add quinoa or flax seed to mac and cheese, or gold fish to their salad. They think it's so funny that the fish swim around in the "seaweed" salad, so it motivates them to eat all their salad.
Q: What is your nighttime skin regimen?
A: I love this question. Many think because I'm an aesthetician that I must have seven different products that I put on morning and night. However, I like a very simple regimen and never sleep with my make-up on. Cleanse, exfoliate with beads (in the shower), mix a retinol with my moisturizer. Done.
Q: What hobbies do you have to help you relax?
A: Just recently I got a Monk Drum. It's a double chambered Cajon that has this great deep undertone. You play it almost like an African djembe drum with your hands, and it's really relaxing to turn your mind off a bit and put some beats together.
Q: What is your go-to Houston restaurant for a healthy meal?
A: Lemon Tree Peruvian restaurant. Their Ceviche Mixto has such fresh ingredients that your body will never go into a coma afterwards. It's a mix of raw fish, shrimp, mussels and calamari cooked with lemon juice.
Q: What is your favorite health tip that you live by?
A: Don't deprive yourself and go on different diets. Eat in moderation and enjoy all that life has to offer.
Additional Resources
Outdoor walks, Pilates keep Dr. Elizabeth McIngvale active
Dr. Michelle Ludwig sets reasonable goals, prioritizes to stay focused
See how Baylor stays fit with more healthy habits from members of our community
See how Baylor promotes a culture of healthy living and wellness