Healthy Habits: Dr. Jenny Despotovic combines exercise, family time and fun
Taking care of your health is a priority and nobody knows that more than physicians and healthcare providers.
It can sometimes be difficult to find ways to stay healthy, so we've asked members of our Baylor College of Medicine community to share what they do in their daily lives to maintain a healthy lifestyle.
Dr. Jenny Despotovic, assistant professor of pediatrics-hematology at Baylor, shares some of her healthy habits with us.
Q: What health decisions start your day?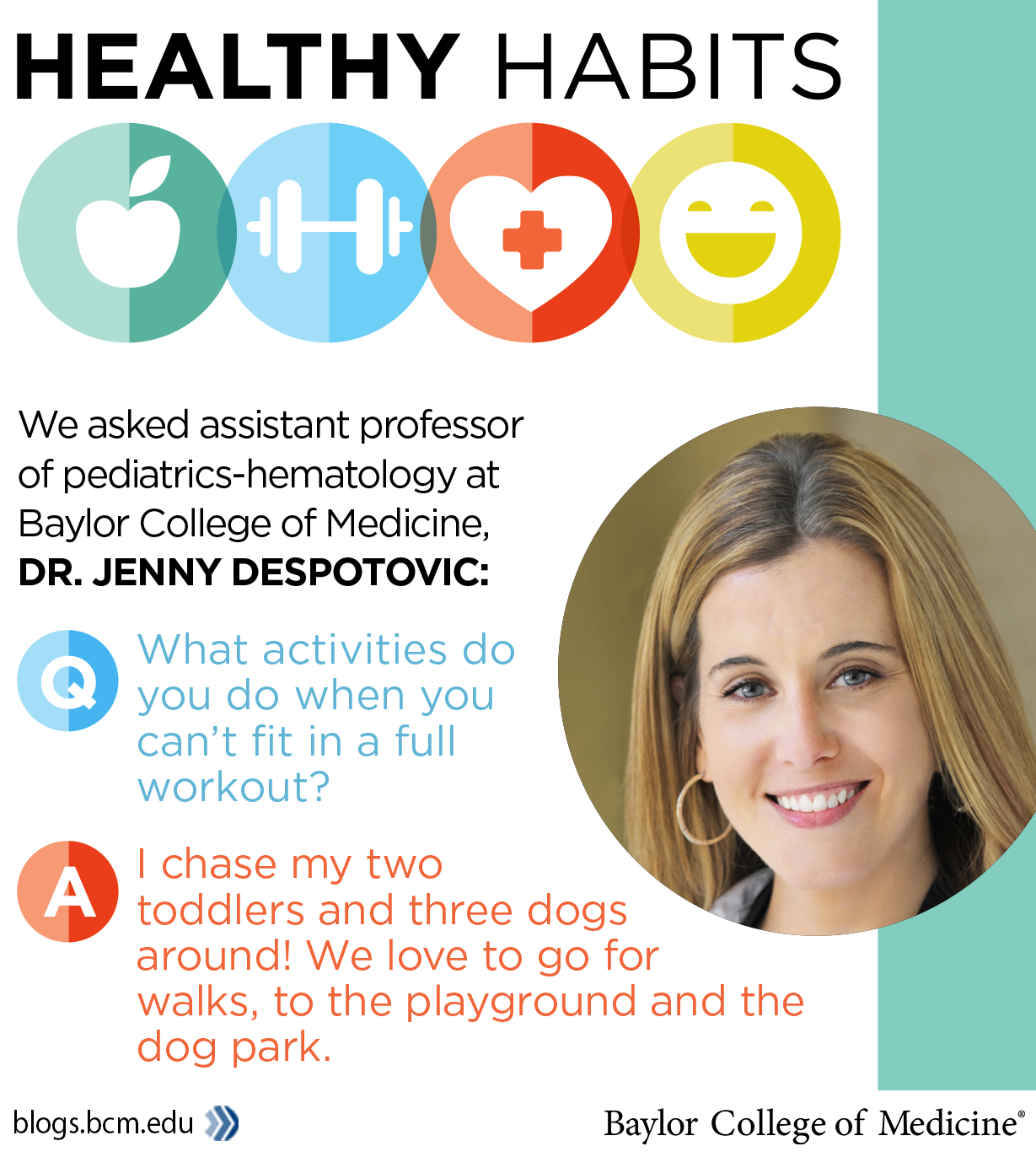 A: I start my day by drinking a big glass of water.
Q: What is your go-to healthy breakfast?
A: I'm always on the run in the morning, so its usually oatmeal or yogurt.
Q: What is your favorite type of exercise?
A: Orangetheory Fitness classes! I like to do a mixture of cardio and strength training. The intervals, upbeat music and motivation of the coaches keep me going.
Q: What keeps you motivated during your workout?
A: Progress!
Q: What activities do you do when you can't fit in a full workout?
A: I chase my two toddlers and three dogs around! We love to go for walks, to the playground and the dog park.
Q: What is your favorite healthful snack?
A: Edamame. It's a great source of protein.
Q: Do you take vitamins and if so, which ones?
A: Only vitamin D.
Q: What do you include in your child's lunch?
A: I have a three year old and a one year old. I offer them balanced meals with vegetables, a source of protein, and a small amount of healthy fat like cheese or yogurt. I usually include a little treat if half of it doesn't end up on the floor!
Q: How do you make an unhealthy recipe healthy (healthy substitutions)?
A: I try to reduce the sodium by never adding salt to anything.
Q: What is your nighttime skin regimen?
A: Eye cream! Also, antioxidants, hydrating lotion, and another big glass of water.
Q: What hobbies do you have to help you relax?
A: I love listening to music and shopping.
Q: What is your go-to Houston restaurant for a healthy meal?
A: Local Foods in Rice Village. They have great, fresh food. And I love the pumpkin seeds!
Q: Do you use a pedometer or Fitbit and what is your daily step goal?
A: I wear a Fitbit. My goal is 10,000 steps per day.
Q: What is your favorite health tip that you live by?
A: Maintain balance. I feel healthiest when I have a work/life balance, get enough exercise and enough rest, and eat well with occasional splurges!
Additional Resources
Cycling, frequent walks help Dr. Kenneth McClain stay active
Kristin Wade enjoys neighborhood walks, high-protein breakfasts
See how Baylor stays fit with more healthy habits from members of our community
See how Baylor promotes a culture of healthy living and wellness