Makers, Minders, and a Medical Student: Stepping Out of My Comfort Zone

Huy Nguyen is a first-year MBA candidate at the Jones Graduate School of Business at Rice University. He is pursuing his MD/MBA in conjunction with Baylor College of Medicine and is interested in innovating the tools of patient care. Here, he describes his experience at the first Baylor College of Medicine Department of Surgery (DoSI) Hackathon.
"What can you bring to the table?" a young Ph.D. candidate asks as he abruptly turns his attention to me. His gaze is intense and impatient. I knew what he was really asking. In this room of brainiac Rice and Baylor College of Medicine Ph.D.s, biotech entrepreneurs, lawyers, software engineers, bioengineers, chemists and chemical engineers: What can you do that no one else can to help us win?
It's a Friday night in a large conference room at the TMCx – short for the Texas Medical Center Accelerator. This is a place for start-ups and inventors to collaborate, network, and introduce disruptive innovations to healthcare. Imagine a building the size of a factory, with tall, steel-beamed ceilings modeled after SoHo's industrial district. Diagrams of gears and gadgets interwoven with human anatomy paint the backdrop. The space is filled with whiteboards surrounded by futuristic tables and chairs, glass rooms with ping pong tables and 3D printers, along with other elements that feel reminiscent of Google HQ. In this particular conference room, people are clamoring and frantically exchanging information on their backgrounds and skills.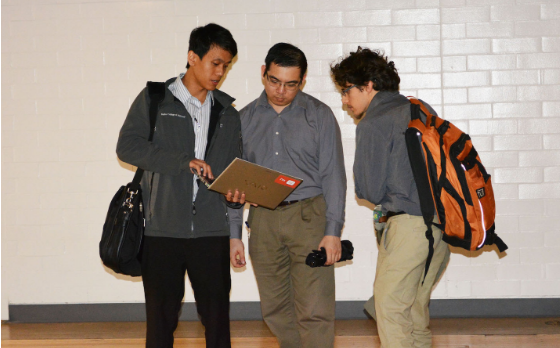 "My background is in engineering, business and medicine. I have medical student-level clinical and operating room experience." Under the scrutiny, the time pressure and surrounded by brilliant thinkers entrenched in technical fields, I don't feel the confidence to upsell myself. In that moment, I can't describe all the intangibles I do bring to the table.
"Oh okay, I've also been to the operating room before." Swift in rejection, the young Ph.D. transitions along the table and delivers the same hard-hitting question. The exchange is terse, but time is also sparse with 30 minutes assigned to form a team for the competition. This "Hackathon" is the first of several planned by the Baylor Department of Surgery Incubator to bring together innovators to work through a healthcare biotech challenge and present a solution to a panel of expert judges within 48 hours.
I quickly turn to the person next to me and fire off my own version of the same question: "Can you CAD (computer aided design)? Do you know how to model fluid dynamics? Do you know biomaterials science?"
From there, Team "Simunipulators" is born. We leave to find working space to take on our objective. Our instructions are to build a simulation model specific to patient anatomy that vascular surgeons could use to practice abdominal aortic aneurysm repair before performing the actual procedure on the patient.
The energy is incredible. Ideas and thoughts pour out of each team member during brainstorming. We eventually take a break to grab a quick bite for dinner, still discussing ideas in the car and in the restaurant. We part ways for the night, assigning each member to research concrete details for their proposed solutions. Sleep is elusive, and I wake up several times, each time with a mix of panic and excitement: "I don't have an idea yet. Ooh! What if I tried…?" It is one of those nights where my eyes will snap open before the alarm sounds.
We reconvene the next morning and lay our ideas out on a whiteboard. My undergraduate training in bioengineering and my medical school experience fuse together much better than I could have anticipated, instinctively even. My senior design experience helps lead our team away from using 3D printing, even if it is the trendy solution, because I know that current market materials poorly simulate artery-like properties. Memories from the operating room help me uniquely consider the surgeon's environment and real-world implementation of our team's product. We spend the rest of Saturday translating our imagined concepts to digital and physical designs.
The presentation is scheduled for Sunday at 4 p.m. At 3:45 p.m., we are still frantically piecing together PowerPoint slides and prototype parts in the car as we drive over to the presentation, the driver verbally chipping in from the front. At 3:49 p.m., we high-five each other and sit down, minds reeling over how everything has come together.
"We are Simunipulators and we are here to make simulations great again!" We sound off with our quirky catchphrase and finally conclude our presentation, inviting questions from the judges. We've just finished describing our model that simulates the confined, anatomical spaces unique to each patient and a process to build patient-specific aortas that looks beyond existing 3D-printing technology. We discover, with a little disappointment, that our solution has placed third but can appreciate the creative ideas of the teams ahead of us.
The winning design is a clever combination of image recognition with machine learning for tracking surgeon technique. The runner-ups incorporate a new pressure sensor to provide vessel feedback for surgeons in endovascular surgical cases. After it is all over, the contestants continue to mingle and exchange ideas, fascinated by each other's designs.
This unique experience forced me out of my comfort zone. Coming in, I knew that I would have to present my raw ideas to a panel of renowned surgeons and inventors. I had almost walked out of the competition at the entrance of the event, telling the coordinator that I didn't have a team assembled. Instead, I got to practice new skills, dust off old ones and really test my limitations. I feel more confident now in my pursuit of healthcare innovations and am already craving future events like this.
Finally, while there is still a great deal for me to learn, I would like to extend myself as a resource to fellow trainees in medicine, who have similar interests that aren't addressed in the traditional curriculum. There is a community for us here, and it's incredibly exciting.