Healthy Habits: Dr. Sebastian Winocour swims, reads to relax
Taking care of your health is a priority and nobody knows that more than physicians and healthcare providers.
It can sometimes be difficult to find ways to stay healthy, so we've asked members of our Baylor College of Medicine community to share what they do in their daily lives to maintain a healthy lifestyle.
Dr. Sebastian Winocour, assistant professor of surgery in the Division of Plastic Surgery at Baylor, shares some of his healthy habits with us.
Q: What health decisions start your day?
A: Eating before my first case – otherwise it may be awhile. Cases usually start early, so plenty of time in the morning is usually the difference between eating versus skipping breakfast.
Q: What is your go-to healthy breakfast?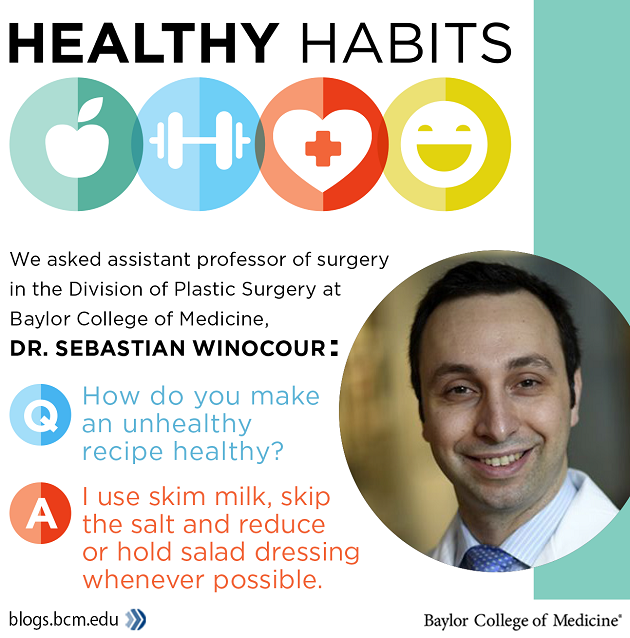 A: Ideally Greek yogurt. However, energy bars, granola bars and fruit end up being more common healthy breakfast alternatives.
Q: What is your favorite type of exercise?
A: Lap swimming in an outdoor pool if possible. It can get chilly in the winter so I do have an indoor alternative.
Q: What keeps you motivated during your workout?
A: Trying to push myself to a goal above and beyond my previous workout.
Q: What activities do you do when you can't fit in a full workout?
A: I will take the stairs at work. I'll also make the effort to do a shorter swim. I believe going to the gym counts a lot in maintaining a routine of exercising no matter how short the workout.
Q: What is your favorite healthful snack?
A: I really enjoy fruit, nuts and seaweed.
Q: How do you make an unhealthy recipe healthy? (healthy substitutions)?
A: I use skim milk, skip the salt and reduce or hold salad dressings whenever possible.
Q: What hobbies do you have to help you relax?
A: Sailing, tennis, golf and reading.
Q: What is your go-to Houston restaurant for a healthy meal?
A: I am a big fan of Coltivare, Local Foods and Teppay Japanese Restaurant. Houston has a vibrant, healthy restaurant scene and I'm not shy to experiment.
Q: What is your favorite health tip that you live by?
A: Avoiding fad diets and learning to cook at home!
Additional Resources
Core workouts, staying positive key for Dr. Temi Osinaiya
Dr. Dorit Donoviel enjoys fruit salad, podcasts and plenty of rest
See how Baylor stays fit with more healthy habits from members of our community
See how Baylor promotes a culture of healthy living and wellness