Throwback Thursday: Healing force
We may be approaching the dog days of summer, but football season will be here before we know it. The off-season is a time for athletes to recuperate, recharge, and, often times, recover from injuries.
In this photo from the November 1971 edition of Inside Baylor Medicine, courtesy of the Baylor College of Medicine Archives, Drs. Gary C. Freeman (center), Bill Rylee (second from right) and Warren Arial (left) consult about the injured knee of a Houston Oilers player.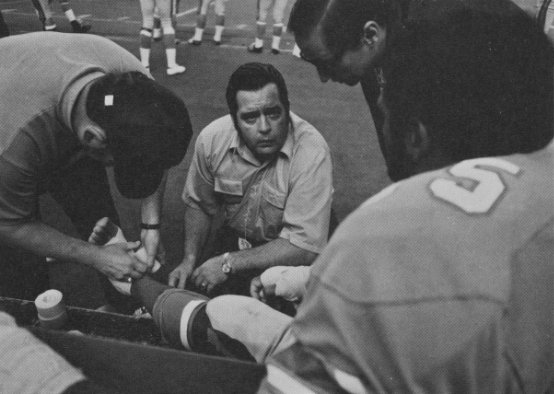 Freeman, who graduated from Baylor in 1964, was the Oilers' team physician at the time. He said his position with the Oilers combined his lifelong interest in sports with his medical background.
"I've always participated in athletics and as a specialist in orthopedic surgery, my interest in the musculoskeletal system made athletic medicine a natural fit," he said.
Learn more about Baylor Sports Medicine.
-By Nicole Blanton