Growing Up Baylor: Dr. Diana Stewart
Imagine studying, training and eventually teaching at the same institution during the span of your career. A special group of physicians, faculty members and researchers at Baylor College of Medicine have had this unique experience.
Dr. Diana Stewart, assistant professor of medicine and pediatrics at Baylor, tells us how training and working at Baylor has impacted her life and career.
Q: Where and when did your journey with Baylor College of Medicine start?   
A: It started at the Michael E. DeBakey High School for Health Professions. While at DeBakey, I was exposed to an intimate setting with a wealth of resources, including passionate and caring teachers, rigorous college-preparatory curriculum and a diverse student body. All of these factors contributed to my learning experience and prepared me to achieve my childhood goal of becoming a physician. My journey continued when I was accepted into the Honors Premedical Academy and graduated from Baylor in 2008.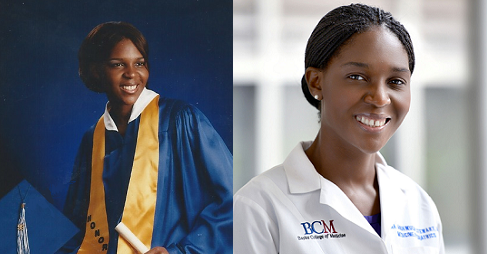 Q: What inspired you to continue studying within Baylor programs?
A: While at Baylor, I decided to pursue a combined residency program in Internal Medicine and Pediatrics. I began interviewing at outside institutions but realized the patient diversity, multiple professional opportunities, caring community, diverse city, and close proximity to home was unmatched by other programs. Therefore, I decided to continue studying at Baylor.
However, it is important that if you do most of your training at one institution, you seek outside national and global opportunities to remain open to other perspectives and gain diversity of thought, which is what I have done throughout my training.
Q: What makes Baylor unique?
A: The Texas Medical Center and diverse hospital affiliations. Not many trainees can experience county, federal and private institutions in one program. The unique pathology and patient diversity is one of a kind.
Q: How has practicing at Baylor affected your life and career?
A: It has allowed me to forge staunch professional relationships. I am a native Houstonian, so it has also contributed positively to my personal life by allowing me to remain actively involved and present in my family life while receiving great training.
Additional Resources

Learn more about the Michael E. DeBakey High School for Health Professions.