Growing Up Baylor: Dr. Angela Partida
Editor's note: Growing Up Baylor is a Q&A series highlighting Baylor College of Medicine faculty members who have spent the majority of their educational and professional experiences at Baylor-affiliated institutions.
Imagine studying, training and eventually teaching at the same institution during the span of your career. A special group of physicians, faculty members and researchers at Baylor College of Medicine have had this unique experience.
We begin with Dr. Angela Partida, clinical instructor in psychiatry and behavioral sciences, who tells us how training and working at Baylor has impacted her life and career.
Q: Where and when did your journey with Baylor College of Medicine start?
A: My journey with Baylor started as a senior in high school. I had been finalizing my plans to attend the University of Texas in Austin as a premed student when representatives from Baylor and the University of Texas-Pan American visited my high school to promote their new program, the Premedical Honors College. The program was meant to increase the number of physicians coming out of south Texas by providing a scholarship and conditional acceptance to Baylor to those students who complete the program successfully. Shortly after their visit to my high school, I applied to the program, flew to Houston to interview at Baylor and of course accepted when I was offered a spot in the program.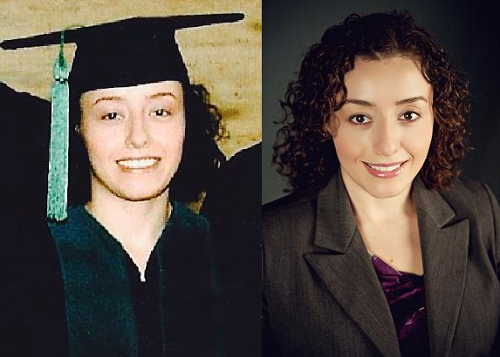 Q: What inspired you to continue studying within Baylor programs?
A: Throughout my years as a medical student, I felt Baylor prepared me well academically. Therefore, once I decided that I wanted to pursue training as a psychiatrist, I considered continuing my training at Baylor. During my interviews at other schools I found that only Baylor provided the balance I was looking for by having strong training in both psychopharmacology and psychotherapy. Also, the psychiatry department at Baylor was in the process of finalizing its merger with the Menninger Clinic, one of the top psychiatric hospitals in the nation.
Q: What makes Baylor unique?
A: Baylor provided an environment where I always felt supported. As medical students we were encouraged to push ourselves academically but also to pursue our interests outside of the classroom and serve the community. During my psychiatric training at Baylor, I found that the faculty were easy to approach and were readily available to provide mentorship to the trainees.
Q: How has practicing at Baylor affected your life and career?
A: Some of my closest friends and most respected colleagues are people I met through my training at Baylor. The mentorship relationships that began when I was a trainee at Baylor have continued to grow and have been instrumental in shaping my career as a psychiatrist in the Houston community. As a voluntary faculty member, I have been able to give back to Baylor by serving as an educational consultant for resident training in psychotherapy.
Over the years I have also participated in seminars for the trainees such as "Transition to Practice" and "Cultural Psychiatry." From 2007 through 2015, I served as faculty advisor for the Outcomes Review Conference, a forum for psychiatry residents to discuss difficult cases. Along with other healthcare professionals, including another Premedical Honors College graduate and Baylor alumna, Dr. Melissa Ochoa-Perez, I am currently serving on the board of Houston's Orchestra On Call. Baylor provides a rehearsal space for the orchestra at the McNair campus.
Next: Dr. Ronald Cotton, instructor in the division of abdominal transplantation at Baylor.
Additional Resources
Read about Baylor's educational partnerships and programs.
Learn more about the Premedical Honors College.