Running with Dr. Kjersti Aagaard
This is the first in an ongoing series to highlight runners at Baylor College of Medicine before the Chevron Houston Marathon weekend, which will be Jan. 14-16, 2022 in downtown Houston.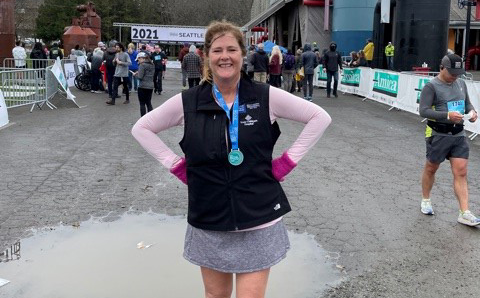 While running a marathon in Oslo a few years ago, as she headed down the last hill on a cobblestone street, Dr. Kjersti Aagaard felt her hip "slip."
After a lifetime of races and training runs and high school and collegiate athletics, the professor in the Department of Obstetrics and Gynecology at Baylor College of Medicine had stress-fractured her hip.
"That little bit of a physical reminder that my body was aging and may not allow me to continue something I've done and loved all my life was enough to make me step back and question, 'Why do I do this? What about running really matters to me?'" Aagaard, 53, said. "I had to clarify what I treasure and if I was willing to run a little slower to run a little longer."
To Aagaard, running marathons today is much more about meeting other runners along the course and hearing their stories and their life-lessons learned. She sees it as an opportunity to hear others' stories of overcoming life's obstacles.
Running for Life
Aagaard, a maternal-fetal medicine specialist at Baylor and Texas Children's Hospital, said she focuses on running smart and aging gracefully as a scholar athlete. She relies on muscle memory she has developed over the course of 100+ long-distance (marathon and half-marathon) races. She trains to maintain her pace and avoid injury, especially after undergoing rehabilitation of her hip.
After running a personal record of 4 hours and 23 minutes in her 40s, she realized maintaining a fast pace wasn't important enough to her to risk injury or consume much of her energy and spare time. Running at her own pace (11-12 minute miles) keeps her from being exhausted after a 20–30-mile run.
"My goal is to hit 100 marathons before I retire from endurance racing; I'm right around 60-something marathons," she said. "If I can continue running through age 65, I can definitely hit 100. I just have to run three or more a year between now and then. Luckily, I have people and pups that I love who train with me."
Aagaard has a simple training regimen to keep herself in shape and safe: 25-30 miles a week, parsed out over three or four runs. And she doesn't run on pavement unless she's racing. In her new Tomball neighborhood, she's grateful for miles of grassy paths that are easier on her joints and more fun for her canine training buddies, Sadie and Sophie.
She prioritizes runs where she and her pups can run off-leash for several hours on both weekend mornings. Aagaard and her husband, Dr. James Versalovic at Texas Children's Hospital, do at least one long training run a week together and value those precious unstructured hours.
Inside the Loop, she loves to run at Memorial Park with Houston's finest runners for a little bit of competitive pacing, but she prefers to stick to the paths in the wooded, overgrown areas. She called the park's recent changes "delightful" for the running community and said she pieces together 6- and 9-mile runs there on weeknights.
Other places for easy-free runs are the trails off Telge Road between SH 99 and SH 290 in Cypress and the backside of Hermann Park near the Texas Medical Center.
Back to Racing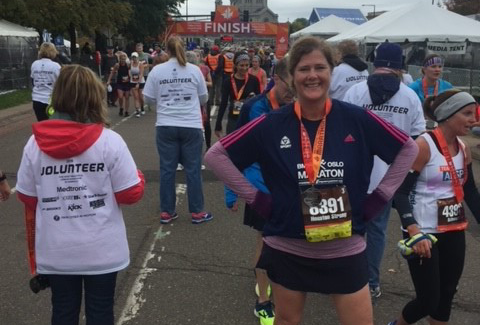 Between Halloween and Christmas, Aagaard ran her first in-person races in two years because of the pandemic. She ran the Houston Half Marathon, the Baker Ripley Houston Turkey Trot and the Seattle Marathon.
After eight virtual marathons and half marathons over the COVID pandemic, she is happy to participate in-person again. She missed the social aspect of what is often considered a solitary sport.
"One of the secrets is that everyone has a different reason for what brings them out day after day, year after year; it's a habit that is hard to break," Aagaard said. "For me, it's that time of remaining connected to my roots as a scholar athlete, but now more unbridled. I'm not bridled to my job, I'm not bridled to motherhood, and I am untethered from my phone. I'm just a gal out there running because she likes the wind in the face and her ponytail bouncing. After all these years, I can still put in the long miles and finish with a smile and a confidence in my step."
-By Julie Garcia