Experts tackle 3 key policy areas for using cutting-edge sequencing in patient care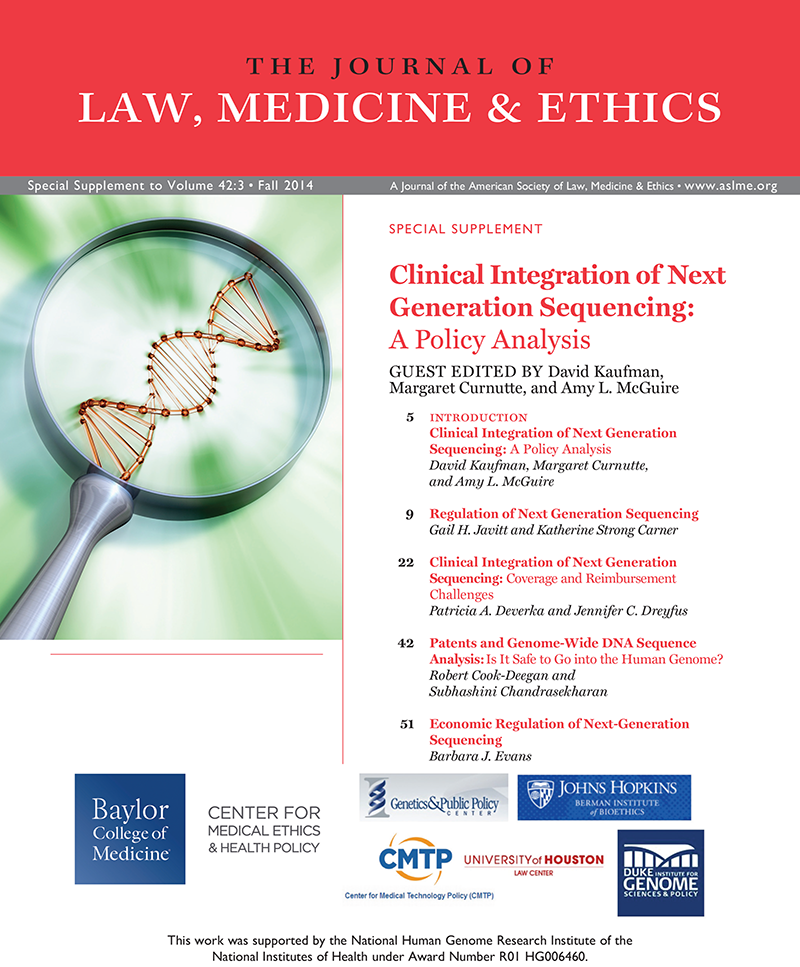 As techniques such as next generation sequencing, which determines the precise order of the nucleotides that make up DNA, are used in patient diagnosis and treatment, three critical policy areas remain ill-defined:
Regulation by the U.S. Food and Drug Administration and Center for Medicare and Medicaid Services.
Reimbursement policies for clinical utility and payment.
Intellectual property protections including the patenting of human genes and proprietary.
In an effort to draw attention to this lack of clarity, Dr. Amy McGuire, director of the Center for Medical Ethics and Health Policy at Baylor College of Medicine, with support from the National Institutes of Health, has brought a team of experts together to assess the most pressing policy issues for the integration of next-generation sequencing into the clinical or patient-care settings.
This project is the first of if its kind to provide a comprehensive analysis of these three key policy areas and the initial findings appear in a special issue for the Journal of Law, Medicine & Ethics, with the aim of developing a coordinated policy approach.
The issues have immediacy as demonstrated by academic laboratories such as Baylor's Whole Genome Laboratory, as well as private companies that offer a range of services and products that already affect clinical care, primarily in the diagnosis and treatment of cancer and rare genetic diseases. In a patient care setting, for example, next generation sequencing allows experts to use this technique to improve diagnosis, treatment and determination of prognosis of disease.
In the next phase of the research project, the team is gathering input from a broad range of people with vested interests, including patients and consumers, regulators and policymakers, academic genomicists, social science researchers, legal scholars, research funders, members of the life sciences industry and insurers. This group of more than 40 people is tackling policy challenges such as:
How best and through what regulatory mechanisms can we ensure the reliability and specificity of tests based on next-generation sequencing?
How can traditional frameworks used by many payers keep pace with and accommodate the rate of genomic discovery?
How best to balance patient access to testing while still incentivizing test development through intellectual property protections?
The discussion among members of this expert stakeholder group will sharpen the focus on policy needs and identify those that appear most solvable.
-By Dr. Maggie Curnutte, postdoctoral associate in the Center for Medical Ethics and Health Policy