Throwback Thursday: In the Lab
Did you know a Baylor College of Medicine professor, scientist and administrator played an integral role leading a team of researchers to help create a polio vaccine that could be distributed around the world?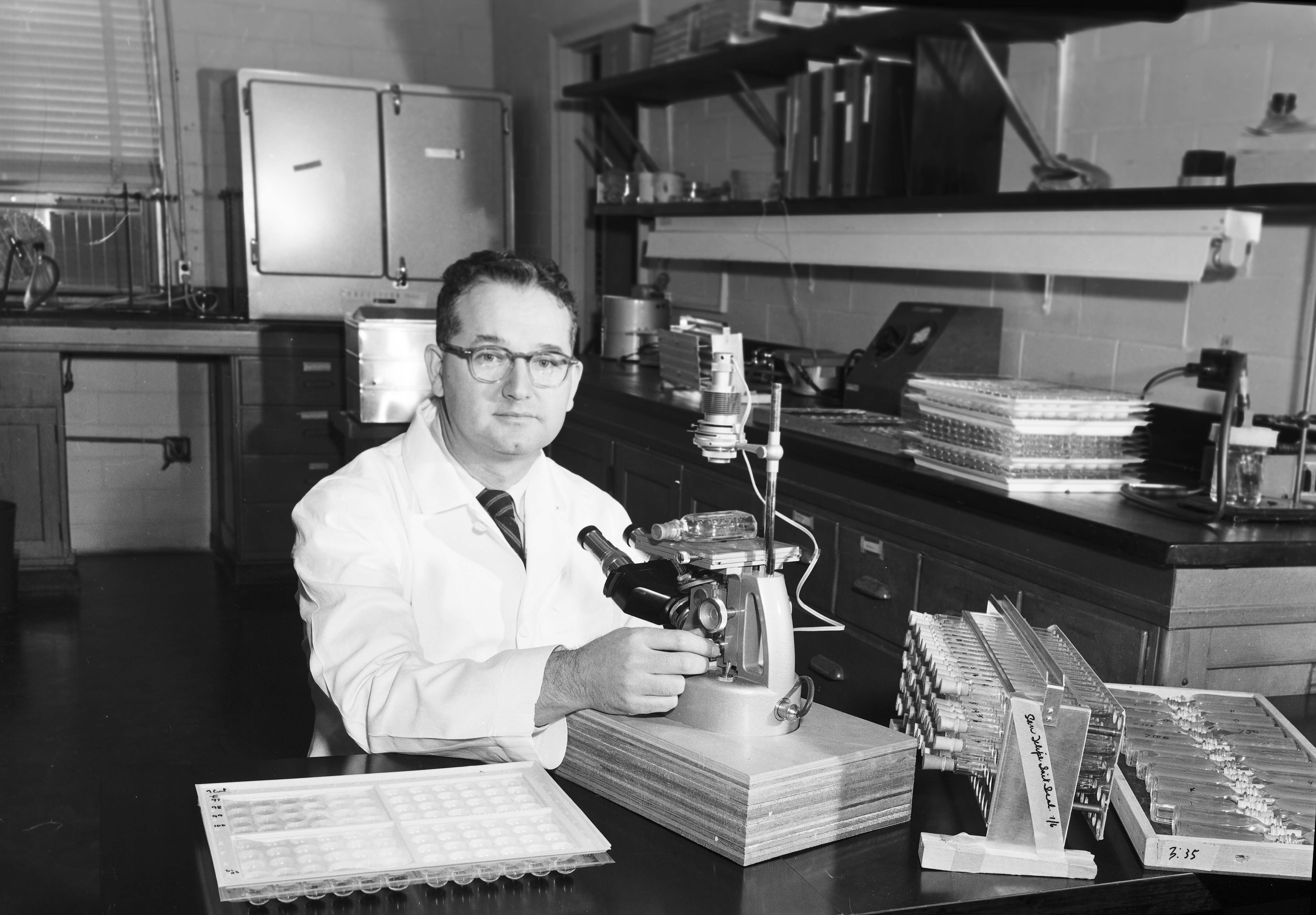 For this week's Throwback Thursday we highlight the work of Dr. Joseph Melnick. Pictured in this 1959 photo, courtesy of the Baylor College of Medicine Archives.
In 1958, Dr. Melnick joined what was then Baylor University College of Medicine to head studies in virology. While netting grants to continue virology research and building new laboratories, Melnick led a team of researchers to develop a stabilized polio vaccine that did not need to be refrigerated.
In the Baylor College of Medicine history book "The Quest for Excellence: Baylor College of Medicine, 1900-2000″, Chief Science Editor Ruth SoRelle, M.P.H., writes:
"That single finding made the dream of eradicating polio around the world a possibility, because it meant the vaccine could be taken to children who lived in Third World countries where there were no facilities for freezer storage."
His research interests weren't confined to polio. In addition to becoming director of the World Health Organization Collaborating Center for Virus Reference and Research in 1961, Melnick collaborated with Dr. Michael E. DeBakey. He worked with Dr. DeBakey studying the role viruses play in the build up of plaque in arteries, known as arteriosclerosis.
In 1968, Dr. Melnick was tapped to help lead the Graduate School of Biomedical Sciences as associate dean and in 1974 became the school's first dean, a position he retired from in 1990.
Today, the Department of Molecular Virology and Microbiology at Baylor is leading research in emerging infectious diseases and biodefense. Like Dr. Melnick worked to help eradicate polio, today our researchers are working to identify and develop treatments and vaccines for norovirus, anthrax, influenza and HIV.
Explore research at Baylor College of Medicine today in From the Labs.