By the Numbers: Sequencing the human genome through the cloud
A collaboration of research minds and cloud technology lead to the Baylor College of Medicine Human Genome Sequencing Center's recent completion of the largest cloud-based analysis of genome sequence data to date.
"The mission of the Baylor Human Genome Sequencing Center is to drive genomics and genomic analysis to be at the leading edge of everything in the field," said Dr. Jeffrey Reid, assistant professor in the Human Genome Sequencing Center at BCM, who led the BCM portion of the project. "In terms of analysis, the future of genomic research and genomic medicine is in the cloud. We are very much going towards more computing and not less."
Baylor researchers worked with Amazon Web Services and DNAnexus for the computing power needed to analyze the DNA sequence data. The Cohorts for Heart and Aging Research in Genomic Epidemiology Consortium worked to provide DNA from 14,000 people.
See below for insight into what it took to sequence that much DNA in just four weeks.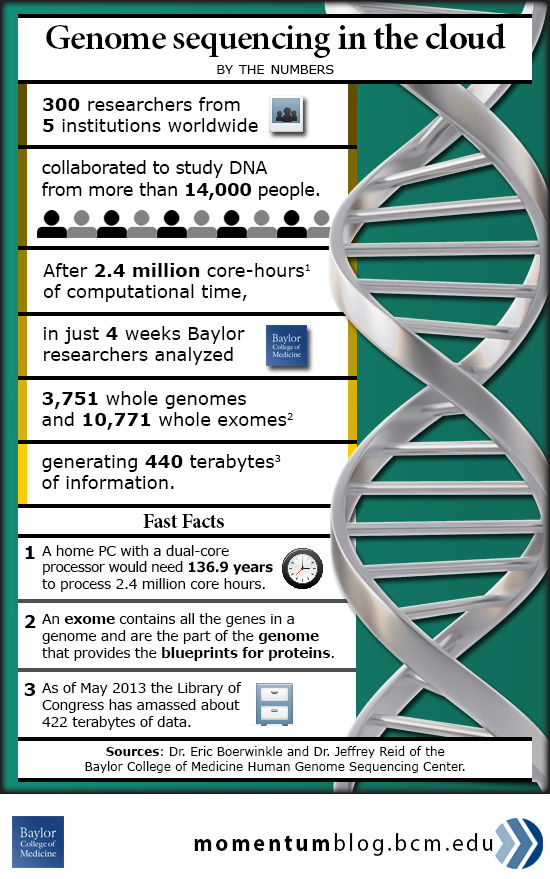 Read the news release for more details.
Learn more
The Human Genome Project: Resources to learn more
Watch, experience the Human Genome Project journey
The Human Genome Project: Celebrating its successes
-By Andy Phifer