In Case You Missed It: Vaccine confusion, pancreatic cancer risks, 'super agers,' and sunburn remedies
We hope you've had a wonderful week and looking forward to your weekend ahead, as well as to the long holiday weekend coming up! Before you get too immersed in weekend plans, here are a few interesting pieces of news that you may have missed from this past week.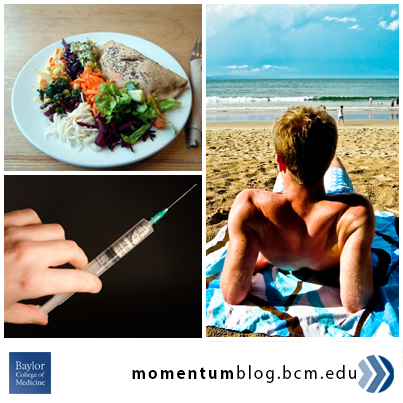 Scared of shots? Experts clear up confusion
Vaccines scare many people – and not just because of the needle. There has been a lot of discussion for years that links vaccines to possible health risks, such as autism. What vaccines should kids get, and when? Baylor College of Medicine expert Dr. Gordon E. Schutze weighs in in this everydayhealth article.
Plus, see our infographic from this week, in which Baylor expert Dr. Carol Baker gives reminders about vaccines.
Could a healthy diet mean a lower risk of pancreatic cancer?
One recent study, which included Baylor College of Medicine researchers, shows that people who had a healthier diet were connected to lower risks of pancreatic cancer. Read more about this study on the Huffington Post.
Read posts on nutrition from Momentum.
Aging well: Learning secrets from 'Super Agers'
Do you know someone who's in their 80s or 90s or older who have brains and memories that seem much younger? Maybe you think of them similar to a superhero – and researchers do, too. A study looked at this group of "super agers" in hopes to gain understandings about how to help protect others from memory loss.
In the AP Wire article, the study leader comments, "We're living long but we're not necessarily living well in our older years and so we hope that the SuperAging study can find factors that are modifiable and that we'll be able to use those to help people live long and live well."
It's not common to be a "super ager" – actually, less than 10 percent of those who volunteered to participate met study criteria. Find out who qualifies to be part of this unique group and what we might gain from the study results.
This week, Baylor expert Dr. Robert Roush provided tips on how to age well.
Handling the heat: Natural sunburn remedies
It may be nearly Labor Day Weekend, but in many places, it still feels very much like summer. Are you planning to spend time outdoors – maybe by the pool or at the beach – this weekend or over the holiday weekend? Don't forget sunscreen….but if you happen to not be wearing enough, this Chron article outlines nine remedies for sunburn that you'll be able to find already in your homes.
Baylor expert Dr. Ida Orengo explains the risks of too much sun, and provides best practices for preventing skin cancer.
-By Jordan Magaziner