BCM-HISD partner schools overcome COVID teaching challenges
The pandemic affected many aspects of people's lives, especially students and teachers who had to turn their homes into a virtual classrooms.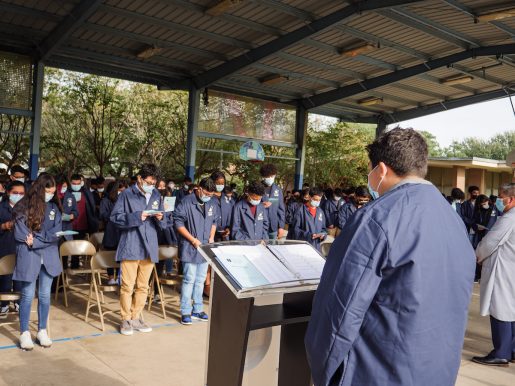 Despite the challenges faced by schools, the Baylor College of Medicine Academy at James D. Ryan and the Baylor College of Medicine Biotech Academy at Rusk middle schools established a variety of resources and activities to help students remain successful amid COVID-19. As they transitioned to online learning, the teams at both schools ensured that students remained safe during the height of COVID while staying engaged with their class.
The two schools are part of the BCM-HISD partnership that offers health sciences and STEM focused curriculum to students in middle and high school.
"It was important to keep the kids involved with Baylor because that is such a huge part of our campus and why kids want to go to our schools," said Katherine Harris, STEM specialist at the Baylor College of Medicine Biotech Academy at Rusk. "We had to take programs that we used to do in person and find creative ways to do them online. I can't say enough about how hard the teachers worked. They had to completely change the way that they've been teaching overnight and did everything they could to keep the students engaged and learning."
As a sixth-grade neuroscience teacher at Rusk, Kaitlin Nowak strived to help her students have a smooth transition to a virtual classroom, including finding lab activities that could be incorporated at home. Some of the lessons allowed students to use the common areas of their home and household objects for experiments.
"When it all started, we tried to keep things fun and light for the students, knowing that this was a time where they had no idea what was coming next or what to expect," Nowak said. "I knew that they had a lot going on personally, and although school is important, I knew it also needed to be almost like an escape from the world."
As students began to slowly return to in-person classrooms in 2021, the teachers developed lab packs to send home for students who still needed to remain on a virtual schedule. Along with cameras set up throughout the classroom, this approach allowed learners to still participate with their classmates and teacher during a hybrid schedule.
"Students at home had the opportunity to work together with the other kids and have that social aspect of school even though they weren't here physically," Nowak said. "They would break into groups, turn their cameras on and talk to each other and still be a part of the group even though they were virtual."
The schools not only focused on helping the students shift to a virtual and hybrid classroom, but also established wellness activities to help with stress and emotional well-being, such as a yoga program led by Baylor physicians.
"The social and emotional part was important because suddenly everyone was dealing with a lot more stress, including students," Harris said. "Kids were able to do the yoga program in person or virtually where they learned basic mindfulness techniques and how to handle the stress."
The campuses also had a team from Baylor host vaccinations at each school once COVID vaccines became approved for kids 12 years old and up. Harris adds that there was also a team who came to the campus prior to the kids returning in person to ensure safety protocols throughout the building.
While homeschooling at the start of the pandemic was a difficult transition for many parents and teachers, Baylor's Center for Educational Outreach provided additional lessons that students could learn from at home through BioEd online. The site offers various STEM curriculum guides, including introductory teachings on infectious diseases and how viruses spread.
Rusk and Ryan's efforts during the pandemic were recognized by the Children At Risk organization, which named both schools as pandemic resilient schools for the 2020-2021 school year.
"Becoming involved as science fair coaches, tutors or guest speakers provided a unique way for Baylor faculty, students and trainees to support our Houston community during a difficult time," said Dr. Nancy Moreno, chair of the Department of Education, Innovation and Technology and director of the Center for Educational Outreach at Baylor. "Numerous volunteers have come forward to support activities at both middle schools, leading to enhanced outcomes for all partners."
Although the schools have fully returned to in-person classes, there is no doubt students and teachers still feel the impact from the last two years. Despite the difficulties of not being able to fully interact with her students, Nowak is proud that her students still took something away from the experience.
"I believe it left them being more flexible, open to change and different environments," Nowak said. "I think it also showed them that there are other ways to communicate to peers and to make friends, even though you cannot be near them. As a teacher, it was unlike anything I have ever experienced before, but the kids really made it worth it. They would do or say something that showed they were still learning and understanding the lessons, and I knew I was still impacting their lives."
By Kaylee Dusang