Tips for a perfect race day
This is the third in a series to highlight runners at Baylor College of Medicine before the Chevron Houston Marathon weekend, which will be Jan. 14-16, 2022, in downtown Houston.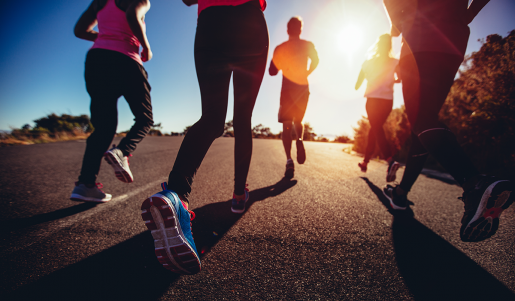 Omicron or not, the 50th annual Chevron Houston Marathon weekend is sold out. And the 50-degree weather projection will make for great racing days Jan. 15 and 16.
Baylor College of Medicine is home to many runners of all paces and skill levels who have kept their beloved activity at the forefront during the pandemic, including Dr. Thomas Giordano, professor and chief of infectious diseases, and medical students Amber Song and Caroline Sands.
Increased water intake, a carbohydrate-filled menu and at least eight hours of sleep top the list of changes many runners make in the week prior. But each runner has their own habits and rituals before a big athletic event, a critical time when decisions could affect the race's outcome.
Here are tips for a great racing day from Giordano, Song and Sands:
What's on the menu in the days before a big race?
Giordano: I try to hydrate more than usual in the couple days leading up to the race – just a few extra glasses of water. The night before, I go for a traditional carb-load with pasta. Not that I need any excuse to have pasta; I grew up in a big Italian family in Rochester, N.Y., and I'd eat it every day. Pre-race I keep the sauce simple (olive oil alone, some butter, a light tomato sauce). I don't want anything that will give me any chance of an upset stomach overnight or into the next day: maybe a simple protein, like chicken and some veggies. For breakfast on race day, I keep it simple. My tried-and-true is a peanut butter and jelly sandwich. It has a good amount of calories, some simple sugars and starches and some protein. I try to eat it a good hour or two before race time. No more and no less coffee than usual.
Song: I'm planning on upping my carbs a few days before the Chevron Marathon. The night before, I'm going to have an early dinner and try to resist overeating! The morning of, I'll have a simple meal centered around something with carbs like toast or a bagel, a banana or some berries, and a sip of coffee. I try to avoid things high in fat and protein, which take longer to digest. And I hydrate with a Liquid IV electrolyte mix an hour before the race, giving me enough time to get it out of my system before taking off.
Sands: Some of the best advice I've ever received was 'nothing new on race day.' In my long runs leading up to the actual race, I work on getting my body used to how I'm going to fuel it. I try to eat a good mix of carbs, protein and healthy fats the night before — my go-to is white rice or sweet potatoes, salmon and avocado. Usually, the morning of (the race) I'm not very hungry thanks to nerves, but I try to get down two scrambled eggs and toast. Also coffee – very essential.
What outfit do you wear?
Song: It looks like it's going to be chilly on race day, so I'm thinking of wearing a thin, moisture-wicking long sleeve shirt, running shorts, compression calf-sleeves, running socks, and a thermal headband to keep my ears cozy. I wear stability shoes because I tend to overpronate — I am going to be running in Saucony Guide 14s and highly recommend them to anyone looking for a relatively affordable distance stability shoe.
Sands: I love the New Balance 'Impact Run Fitted Short' because of all the pockets. I have several tried-and-true sports bras from lululemon that are my go-to. Depending on the weather, I'll add a dry-fit short or long-sleeved shirt with sentimental value that gives me an extra bit of joy to put on. If it's cold or rainy, I might add a hat and my Nike running rain jacket. Usually during training, I'll have been alternating between two pairs of shoes (both Asics Gel Nimbus), so I'll wear whichever one has fewer miles on them. Again, nothing new on race day!
What are your pre-race traditions?
Song: Buffet pre-race, but more importantly, massage post-race.
Sands: Not really a tradition, but I have to make sure I use the bathroom enough! Porta-potty lines can be very long, but it's essential.
How did you feel before your first big race?
Giordano: My first big race was the Houston half-marathon in 2011. I was excited and nervous but pretty well prepared and confident. I did the full marathon a couple years later. That was more nerve-wracking since it is a long distance. I've done the marathon three times. It was never easy. But finishing is worth it. Running a marathon makes no sense in the grand scheme of things, but the feeling of accomplishment is intense and real and deserved.
Song: My first big race was a Spartan Beast. I was super excited because Spartan Races are so different (read: muddy), but I was also nervous about all the obstacles that required way more upper body strength than my noodle arms had!
Sands: Terrified. I started running my first year after college and never really considered myself a runner before that, so the fact that I was apparently going to run a marathon was unreal.
How does racing in-person feel after being in a pandemic?
Giordano: I love waiting in the starting corral – everyone is excited and stretching and focused. I love the crowd along the racecourse. Even as an amateur, you get some energy from them. The long distances would be so much harder for me on an empty course. Regarding the pandemic, I'm not too nervous about the event itself. I'm sure waiting in the corral will have a different feeling, and I'll definitely have a mask on until the starting crowd thins out. I'll avoid running in a pack and minimize my time in the (George R. Brown Convention Center) before and after the race. It will feel different, I'm sure.
Song: The only in-person race I've done in the past two years was a Thanksgiving 10K my parents signed me up for last year. It was in a small town, so it felt like a good happy medium between staying as safe as possible vs. enjoying the environment of a typical race day.
What's your advice to a new runner on their first race day?
Giordano: For the first-timers: plan your race, don't start too fast, know the pace you want to hit but don't overdo it at the beginning. Feel the vibe and the energy. Remember, you trained for this. You can do it. Smile, soak it in and fill your mind with positive thoughts. Enjoy.
Song: Make sure to warm up and start slow to avoid injuring yourself, and don't make any drastic changes on race day!
Sands: Trust your training. You've already put in 90 percent of the hard work — the race is just a victory lap to celebrate your commitment to yourself. Also, it sounds cheesy, but have fun! The race day energy is like no other. Let the crowd's energy pick you up when things are looking grim.
-By Julie Garcia