'Saturday Morning Science' inspires medical student to give back to community
Second-year medical student Chelsea Livingston was only a junior in high school when she first worked alongside Baylor College of Medicine physicians and scientists in a research lab.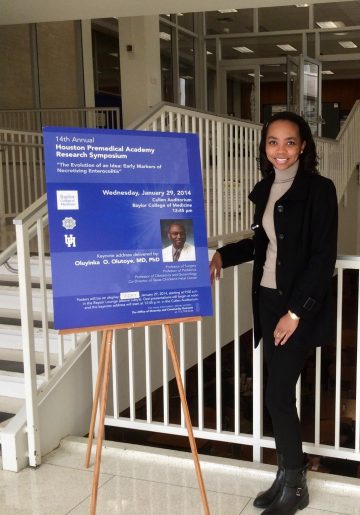 She owes this experience to Saturday Morning Science, a community outreach program that encourages local students from 7th to 12th grade to explore future educational and career opportunities in STEM and medical fields.
While Livingston already knew she wanted to study medicine, the program furthered her motivation. She said one of the most impactful aspects of the program was having the chance to interact with Baylor graduate students and medical students.
"The students would encourage and motivate us to keep studying and working hard so that we could be where they were," she said. "Meeting with them made it easier to visualize myself in their position."
After entering medical school, Livingston wanted to become the same role model that the Baylor students were to her while she was in high school. Last year, Livingston volunteered in the Saturday Morning Science program and worked with 8th grade students.
"The goal of the program is to motivate underrepresented minorities to have careers not only in medicine, but in other STEM fields. I wanted to help inspire them and show them that if I can do it, they can do it, too."
The Saturday Morning Science program is divided into eight sessions and takes place every other Saturday during the spring semester. After a Baylor faculty member gives a lecture at the beginning of each session, the students break into small groups with a medical or Ph.D. student for a workshop, discussion and to hear advice on how they can further their education.
Because the sessions take place on the Baylor campus, Livingston says students can easily envision themselves in a medical or scientific environment in the future.
"I talked to the students about things  they liked about science and medicine and what inspired them to join the program," she said. "Some of them would ask me what I did in high school for college applications and what I was involved in so they could learn how to achieve the same level of success."
High school students aged 16 and older can follow in Livingston's footsteps and apply to join the Saturday Morning Science Summer Research Program, which pairs students with a faculty member to work in a lab for eight weeks on a research project. At the end of the internship, students present a poster highlighting research they worked on at the annual Houston Premedical Academy research symposium.
"I had such a great experience and made many connections through the program, which is why I really wanted to participate."
Livingston is interested in specializing in ophthalmology. She has been volunteering with The Lighthouse of Houston, a non-profit service center for the blind and visually impaired.
"I want to continue to be an inspiration to students and help them achieve success in STEM and medicine."
This year's Saturday Morning Science began on Jan. 18 and will run through May 9. Registration for 2021's Saturday Morning Science program opens on Nov. 1.
-By Kaylee Dusang