Health disparities in breast cancer outcomes
Breast cancer experts are calling attention to disparities in patient outcomes. Data from the Centers for Disease Control and Prevention shows that Black women have a higher rate of mortality due to breast cancer than any other race or ethnicity, despite similar incidence rates.
According to Dr. Demetria Smith-Graziani, an instructor at the Dan L Duncan Comprehensive Cancer Center at Baylor College of Medicine, Black women also are more likely to be diagnosed at a younger age and more likely to be diagnosed at a later stage of disease compared to white women.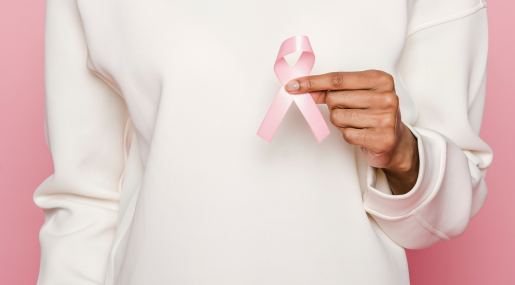 In addition, Black women are facing more aggressive cancers. A recent study showed that Black women are at higher risk for getting triple negative breast cancer, an aggressive subtype that does not have targeted treatment.
Smith-Graziani, a breast oncologist who studies health disparities, says that biological, environmental and socioeconomic factors all likely contribute to this disparity. "My goal is to tease apart these different factors and figure out how much each factor contributes and how they interact," she said. She emphasizes that a person's socioeconomic status plays a major role in breast cancer outcomes.
"Black women and other minority groups are more likely to be uninsured or underinsured, and that affects access to care," Smith-Graziani said. "The time between diagnosis, seeing an oncologist and starting treatment may also vary depending on the medical environment that a woman has access to. When Black women and white women get the same guideline-directed standard of care, their outcomes are pretty similar."
Know your risk and get screened
According to the American College of Radiology (ACR) and Society of Breast Imaging (SBI), African American women are at higher risk for breast cancer and may require screening earlier than the recommended age of 40. Smith-Graziani urges women to discuss personal risk and screening with their doctor.
"Be aware of your personal family history of cancer — not only breast cancer, but also ovarian, prostate and pancreatic cancer," Smith-Graziani said. "Those cancers can be related to BRCA1 and BRCA2 mutations and can be a tip off to inherited forms of breast cancer."
She also recommends monitoring what your normal breast feels like so that you can report any changes to your doctor.
Addressing bias in healthcare
Smith-Graziani notes that Black women may face implicit bias in the medical system, which can impact clinical care and outcomes. She is studying methods that can address bias and improve patient care.
"We need to ask, what can we do to make this breast cancer diagnosis easier on the patient?" Smith-Graziani said. "When I think about what changes can be made, I think the answer is always going to be multilevel interventions. That includes the interpersonal level between patient and provider, the healthcare system level and the government policy level."
Smith-Graziani stresses that the impact of health disparities can vary by race and socioeconomic status. She points out that addressing these disparities may take a variety of strategies.
"When we're thinking about health equity, we can't have a one-size-fits-all response to get everyone to optimal outcomes," Smith-Graziani said. "People in different groups will need different interventions."
Read more about breast cancer screening guidelines.
-By Molly Chiu