Book release: "Genomics of Rare Diseases. Understanding Disease Genetics Using Genomic Approaches"
La versión en español de este artículo está al final de la versión en inglés.
In 2018, Dr. Claudia Gonzaga-Jáuregui, who years before had completed her doctorate studies in Dr. James R. Lupski's lab at Baylor College of Medicine, received an email from an editor at Elsevier's Academic Press with a proposal that immediately caught her attention.
"The editor was considering adding a title on genomics of rare diseases to the Translational and Applied Genomics Series," Gonzaga-Jáuregui said. "Would such a title fill a current need in the field and with the general public?"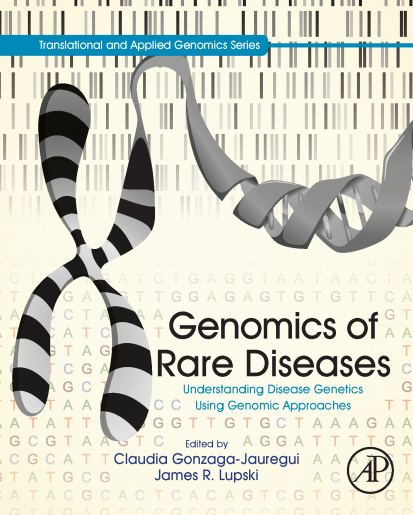 Gonzaga-Jáuregui, who is now an assistant professor in the International Laboratory for Human Genome Research at Universidad Nacional Autónoma de México, thought it was a great idea.
It is estimated that at least 350 million people worldwide are affected by a rare disorder, making these conditions a substantial healthcare challenge. Many patients can go undiagnosed for decades while receiving potentially misguided and often costly treatments for their condition, uninformed about the actual molecular defect and the underlying biology of the disease. In addition, counseling regarding recurrence risk, disease prognosis and clinical management are suboptimal due to the rarity of patients.
"At the time, there was no book that would present the lay of the land including information about genomics and its application to the study of rare diseases, from basic concepts to practical examples," Gonzaga-Jáuregui said. "There was no such a book that would appeal not only to students and professionals in the field of genomics but also would be accessible and useful to a broader public including patients and families with rare diseases to empower them in understanding current scientific approaches in genetics and genomics."
Long story short, the editor proposed that Gonzaga-Jáuregui developed this book project and she was delighted to accept. "But I did not realize in the beginning the tremendous amount of work that would be involved in this project. At the time, I also was starting a family and moving to a new academic position in Mexico, all in the middle of the COVID pandemic," Gonzaga-Jáuregui said.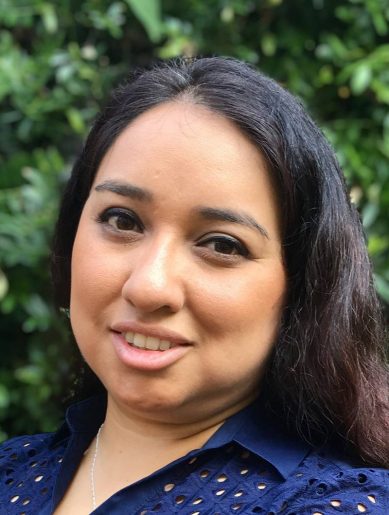 It's no surprise that Gonzaga-Jáuregui took on the book project despite the personal and professional challenges. She is a dedicated genomics scientist who has led large-scale projects for genomic analyses of patients and families with rare and undiagnosed genetic disorders in academia and industry. Importantly, this book project fits perfectly with her interests in teaching both in a formal academic setting and through public science outreach where she talks about science, genetics and her career to middle and high school students.
"It was exciting putting together a proposal for a book that would be accessible to many people interested in the topic," she said. "Once the publisher gave a thumbs up to the project, I approached Jim [Lupski]. I said I was very excited about the book and that I would like him to be involved as co-editor. He accepted and we worked on this together."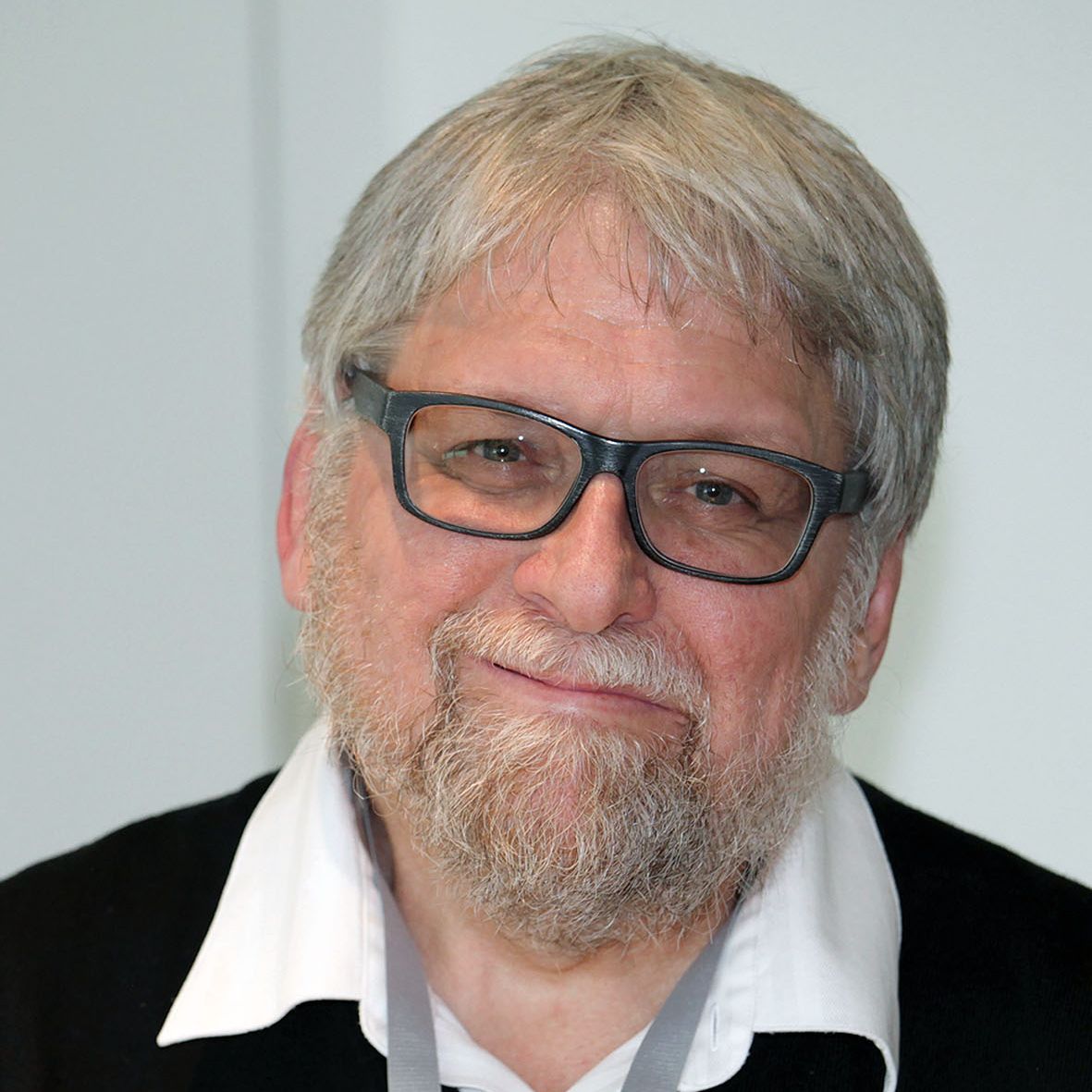 "I have to admit that it was not so easy to convince me to work on this project. I have worked on three previous books and knew that there would be a lot of work involved. I finally gave in; it was about time to have a book like this," said Lupski, Cullen Professor of Genetics and Genomics and Professor of Pediatrics at Baylor and Texas Children's Hospital.
In addition to co-editing the book, Gonzaga-Jáuregui also co-authored some of the chapters. "Teaching while writing helped me see what concepts are hard for students to grasp and guided the writing to make those concepts clearer, presenting them in ways that are easy to understand," she said.
"As co-editor, I tried to keep the big picture and the writing consistent throughout the book, rather than putting my own perspective on specific chapters," Lupski said.
"Having Jim onboard definitely enhanced the book by offering a complete landscape of the field," Gonzaga-Jáuregui said. "It is easy for the younger generations of scientists to talk about the novel technological processes and advancements and their applications in the field, but it was important to put the current state of human genetics and genomics in perspective. Jim brings a historical view on how the field has moved forward through the years, weaving emerging new technologies and evolving knowledge."
"Genomics of Rare Diseases" offers readers a broad understanding of current knowledge on rare diseases from a genomics perspective. It clearly presents basic concepts and the latest molecular and genomic technologies used to elucidate the molecular causes of more than 5,000 genetic disorders, raising the possibility of uncovering many more that remain undefined and undiscovered. The challenges and opportunities associated with performing rare disease research are also discussed, and how the lessons learned from studying rare diseases also apply to other human diseases in general.
In addition, "Genomics of Rare Diseases" addresses the current need of the general public to better understand genetics and genomics.
"Genetics has become more mainstream in the last years through direct-to-consumer DNA testing. Genomic technologies are providing information to the general public about their genetic background and variation," Gonzaga-Jáuregui said. "But we feel that the public needs to have a better grasp of fundamental concepts in human genetics to appreciate the genetic and genomic information they are receiving and also to take it with a grain of salt when talking about risk and common diseases.
"Genomics of Rare Diseases" helps readers understand what genetics and genomics findings mean, what to expect and how to use the information provided by genetic testing."
"Genomics of Rare Diseases. Understanding Disease Genetics Using Genomic Approaches," First Edition, Claudia Gonzaga-Jáuregui and James R. Lupski, Editors, Academic Press, Elsevier, 2021. ISBN 978-0-12-820140-4
Find the list of book chapters and more information here and in Amazon.com
Receive From the Labs via email
Lea este artículo en español aquí:
Nueva publicación: "Genómica de Enfermedades Raras. Entendiendo la Genética de las Enfermedades Usando Estrategias Genómicas"
A finales de 2018, la Dra. Claudia Gonzaga-Jáuregui, quien años atrás completó sus estudios de doctorado en el laboratorio del Dr. James R. Lupski en Baylor College of Medicine, recibió un correo electrónico de un editor de la casa editorial Elsevier, Academic Press con una propuesta que capturó su atención inmediatamente.
"El editor estaba considerando incluir un título sobre genómica de enfermedades raras en la serie Genómica Translacional y Aplicada," dijo Gonzaga-Jáuregui. "¿Satisfaría este libro una necesidad actual en este campo de investigación y en el público general?"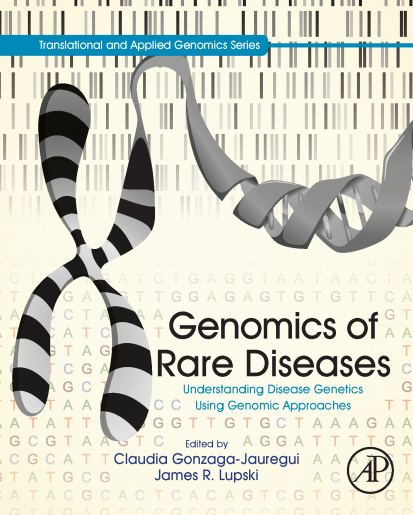 Gonzaga-Jáuregui, quien ahora es profesora asistente en el Laboratorio Internacional de Investigación sobre el Genoma Humano en la Universidad Nacional Autónoma de México (UNAM), pensó que este libro sería una gran idea.
Se ha estimado que al menos 350 millones de personas en el mundo están afectadas por una enfermedad rara, haciendo que estas condiciones representen in problema significativo para la salud pública. Muchos pacientes pueden carecer de un diagnóstico acertado por décadas y recibir tratamientos potencialmente equivocados y usualmente costosos sin tener información sobre los defectos moleculares y la biología subyacente a su condición. Además, el asesoramiento sobre el riesgo de recurrencia, el pronóstico y el manejo clínico de la enfermedad son subóptimos debido a la rareza de los pacientes.
"Hasta ese momento no había ningún libro que presentara el tema, incluyendo información sobre la genómica y sus aplicaciones en el estudio de enfermedades raras, desde los conceptos básicos hasta ejemplos prácticos," dijo Gonzaga-Jáuregui. "No existía un libro que interesara no sólo a estudiantes y profesionales del campo de la genómica, sino también que fuera accesible y útil a un público más amplio, incluyendo pacientes y familias con enfermedades raras, dándoles los recursos para entender las estrategias científicas usadas actualmente en genética y genómica."
Resumiendo, el editor propuso que Gonzaga-Jáuregui desarrollara el proyecto de este libro y ella lo aceptó con mucho gusto. "Aunque no me di cuenta al aceptar de la gran cantidad de trabajo que involucraba este proyecto. En esa época yo también estaba empezando a crecer mi familia y mudándome a una posición académica nueva en México en medio de la pandemia de COVID," dijo ella.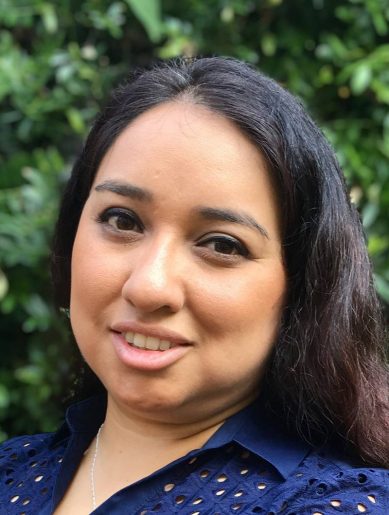 No sorprende que Gonzaga-Jáuregui aceptó el proyecto a pesar de los retos personales y profesionales involucrados. Ella es una científica genómica dedicada, quien ha liderado proyectos de análisis genómico a gran escala para pacientes y familias con enfermedades raras y condiciones genéticas sin diagnóstico, tanto en la academia como en industria. Y lo que es más importante, este proyecto sirve perfectamente a su interés en enseñar tanto a estudiantes universitarios como al público general, a quien ella se dirige para hablar sobre ciencia, genética y su carrera científica, en particular a estudiantes de bachillerato y universidad.
"Fue fascinante crear una propuesta para un libro que fuera accesible a mucha gente interesada en el tema," dijo ella. "Una vez que la editorial aprobó el proyecto, me acerqué a Jim [Lupski] y le conté lo emocionada que estaba con el libro y que me gustaría que participara como co-editor. El aceptó y comenzamos a trabajar juntos en este proyecto."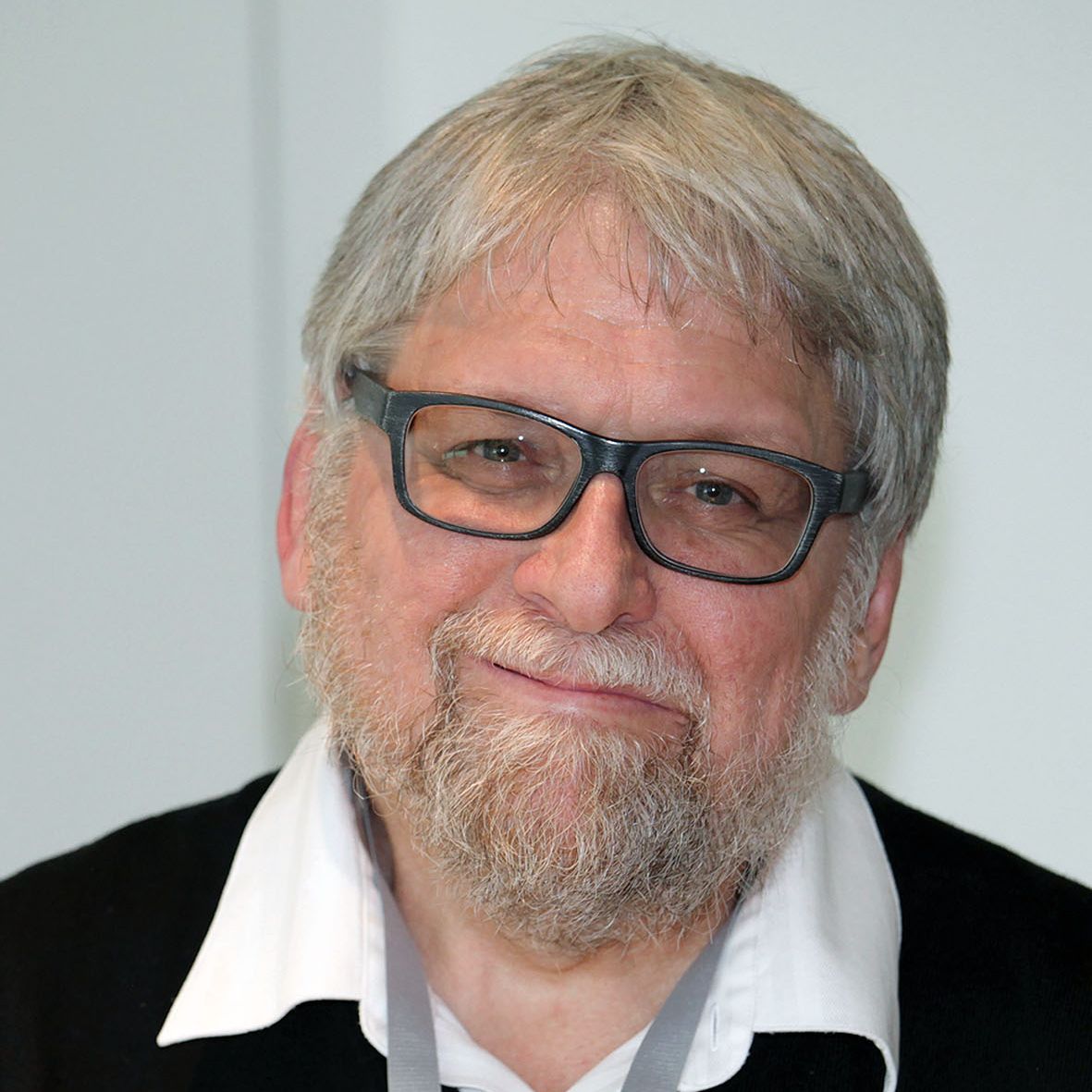 "Tengo que admitir que no fue fácil convencerme de trabajar en este proyecto. Yo he trabajado en tres libros previamente y sabía que habría mucho trabajo. Al final accedí; ya era hora de tener un libro como éste," dijo Lupski, Profesor Cullen de Genética y Genómica y Profesor de Pediatría en Baylor y Texas Children's Hospital, en Houston, Texas.
Además de co-editar el libro, Gonzaga-Jáuregui es la co-autora de varios de los capítulos. "Dar clases durante la época en que escribía los capítulos me ayudó a ver cuáles conceptos eran difíciles de entender para mis estudiantes y guió la narrativa para que estos conceptos estuvieran claros, presentándolos de manera fácil de entender," dijo Gonzaga-Jáuregui.
"En mi papel de co-editor traté de mantener el panorama general y la narrativa consistente a través del libro, en vez de poner mi perspectiva en capítulos específicos," dijo Lupski.
"Tener a Jim a bordo definitivamente realzó el libro al ofrecer una perspectiva más completa del campo de la genética a través del tiempo," dijo Gonzaga-Jáuregui. "Es fácil para las generaciones de científicos jóvenes hablar sobre los procesos tecnológicos nuevos, los avances científicos y sus aplicaciones, pero era importante poner el estado actual de la genética y la genómica humanas en perspectiva. Jim provee ese punto de vista histórico del avance del campo a través de los años, entrelazando tecnologías emergentes y la evolución de los conocimientos en el campo."
"Genómica de Enfermedades Raras" ofrece a los lectores un entendimiento amplio del conocimiento actual de las enfermedades raras desde una perspectiva genómica. Presenta claramente conceptos fundamentales de genética y las bases de tecnologías genómicas y moleculares más recientes que son usadas para elucidar las causas moleculares de más de 5.000 enfermedades genéticas, ofreciendo la posibilidad de descubrir muchas más que permanecen sin definir o descubrir. También se discuten los retos y oportunidades asociadas con llevar acabo investigación en enfermedades raras y cómo las lecciones aprendidas al estudiar estas enfermedades también se pueden aplicar a otras enfermedades humanas en general.
Además, "Genómica de Enfermedades Raras" aborda la necesidad actual del público general de entender mejor la genética y la genómica.
"La genética se ha convertido en algo común en los últimos años gracias a las pruebas comerciales de ADN. Las tecnologías genómicas están proporcionando información al público general acerca de su historia familiar y variación genética," dijo Gonzaga-Jáuregui. "Pero nosotros pensamos que el público necesita entender mejor conceptos fundamentales de la genética humana para apreciar correctamente la información genética y genómica que están recibiendo. También es importante que el público tome con cautela la información referente a riesgo y enfermedades comunes.
"Genómica de Enfermedades Raras" ayuda a los lectores a entender el significado de los hallazgos genéticos y genómicos, qué se puede esperar de ellos y cómo usar la información proveída por las pruebas genéticas.
"Genomics of Rare Diseases. Understanding Disease Genetics Using Genomic Approaches," First Edition, Claudia Gonzaga-Jauregui and James R. Lupski, Editors, Academic Press, Elsevier, 2021. ISBN 978-0-12-820140-4
Encuentre la lista de los capítulos del libro y más información aquí y en Amazon.com
Receive From the Labs via email