Tips to maintain hearing and vocal care for musicians
As music venues reopen and concerts start taking place again, musicians and performers who have been on hiatus due to COVID-19 closures will need to consider ways to protect their hearing and vocal abilities.
Baylor College of Medicine speech and hearing experts share these tips for a safe performance.
Hearing conservation
Exposure to loud music puts musicians at risk for auditory injuries that can result in hearing loss, tinnitus, hyperacusis, sound distortion, dysacusis, or diplacusis, according to Dr. Deyanira Gonzalez, audiologist at Bobby R. Alford Department of Otolaryngology – Head and Neck Surgery at Baylor.
"These impairments can be a severe threat to their musical career, as they can reduce the ability to hear their own performance and other musicians' performances," Gonzalez said.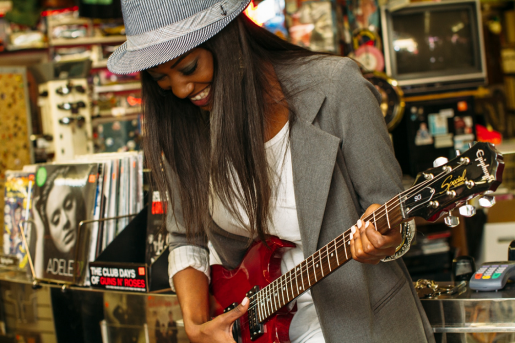 Gonzalez explains that musicians should practice hearing conservation techniques beyond using hearing protection or in-ear monitors.
"Musicians should have a baseline comprehensive hearing evaluation, including testing ultra-high frequencies and cochlear hair-cell function testing, to identify existing hearing loss," Gonzalez said. "These tests will also serve as a reference during follow-up evaluations that will allow us to determine if the musician is taking the correct steps to maintain their hearing."
To prevent auditory injury, Gonzalez recommends the use of earplugs (universal or custom-fit) in-ear monitors and both ambient and sound level monitoring
Training your voice
In addition to protecting against noise exposure, musicians should also take measures to protect their voice. According to Sarah Blumhardt, speech-language pathologist at Baylor, professional singers and anyone who uses their voice frequently are like vocal athletes.
"Athletes of any sport benefit from both preventative care and rehabilitation if an injury occurs," Blumhardt said.
Tips for preventing vocal injury

For professional singers and those using their voice more heavily, Blumardt recommends a voice check-up with a specialist at Baylor's Institute for Voice and Swallowing. Blumhardt and Baylor laryngologist Dr. Julina Ongkasuwan will thoroughly evaluate a performer's voice using state-of-the-art imaging technology to ensure it's in its best form and performance ready.
See more information about Baylor's musician hearing conservation services and voice performance or contact 713-798-5900 to schedule an appointment with an audiologist or speech language pathologist.
-By Molly Chiu