Med students receive white coats in ceremony
Last week, first-year medical students at Baylor College of Medicine participated in the annual White Coat Ceremony. Donning the white coats is a rite of passage for students, as they take an oath asserting their commitment to the very highest standards of ethics and healthcare.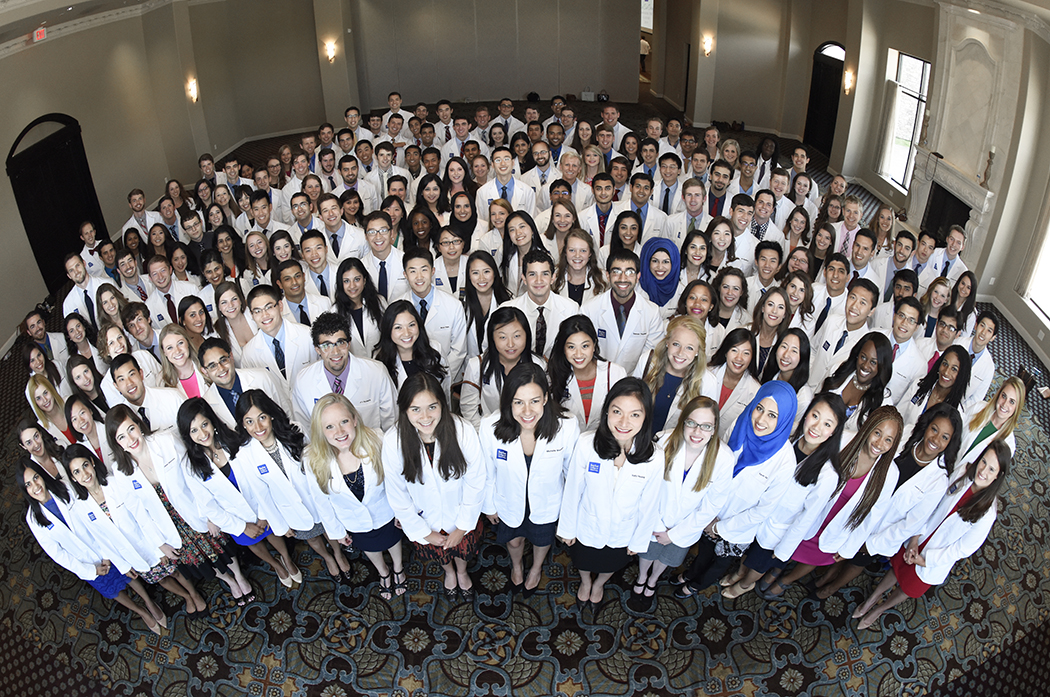 See more photos from the event.
Alumni of Baylor College of Medicine shared these words of wisdom with the class of 2019:
Words of Wisdom:
"Medicine should be a calling to serve.  It is not a calling to get wealthy!  Serve – you will be rewarded many times over." – Bruce K. Jacobson, M.D. '54

"Work hard.  Learn a lot.  I may need your services in the future." – Edwin R. Buster III, M.D. '62

"Although the path to your M.D. degree is difficult you will look back on these years as some of the best in your life….enjoy!" – Calvin N. McKaig, M.D. '64

"You are off to an amazing, rewarding and exciting life." – Major W. Bradshaw, M.D., M.S. '67

"Remember, it's a privilege not a process, and a profession not a job." – Carol J. Baker, M.D. '68

"People respect the white coat and the person in it—wear it like you deserve it." – James E. Key II, M.D. '70

"Be proud and humble." – George P. Taylor, Jr., M.D. '78

"Major Bradshaw told us on the first day—If you have a great way to remember something—tell the person sitting next to you!  Make sure she's smarter than you are, because when you're sick, she'll be the one taking care of you!" – Donald E. Tutt, M.D. '83

"Best of luck as you start your adventure in medicine.  No better place to learn than BCM." – Mark C. Juretic, M.D. '91

"Embrace your time with your med school friends.  You and they are the future of medicine.  Savor the love, fun, fear, exhilaration of learning how talented and how far you can grow!" – Winona Y. L. Wong, M.D., Ph.D. '93

"Congratulations!  An exciting, and occasionally scary, but ultimately rewarding experience awaits you.  Make the most of your time and avail yourself of the opportunities that Baylor offers, both inside and outside the classroom." – Krisna P. Chai, M.D. '02
See more words of wisdom.
Additional resources: