The Cardiovascular Research Institute 8th Annual Symposium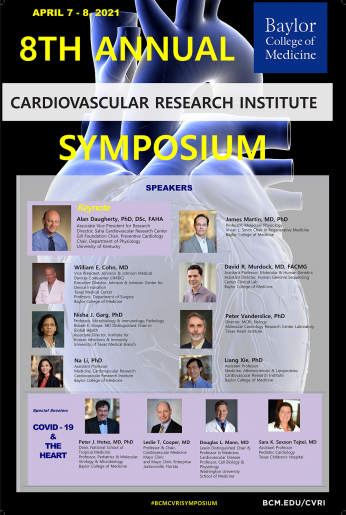 The Cardiovascular Research Institute (CVRI) recently hosted its 8th Annual Symposium, April 7-8, 2021. The event encouraged participants from Baylor College of Medicine departments, affiliated hospitals and other institutions in the Texas Medical Center to meet and facilitated scientific collaboration.
Keynote lecturer, Dr. Alan Dougherty
During the symposium, participants heard a keynote lecture by Dr. Alan Daugherty, Gill Foundation Chair of Preventative Cardiology and Director of the Saha Cardiovascular Research Center at the University of Kentucky College of Medicine. For nearly four decades, he has examined the molecular determinants of vascular diseases such as atherosclerosis and aortic aneurysms. He pioneered the development of the Angiotensin II Infusion mouse model to study aortic disorders and associated markers within the renin angiotensin system. In addition to publishing highly impactful scientific research, Daugherty is a champion for scientific rigor and reproducibility. As the editor-in-chief for the journal Atherosclerosis and Vascular Biology he has dedicated 10 years to streamlining cardiac-focused manuscripts for the scientific community.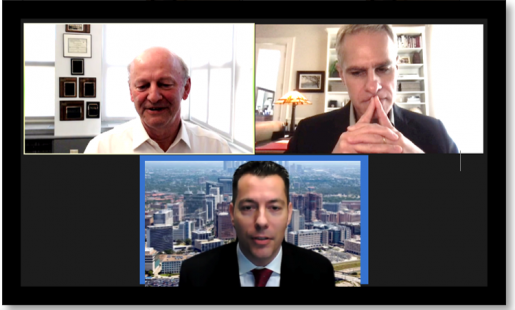 His talk, "Aortic Heterogeneity as the Basis for Aortopathies," focused on the vital role Angiotensin II plays in thoracic aortic aneurysms via involvement of various smooth muscle cells and deletion of LDL Receptor Related Protein 1 (LRP1). Daugherty highlighted that Angiotensin II infusion in normal mice caused thoracic aortic aneurysm within a short time – 30 days. From a pharmacological perspective, he posed the question, "What is the ligand that binds to the Angiotensin II receptor that is responsible for this response?"
He shared his discovery that the receptor AT1 is primarily involved in these processes, which was also corroborated in multiple mouse models. Daugherty discussed his hypothesis that cell-specific deletion of AT1 receptors may uncover how Angiotensin II causes thoracic aneurysms. Surprisingly, deletion of the AT1 receptor in smooth muscle cells did not cause adverse effects.
To further explore this phenomenon, Daugherty focused on smooth muscle cell development for cardiac neural crest cells and second heart field cells with the Wnt1-Cre and Mef2c-Cre mouse models, respectively. His work led to a significant breakthrough in finding that these cell types are key players in Angiotensin II thoracic aortic aneurysms. In continuation of this significant work, he demonstrated that cell-specific LRP1 deletion led to embryonic lethality in cardiac neural crest cells while augmenting Angiotensin II induced thoracic aortic rupture in mouse models. Daugherty highlighted his research collaborations at Baylor, which contributed to scientific advancements in the aortic disease field.
COVID-19 virus and cardiovascular disease
A panel of four outstanding researchers convened to discuss the impact of the SARS-CoV-2 virus on cardiovascular disease. The panel consisted of Dr. Peter Hotez, dean of the National School of Tropical Medicine at Baylor; Dr. Leslie Cooper, chair of cardiovascular medicine at the Mayo Clinic; Dr. Douglas Mann, Lewin Chair and Professor of Medicine at Washington University School of Medicine and Dr. Sara K. Sexson Tejtel, assistant professor of pediatrics-cardiology at Baylor and Texas Children's Hospital.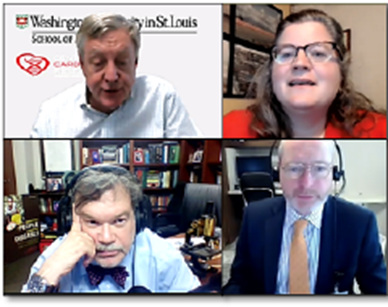 Hotez provided a review on epidemiological trends for COVID-19 infection and its variants, available vaccine types and vaccination rates, current trends in vaccine acceptance and reasons for vaccine hesitancy. Cooper reviewed the data on cardiac injury, guidance for cardiac evaluation in patients with COVID-19 and lack of evidence for lymphocytic myocarditis in histology specimens in patients infected with SARS-CoV-2.
Mann followed the discussion providing exciting information on potential mechanisms of cardiac injury with COVID-19, including predominant macrophage involvement of the myocardium, disaggregation of myocytes and fragmentation of DNA in the setting of COVID-19, in the absence of lymphocytic myocarditis. Tejtel concluded the presentations with a comprehensive review on the evidence of myocardial involvement with COVID-19 in children, especially in the context of multisystem inflammatory syndrome in children (MIS-C) and return to play recommendations. It was a great session providing cutting edge information on recent trends and findings on cardiac involvement with COVID-19.
Awards
The CVRI also awarded the Dr. Mark L. Entman Award for Excellence in Cardiovascular Education to three faculty members. The award is a newly established initiative to recognize faculty for outstanding teaching and contribution in the graduate school curriculum.
Dr. Mark L. Entman Award for Excellence in Cardiovascular Education Winners:
David J. Durgan, Ph.D., assistant professor, Department of Anesthesiology
Christina Y. Miyake, M.D., associate professor, Department of Pediatrics – Cardiology
Joshua D. Wythe, Ph.D., associate professor, Department of Molecular Physiology & Biophysics
The Symposium also featured several other lectures and more than 60 posters. Each poster was reviewed during a virtual poster session and winners were selected from five categories.
Best Poster Award Winners:
Best Junior Faculty Poster Award- Vicente Orozco-Sevilla, M.D.
Best Basic Science Postdoctoral Poster- Mohit Hulsurkar, Ph.D.
Best Clinical Postdoctoral Poster- Reem Shawar, M.D.
Best Clinical Student Poster- Heidi Krause
Best Basic Science Student Poster- Jiao Lu
Visit www.bcm.edu/cvri to learn more about the CVRI.
By Amber Eakin
Receive From the Labs via email