New clinic provides care, support for patients managing COVID-19 at home
Not everyone who tests positive for COVID-19 is admitted to the hospital. Some return home to quarantine, often unaware of how to properly treat the virus or monitor the severity of their symptoms.
For Brandy Payton, she believed the coughing and shortness of breath stemmed from years of struggling with asthma and bronchitis. A few weeks later, she realized her symptoms were becoming worse.
"It was not until after taking my medication for bronchitis that I realized I was having a harder time breathing, getting around and felt fatigued and weak," she said. "I never had a fever or loss of taste and smell, so it never dawned on me that this could be COVID."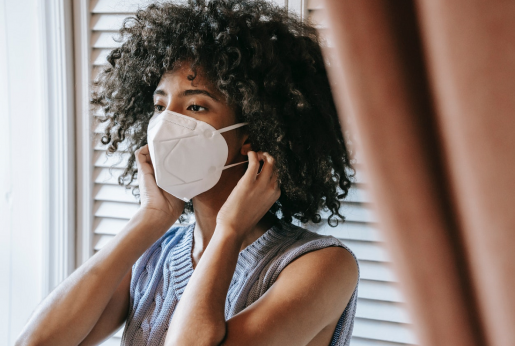 After Payton tested positive for COVID-19, her primary care provider referred her to Baylor Medicine's new clinic, the COVID Clinic@Home. For patients like Payton who are sick but not hospitalized, the clinic offers virtual visits that help them manage COVID-19 at home and recover safely with the goal of staying out of the hospital.
"We aim to monitor symptoms and identify changes that can predict progression to severe illness," said Dr. Fidaa Shaib, associate professor of medicine-pulmonary, critical care and sleep medicine. "Our providers will tailor the care plan and guide their assessment with the goal to improve health and prevent hospitalization."
Isabel Valdez, one of the advanced practice providers at the clinic, said that many patients who first test positive with COVID-19 might feel fine when they are diagnosed, but their symptoms can worsen days later.
"The virtual visits give us the ability to help patients through every phase of their COVID infection before it can become life threatening," said Valdez, who is also a physician assistant and assistant professor of internal medicine at Baylor.
The clinic follows the patient from the beginning of their infection until their recovery by providing frequent video visits over two weeks. During the video visits, advanced practice providers help patients check their own temperature, blood pressure and oxygen levels. Patients also receive a virtual physical exam where clinicians observe them walking around the room to watch for symptoms like shortness of breath or dizziness.
While managing COVID-19 at home can be challenging, Payton said the clinic offered tips on how to utilize different medications and ways to ease symptoms that are accessible while at home. For example, standing in a hot shower so that the steam can open up the airway when breathing becomes difficult.
"They made it an easy and comfortable transition," Payton said. "I learned things that anyone can do even if they don't have a lot or cannot leave the house."
The clinic also counsels others living in the home on issues that can occur while having COVID-19 and how they can carefully help the patient monitor their symptoms. For Payton who lives with her two young daughters, the clinic provided guidance on how to keep them safe while she recovered from the virus.
"They gave me specific pointers on what to do so that I did not spread it to them, like making sure to wear a mask if I'm around them and to keep them away from me as much as possible."
Throughout much of the pandemic, there was a concern about hospitals becoming overwhelmed with patients. Valdez explains that providing a way to manage COVID-19 while at home can help reduce the risk of patients needing to stay in the emergency room or ICU, where hospital beds can become full with COVID patients and those with other infections.
"If hospital beds are full, patients can be sent home with moderate infection, which can lead to severe infection within a few days, especially if the patient is high risk," Valdez said.
Although the clinic's main goal is to keep the patient out of the hospital, there is always a risk of an emergency. The clinic provides a 24-hour call line for questions or concerns the patient might have outside of video visits or if symptoms become alarming.
"We are fully aware that there are complications that can happen that are beyond anyone's control," Valdez said. "If we can help patients by managing their symptoms and complications at home, we might be able to help them before they become severe enough to where they have to be in a hospital."
Payton is currently receiving follow-up care at the Post -Care Clinic, where patients are referred to once they are discharged from the COVID Clinic@Home. When it comes to managing COVID-19 at home, Payton encourages having a support system both inside and outside of the home while recovering from the virus.
"If you have COVID and have anyone who cares for you at home, please utilize them," Payton said. "Do not be afraid to seek help and call people – there are people like doctors and nurses who are available to help you."
Baylor Medicine patients with a recent and positive diagnosis for COVID-19 can receive care from the COVID Clinic@Home through a referral from their physician.
Additional Resources
Visit the Baylor Medicine COVID-19 patient information site.
Seasonal allergies or COVID-19?
Supporting early childhood development during COVID-19
-By Kaylee Dusang