Healthy Habits: Dr. Vanessa Gallien enjoys spinning, meditates to stay relaxed
It can sometimes be difficult to find ways to stay healthy, so we've asked members of our Baylor College of Medicine community to share what they do in their daily lives to maintain a healthy lifestyle.
Dr. Vanessa Gallien, assistant professor of family and community medicine at Baylor, shares some of her healthy habits with us.
Q: What health decisions start your day?
A: I am extremely meticulous about my mornings. I wake up at 5:30 each day to meditate, walk my dog, and ensure that I am in a good mental space before the start of my work day. After meditation, I normally map out my meals for the day, making sure that I have energy boosting foods with me in case I need a pick me up between seeing patients.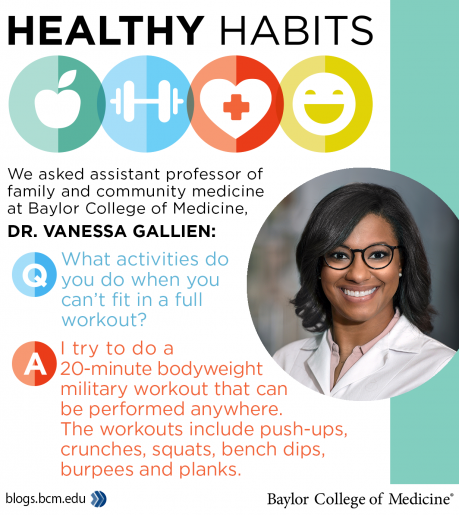 Q: What is your go-to healthy breakfast?
A: During the week, I typically skip eating heavy foods for breakfast. I start my day with a bottle of water, cappuccino, and my favorite lemon-ginger drink. If I want something more filling, I will make a strawberry cheesecake protein shake to go.
Q: What is your favorite type of exercise?
A: Spinning, spinning, spinning. I have tried tons of different exercises over the years and thought that weight training would always be my go to. To my surprise, I hopped on a spin bike three years ago and haven't tried anything different since then.
Q: What keeps you motivated during your workout?
A: A good tracklist keeps me super motivated during my workouts! I often schedule certain classes based on my mood because I know that I'll get what I want based on the music that different instructors ride to.
Q: What activities do you do when you can't fit in a full workout?
A: I try to do a 20-minute bodyweight military workout that can be performed anywhere. The workouts include push-ups, crunches, squats, bench dips, burpees and planks.
Q: What have you been doing to stay healthy during COVID-19? Do you have any advice for coping with the pandemic?
A: Maintaining good health is crucial during the pandemic. Since the start of the pandemic, I knew that staying healthy was important as a healthcare provider because you never know which direction the pandemic will pull you in. I have been taking the time to get quality sleep, staying active while avoiding close contact with others, avoiding emotional eating, and taking breaks when I can. All of these things have kept me going strong throughout the pandemic.
Each person's way to cope can be not only completely different from the next person, but it can evolve as well due to the ongoing nature of the pandemic. When speaking to patients I recommend that they take the time to find what works for them and what brings them joy in times of anxiety and despair. Above all, I stress the importance of practicing empathy and patience, as we do not know what dilemma anyone around us is facing at any given time.
Q: What is your favorite healthful snack?
A: I love fresh fruit (strawberries, blackberries, kiwis and pomegranate) and my go-to lemon ginger drink. I make sure that I have a fridge stocked with both at any given time.
Q: Do you take vitamins and if so, which ones?
A: Yes, I take a hair, skin and nail vitamin daily, along with Vitamin D3.
Q: How do you make an unhealthy recipe healthy?
A: I tend to look for ways to swap out starches with a plant-based option. For example, I love spaghetti, but zucchini noodles work just as well for a quick dinner.
Q: What is your nighttime skin regimen?
A: Ahhhh! Now we are at the highlight of my day. For the last four years, I have been doing a modified version of the 10-step skincare routine.
At the end of the day, I use both an oil and water-based cleanser. Followed by either chemical or physical exfoliation. After exfoliating, I apply serums. A few days a week, I use a sheet mask. To wrap up the routine, I use eye cream and moisturizer.
Q: What hobbies do you have to help you relax?
A: I enjoy meditating. Since the start of the pandemic, I have found that meditation in a dark, quiet room has been helpful for relaxation and getting my mind off the thoughts that race through my head each day.
Q: What is your go-to Houston restaurant for a healthy meal?
A: True Food Kitchen! I used to visit the restaurant often during summers in Chicago. Knowing that there is one in Houston is amazing when I want a quick, healthy meal.
Q: Do you use an activity tracker or Fitbit and what is your daily step goal?
A: Yes, I use my Apple Watch daily to track my steps each day.
Q: What is your favorite health tip that you live by?
A: Don't give up on your health. Each day brings a new opportunity for a lifetime of change!
Additional Resources
Fitness apps, walking meetings keep Dr. Jan Lindsay moving
Dr. Arindam Sarkar enjoys morning workouts, high-intensity interval training
Read more healthy habits from members of our community.
Learn how Baylor promotes a culture of healthy living and wellness.