Growing Up Baylor: Elissa Love
Imagine studying, training and eventually working at the same institution during the span of your career. A special group of physicians, faculty members, researchers and staff at Baylor College of Medicine have had this unique experience.
Elissa Love, M.S., PA-C, assistant professor in the Physician Assistant Program at Baylor College of Medicine, tells us about her journey.
Q: Did you always know you wanted to study medicine and science?
A: I can't say I always knew I wanted to study medicine, but childhood experiences certainly piqued my interest and provided a strong foundation for me. My grandfather was a physician in rural Mississippi, where I grew up. As a kid, I had the unique experience of witnessing patients come to his back door at all hours for a variety of reasons ranging from sickle cell crises to occupational injuries. His clinic was also an open door to me, so I spent many hours observing his techniques of practice and passion for providing care.
He loved to teach and would have me accompany him on calls to the hospital (way back when we could do such things). He taught me the value of patience, integrity and kindness. My hope is to constantly emulate these traits as a clinician, educator and human being.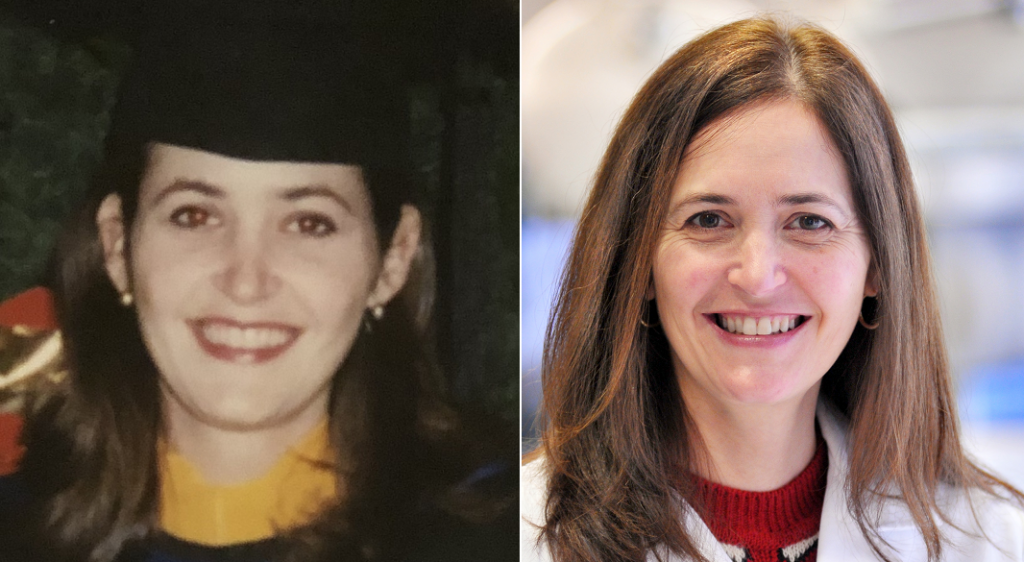 Q: Where and when did your journey with Baylor College of Medicine start?
A: I had the fortune of being accepted as a physician assistant student right out of undergraduate.  I completed my master's degree as a PA at Baylor in 1996. After graduation, I worked in a private practice, outpatient internal medicine clinic for nearly a decade before returning to Baylor. As a new faculty member, I initially split my time between the PA Program and clinical practice at Baylor Family Medicine. Currently, my primary role is as an educator in the PA Program.
Q: How did you decide on becoming a physician assistant?
A: That's a fun question! Our profession was still seemingly in its 'youth' when I first became aware of its existence. I remember a visit to an advising office on my college campus and randomly picked up a pamphlet on the "physician assistant." At that point, I had not heard of PAs, so I read more and became interested. I was able to track down a PA in New York City who spent many hours on the phone with me discussing all aspects of the career.
There was this amazing opportunity to provide medical care as a non-physician provider. I could obtain a graduate degree from a training program modeled after medical school curriculum, provide team-based care as a licensed, board-certified clinician, and would have the flexibility to transition from one area of medicine to another and in various settings. The uniqueness of the profession, especially the flexibility, sealed the deal for me.  There was no looking back!
Q: What inspired you to continue working at Baylor?
A: After graduating from PA school, my goal was to work in an outpatient primary care setting.  I had an opportunity to work in a smaller town at a practice which served a variety of patient populations. I joined the group, and I loved it. Nearly 10 years into my career, one of my former classmates mentioned an opportunity in academic medicine in the PA Program at Baylor. I never envisioned this path for myself, but I am grateful the door opened.  Having the option to develop my skills as an educator, under the direction of a true pioneer in our profession (Carl Fasser), was an opportunity I could not let pass. It has now been 15 years since my return, and I am honored to be here. I work with an amazing team of colleagues and staff. Being able to pay forward my skills as a PA to help guide and train our future PAs is a gift for me.
Q: What is the most valuable lesson you've learned?
A: In my early years as a PA, my first boss would say to me on occasion, "Elissa, always remember that people are fragile. You never know what someone is going through."  I hold on to this gentle reminder, especially under times of great stress. As a healthcare provider, I want to be mindful of situations outside of the clinic. The same applies to me as an educator, a colleague, a friend, and a mother. This simple, yet profound slice of wisdom has stuck with me for years – and for good reason!
Q: Knowing what you know now, what would you tell your younger self?
A: Let your past guide you without letting it stand in your way.  Try not to worry so much about the future. Instead, take every advantage of the present day. Live your life!
Q: If you could do something differently, what would it be?
A: Some of my colleagues would attest to my love for detail editing and graphic design. Editor, maybe? Although, I think I may have also enjoyed coaching volleyball, too.
Q: What do you think makes Baylor unique?
A: Visionary leadership. Our PA Program is gifted with individuals who are proactive in implementing necessary adaptations to keep our educational program ahead of the curve. Our faculty continuously seek out opportunities to grow, despite the stressors that often accompany innovation and change. We truly value our program, that embraces diversity and provides an exceptional educational experience for PA students. Our small class size allows for a unique student-teacher connection, as well.
Q: How has sticking with Baylor programs and ultimately becoming a faculty member impacted your life and career?
A: First, transitioning into academic medicine has forced me to become attuned with stepping out of my comfort zones. My colleagues are a huge factor in my growth and success – they are an inspirational and supportive group. My greatest motivation at work, however, is the students. They are phenomenal humans who have so much to offer this world. It's reassuring to know that many of the future's exceptional healthcare providers are being trained underfoot.
Based on my experiences as a program graduate and faculty member, I truly understand and appreciate the value of the educational experience at Baylor. At the end of the day, it's the people here who impact me most. I feel fortunate to work at an institution that is home to incredible minds and talents.
Q: Do you have a mantra? If so, what is it?
A: Lead by example. For me, it's just that simple.
Additional Resources
Learn more about the School of Health Professions at Baylor.
See resources at the Center for Educational Outreach at Baylor.
Read more from the Growing Up Baylor series.