From the Labs celebrates Hispanic Heritage Month: Interview with Dr. Carolina Jorgez
During Hispanic Heritage Month 2020, From the Labs met with Dr. Carolina Jorgez, assistant professor of urology, and learned about her professional journey, her research interests and what made it possible for her to be where she is today.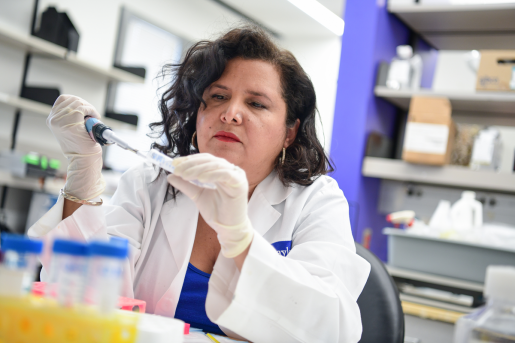 How did the journey that brought you here today begin?
I am from Venezuela, where my family has a long tradition of professionals in obstetrics and gynecology, reproduction and fertility. Thanks to my family's history, I was exposed to the medical field at an early age and immediately fell in love with the fields of reproduction and fertility, which inspired my entire career. I began as a bioanalyst in a fertility clinic in Caracas, but later decided to pursue a doctorate degree in developmental and reproductive biology. I applied to several universities in the United States and chose Baylor. For me, Baylor had the perfect combination of an excellent graduate program within the multidisciplinary Texas Medical Center, and it is in a city where I had strong family support.
For my Ph.D. thesis I studied ovarian function in animal models under the mentorship of Dr. Martin Matzuk, currently the chair of the Department of Pathology and Immunology. After that, I continued my training in the laboratory of Dr. Dolores Lamb in the Department of Urology where I was the first scholar in her K-12 fellowship program. This program provided me with numerous opportunities to grow in my career. I was able to attend conferences and network with other researchers outside Baylor, enhancing the development of my own research projects on congenital genitourinary defects. This topic is now one of my current research interests.
What is the main area of research of your lab?
I currently dedicate half of my time to study the genetics of congenital defects in reproductive organs and the other half to study male infertility.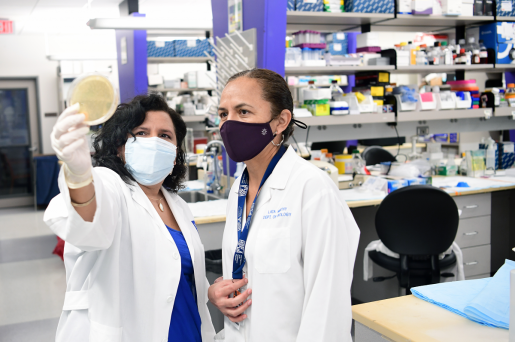 Two congenital conditions that affect male genitalia are not well known, even though they are very common. Cryptorchidism, a condition where one or both testes fail to descend from the abdomen into the scrotum, affects 1 in 100 boys. Hypospadias, the abnormal opening of the urethra on the underside of the penis, affects 1 in 250 boys.
Researchers have not studied these conditions in detail, most likely because they can be surgically corrected. However, some of these defects may be caused by genetic mutations, which can cause other defects. This is why it is important to study their genetic underpinnings. Recently, my Baylor colleague Dr. Abhishek Seth, assistant professor of urology, and I were awarded an RO1 grant to study gene copy number variations associated with conditions such as cryptorchidism and hypospadias. We are very excited that our collaboration is bridging basic genetic research with clinical medical needs. Our goal is to identify hotspot gene areas for these conditions in humans and to develop mouse models to facilitate their study.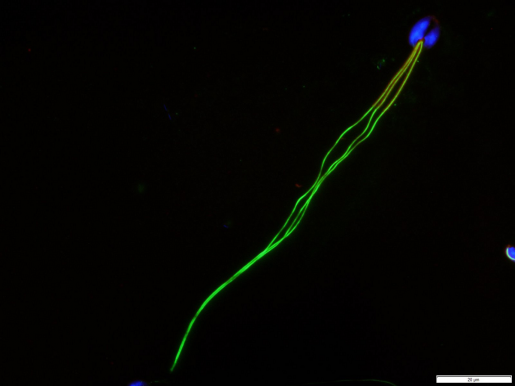 Regarding my research on male infertility, my lab studies genes affecting sperm formation. Men with mutations in those genes have a range of sperm tail defects that include absent, short, bent, coiled, duplicated and irregular tails that seriously impair sperm motility, causing infertility.  It has been estimated that infertility affects nearly 15 percent of couples, more than 40 million partners, worldwide. I think it is important for couples to know what gene is causing the sperm defect, as some gene mutations may affect more than sperm shape and motility.
What can institutions/organizations do to foster interest in scientific careers among Hispanics?
Baylor has been tremendous in allowing my career to grow. I have been extremely lucky to have great mentors and programs that furthered my career. Being part of several committees has provided opportunities to help the school and my department in achieving their goals. I teach both medical and graduate students. As the only Hispanic woman in the Department of Urology, I am thankful for these opportunities because I think it is important that students know that Hispanic professionals are here.
Pursuing a career as a basic science researcher is challenging, but it can be done. In my case, it requires a generous dose of perseverance, some luck and, importantly, having great mentors, a strong collaborative, interdisciplinary environment and great family support.
Receive From the Labs via email